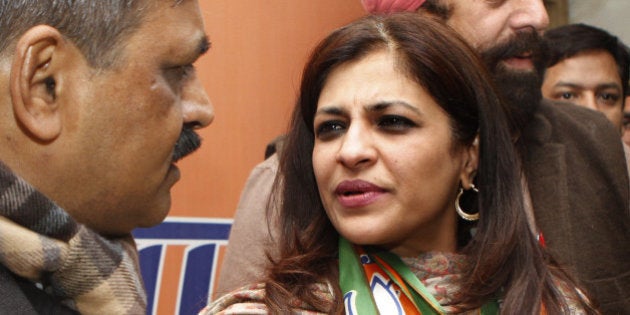 NEW DELHI: Former Aam Aadmi Party leader Shazia Ilmi today joined BJP, saying she left AAP because Arvind Kejriwal had "changed" and became "inaccessible" and the party got diverted from important issues.
But Ilmi said that she was not keen on contesting the upcoming Delhi Assembly polls.
"After being defeated in the last Assembly elections and subsequently in general elections, I don't want to fight this election. However, I will follow the party's instructions, but I want my party to respect my wish," said Ilmi, a long-time associate of AAP chief Kejriwal.
Ilmi said she and Kejriwal worked closely during the Jan Lokpal movement led by Anna Hazare but felt that he became "inaccessible gradually" which was one of the reasons she quit the party.
Ilmi quit AAP in May last year, alleging lack of internal democracy in the party as well as Kejriwal's style of functioning.
"When I was in AAP, there had been a sudden change in Kejriwal, with whom I was so close during Anna Hazare movement. And later, I had to request to talk to Kejriwal on phone due to which I was extremely hurt," Ilmi said.
The former AAP leader also said that when she was with AAP, she felt that common man is getting a chance to contest elections, but later "we diverted from important issues, be it Swaraj or Jan Lokpal, and such issues are not happening."
Hailing a new "political discourse" in the country, she said that it was time to go beyond the politics of identity.
"There is indeed a new political discourse in the country, earlier politics was all about identity. It is time to create a new civil identity," she also said.
Meanwhile, on the issue of alleged conversions carried out recently by some groups, Ilmi also said she does not support "forced" conversions and that BJP has nothing to do with the matter.
"I spoke to the senior leadership of the party -- Amit Shah and Arun Jaitley-- and inquired about ghar wapsi. I was clearly told that these are not BJP-sponsored programme. They were very clear that the new political discourse has to be about governance and development," she also added.
Ilmi joined BJP a day after former Team Anna member and ex-IPS officer Kiran Bedi entered the ranks of the saffron outfit with BJP saying that she will contest the February 7 Assembly polls.