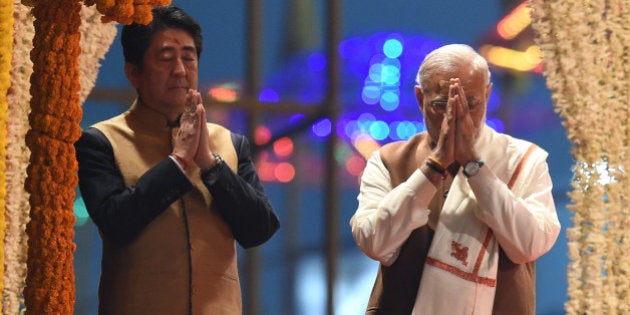 Everyone know Prime Minister Narendra Modi loves taking selfies. It seems his selfie fever is contagious too.
When Japanese Prime Minister Shinzo Abe attended Varanasi's spectacular Ganga Aarti at Dashashwamedh Ghat yesterday along with his Indian counterpart Narendra Modi, there were chants of 'Har Har Mahadev' everywhere, there were diyas, the sound of conch shells and shlokas. And, there were selfies.
The Japanese Prime Minister took a selfie with Modi to capture the incredible moment forever.
Abe, who was dressed in a traditional Nehru jacket, took part in the holy rituals along with Prime Minister Modi amid chants of holy mantras, flanked by priests.
A priest also tied a holy thread on Abe's wrist after he was finished with the Aarti. Both Prime Ministers then watched a cultural programme from a grand dias. Prime Minister Modi was also seen describing each event to his Japanese counterpart.
The preparations for this grand event began weeks before with roads and ghats of Varanasi being cleaned round-the-clock to present a beautified city to the Japanese Prime Minister.
A huge make-shift stage was erected on the river bed with the help of pontoons. The city was enveloped in a thick blanket of security for the VIPs. The stage has been built by engineers of the Indian Army.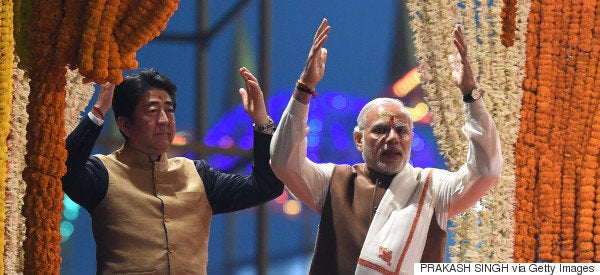 Shinzo Abe and Narendra Modi attend the evening 'Aarti' ritual on the banks of the River Ganges.
India and Japan had signed a pact to develop Varanasi as a 'Smart City' when Prime Minister Modi had visited Japan last year. The plan is to develop Varanasi on the lines of Japanese city of Kyoto.
Ganga Aarti' is an exquisitely choreographed ritual performed daily on the banks of the river Ganges. The Aarti is held to pay obeisance to Goddess Ganga along with Lord Shiva, Surya (Sun), Agni (Fire), and the whole universe.
Prime Ministers were received at Varanasi's Babatpur airport by Uttar Pradesh Chief Minister Akhilesh Yadav amid an orchestra of Dhols and folk music.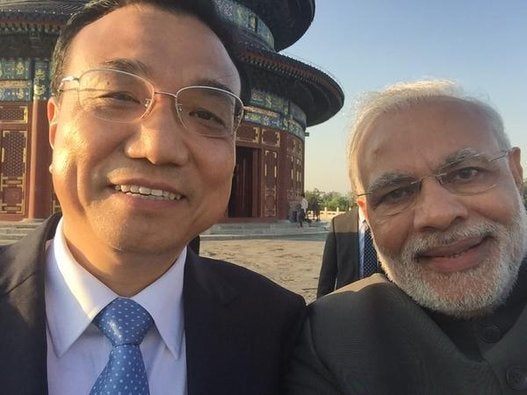 Prime Minister Narendra Modi's Selfies
Popular in the Community