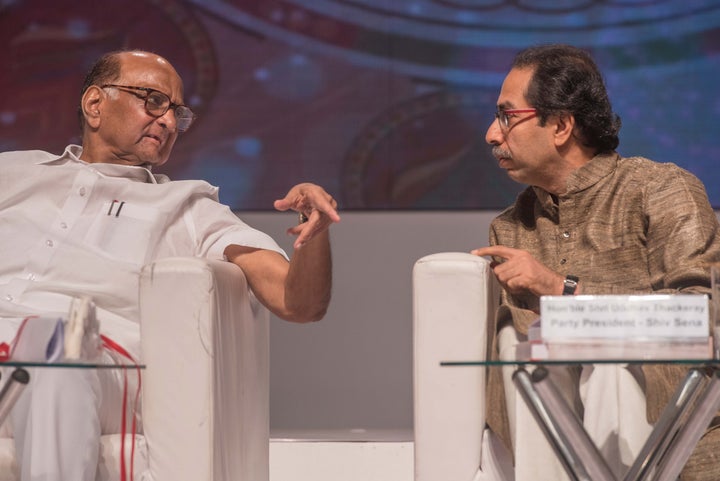 Addressing a joint press confernce of NCP and Congress in Mumbai, Pawar and Patel informed that the Congress and NCP will deliberate first on the government formation before involving Shiv Sena in the discussions.
A joint statement issued by the alliance partners, who contested the election together and secured 98 seats in Maharashtra assembly, said that Shiv Sena chief Uddhav Thackeray approached the Congress for the first time on November 11.
Minutes after the Congress-NCP's joint press conference, Uddhav Thackeray also addressed a press confernce in Mumbai and claimed that Congress-NCP's statement, which says that he approached them for the first time only on Monday, has exposed BJP's allegations that he was in touch with Congress-NCP.
Patel and Pawar told reporters that it was important for the alliance partners to achieve clarity before involving Shiv Sena in discussions.
"Yesterday was the first time Shiv Sena chief called Congress president Sonia Gandhi and asked for her support but it was our duty to consult our ally. There are some issues, which need to be discussed first before going ahead. We will talk to Shiv Sena once we discuss and come to a consensus with our alliance partner," Patel said and criticized Maharashtra governor for not inviting Congress for government formation.
To a question on delay in supporting Shiv Sena, which led to the president's rule in the state, Patel said, " There is no question of delay because Shiv Sena approached us for the first time only on Monday."
Taking a dig at Maharashtra governor Bhagat Singh Koshiyari, Pawar said that the Congress-NCP are not in any kind of hurry now "since the governor has provided more than ample to time to talk to Shiv Sena".
To a query on ideological differences with Shiv Sena, the NCP chief said, "We have just begun the discussion, we will keep our ideological stance in mind before going ahead. Power distribution is not a subject before us at this point in time. First, we have to decide on government formation then we will discuss on the rest of the issues. Don't worry, the governor has given us lots of time now."
Uddhav Thackeray also took a dig at the governor for imposing the president's rule in the state.
"The governor was so kind that he gave us six months when we asked for 48 hours. Such a kind governor will do many good things to the state. We were expecting a call from the governor but we were given a letter (to show our willingness) even before the deadline given to BJP had ended. The letter asked us to submit signatures of all supporting MLAs. We still have the claim but its not a child's game to form a government and run it. We needed 48 hours as we did not have these parties' letters. Shiv Sena, Congres, and NCP will sit and discuss on the common minimum program and take forward our claim on government formation,"Thackeray said.
When asked about ideology, he said, "It is true that Shiv Sena and BJP have similar ideologies but everyone saw what happened. I have asked for information on how PDP, TDP, Nitish Kumar and Ram Vilas Paswan came along with BJP despite having different ideologies."
He reiterated that NCP-Congress's joint statement showed he approached them for the first time on Monday.
"BJP and Shiv Sena had decided on sharing the CM post for two and a half years but the BJP lied on it and then tried to prove me a lier. I spoke to NCP-Congress for the first time yesterday which shows I did not go with them because of some allurements. BJP state chief Chandrakant Patil gave us best wishes to go ahead with Congress-NCP. Now, it won't look good if we don't accept our friend's best wishes," he added.
Terming the reports of BJP's approach to Shiv Sena as speculations, the Shiv Sena chief said, "They (BJP) ended the alliance not me if you are saying the alliance has ended."
Outgoing Maharashtra CM Devendra Fadnavis also issued a statement on Tuesday evening terming the imposition of the president's rule as "unfortunate" but hoped that the state will get a stable government soon.
However, former Maharashtra CM Narayan Rane, who recently joined the BJP, claimed that the BJP will make efforts to form the government in the state.
"I met the CM (Fadnavis) and he told me that we will be making efforts for government formation. The BJP will make every effort to form the government. We will do whatever it takes to form the government," Rane said.