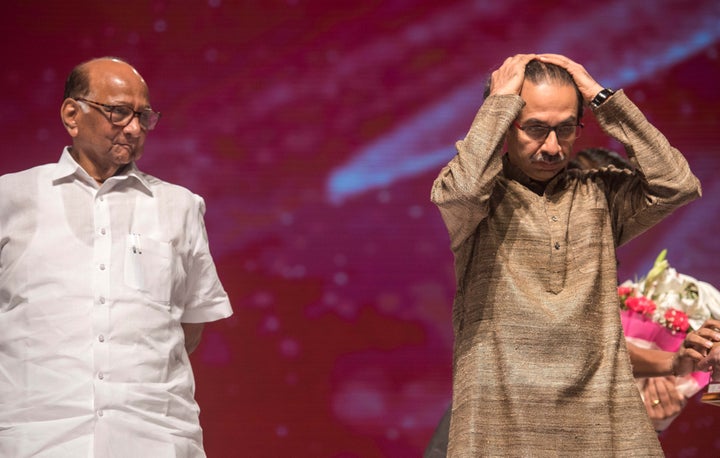 The regional outfit—headed by Uddhav Thackeray, son of the late "Hindu Hruday Samrat" Bal Thackeray—which played a major role in the Babri Masjid demolition and communal riots in Mumbai in 1993, now hopes to align with the Nationalist Congress Party, led by veteran politician Sharad Pawar. The Sena also hopes to get outside support, if not directly, from the Congress. Both NCP and Congress have been ideologically opposed to the Sena.
Shiv Sena has frequently mocked the "secular" and "progressive" credentials of the Congress and NCP, respectively. On Sunday, NCP spokesperson Nawab Malik had said Sena needed to first exit the BJP-led NDA before his party would consider any alliance.
On Monday, Shiv Sena's only minister in the Narendra Modi cabinet, Arvind Sawant, resigned as the Minister of Heavy Industries and Public Enterprises. Earlier in the day, he had tweeted that he would resign because BJP "has set records of lying and distanced itself from Shiv Sena".
Allies for almost 30 years, Shiv Sena and BJP had been fighting for the post of chief minister since the day the results of the Maharashtra assembly elections were announced. Shiv Sena claimed that BJP had agreed to a "50-50 power-sharing formula" which included the chief minister's post before the Lok Sabha elections. BJP, however, denied that any such deal had been agreed upon.
Shiv Sena spokesperson Sanjay Raut launched a scathing attack on BJP Monday morning, accusing it of disrespecting people's mandate.
"The statements made by senior BJP leaders are extremely sad and condemnable. To blame Shiv Sena for not being able to form the government is entirely incorrect. Had our ally BJP stood by their words, they would not have to sit in the opposition now," Raut told reporters in Mumbai on Monday morning.
When asked if this is the end of alliance with the BJP, Raut said, "Arvind Sawant is resigning, as has been directed by our party chief. If BJP thinks it doesn't want to be with us in Maharashtra, then why should we stay with them in Delhi? But the entire blame lies with BJP, not us. What's the point of keeping relations if BJP is not ready to follow its own promises?"
Raut also indicated that the 24 hours given to Shiv Sena by Maharashtra governor Bhagat Singh Koshyari to show if it is willing to form the government was "unfair".
"The BJP was given 72 hours. Shiv Sena has only been given 24 hours, out of which night has already passed. We should have been given more time. It takes time for government formation. To form the government is our duty but these steps (governor's action) are in a direction that will force the president's rule on the state," he added.
The governor had invited Shiv Sena to form the government in the state on Sunday evening after BJP declined the offer.
When asked if the Shiv Sena would be able to manage the numbers for government formation, the Raut said, "Both the Congress and the NCP had been accusing BJP of victimising opposition. It is time for their test now. Maharashtra is watching your actions and if you stick to your consistent position. I am confident that all of us are going to form a stable government in the state. Sharad Pawar and all Congress leaders in the state think that we should form the government over a common minimum programme. Everyone should keep aside their differences to form the government."
However, Pawar is yet to clearly indicate if the NCP has come to a decision.
"We have not come to any decision yet," senior NCP leader Praful Patel reiterated this morning.
Some Congress leaders have expressed willingness to support a Shiv Sena-led government to keep the BJP out of power. The Grand Old Party is, however, yet to take a final decision.
Pawar has called a meeting of all his MLAs on Tuesday. Shiv Sena has herded all its MLAs in a hotel in Mumbai whereas the Congress has shifted its MLAs to Rajasthan, where it is in power.
The BJP won 105 seats while Shiv Sena won 56 in the recently concluded Maharashtra Assembly election. NCP managed to win 54 and Congress 44.