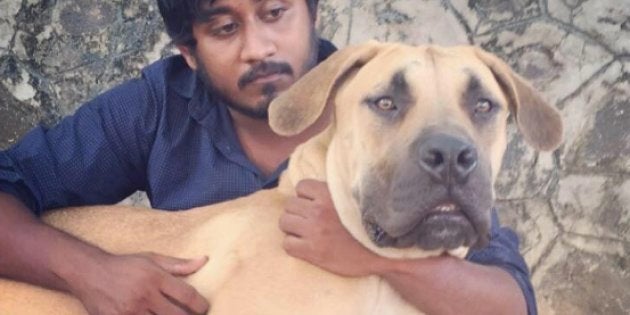 For two weeks now, Shravan Krishnan's phone hasn't stopped ringing. There are calls by the media for interviews, others just want to come over and photograph Bhadra, the dog he recently rescued, and yet others are calling him to report animal abuses in their locality.
All this, besides the regular 10-15 calls that he gets on a given day, requesting him to rescue, say, a snake, a wild cat or sometimes, even a bat.
"It's been a stressful week," says the 25-year-old, who turned into a social media hero overnight after he rescued the dog that was flung off a three-storey building by two medical college students in Chennai.
Shravan, however, has been a superhero of sorts in Chennai for sometime now.
Every time somebody spots a snake at their home, or an animal gets injured, chances are that a panic-stricken call will go to Krishnan and his animal rescuer friends, who live in different parts of the city.
"I just came back after trying to rescue a cat that had fallen onto a grill of a compound in Besant Nagar," Krishnan tells HuffPost India. The cat was terribly injured after a sharp grill pierced it's thigh cutting through its skin.
"I was able take her out from the grill but unfortunately couldn't secure her. She is in the fish market nearby and the people around said they would help me catch her," he said.
He has rescued 1500 snakes, several black bucks, jackals, pangolins, spotted deer, Indian black kites and monitor lizards.
Krishnan received a call at 6 am in the morning, from a family in Besant Nagar, after they found the cat stuck in their window.
Three hours earlier, he had gone all the way to Nungambakkam, when a family called to tell him about a cobra in the house.
"My phone is never on silent," Krishnan said. "I cannot afford to miss a single call. The chances of an animal's survival goes down every time I am late to reach a spot."
Over the last few years, Krishnan has rescued 1,500 snakes, several black bucks, jackals, pangolins, spotted deer, Indian black kites and monitor lizards.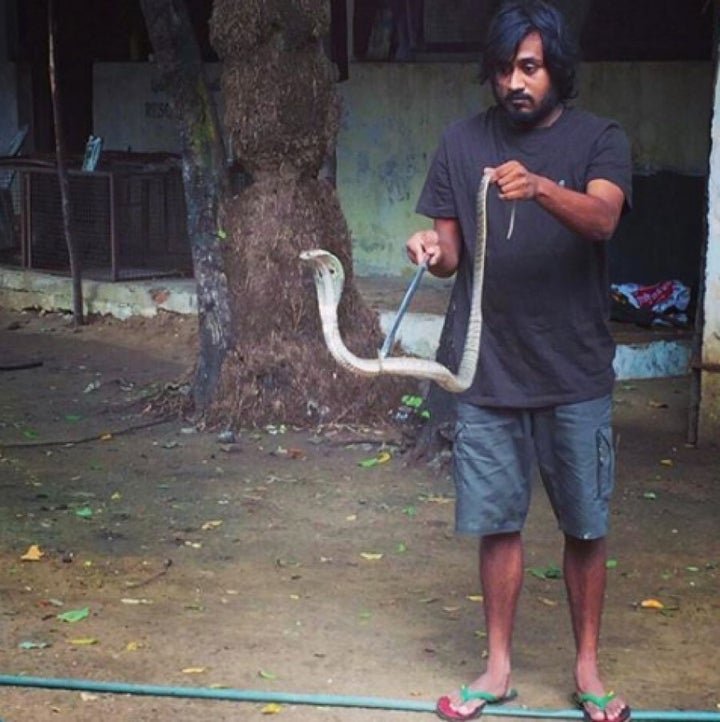 Krishnan credits his parents and grandparents for his passion for saving animals. "I grew up with a lot of animals--dogs, squirrels, owls--they have been my best friends since childhood," he said. "I would watch Animal Planet instead of Cartoon Network."
At the age of 11, Krishnan joined Madras Crocodile Bank as a volunteer, where Gowri Shankar, the education officer, taught him how to rescue wild animals.
While children his age played football and learned to solve Mathematics problems, Krishnan was happy feeding crocodiles and playing with snakes.
A year after he joined Loyola College in Chennai to study B.Com, Krishnan had a plan. This time, dogs were on his mind. He dropped out of college, and soon thereafter set up a 'Hotel for dogs' with his friend T. A. Adhishwar in Akkarai on the East Coast Road.
'Hotel for dogs' is a boarding house for dogs in Chennai, where they can stay in climate-controlled, soundproofed kennels, enjoy a dip in a swimming pool, and be pampered in a grooming parlour.
"I use the money that I earn from 'Hotel for dogs' to rescue animals," Krishnan said.
Krishnan, along with some other animal activists in Chennai, also trained new volunteers to rescue wild animals. "You need training for this, it's not easy. You have to know the difference between a venomous snake and a non-venomous one," he explained.
After years of experience, Krishnan still gets bitten by the wild animals. "I have scars everywhere," he said. "Once, a deer that I had rescued kicked me on my forehead, close to my left eye. I had to get six stitches," he added, laughing.
This morning, when he had gone to rescue the injured cat, it bit him. "He was injured, so it was natural for him to be aggressive," Krishnan said. He was preparing to go to the hospital to get an anti-rabies shot.
When the video of the dog that was thrown off a roof in Chennai went viral couple of weeks ago, Krishnan spotted it on Facebook. "I couldn't watch it for more than two seconds," he said. He shared the video on his Facebook timeline, offering to pay Rs 10,000 to anyone who could identify the culprits. Soon, Krishnan got in touch with the police, and helped them identify the abusers.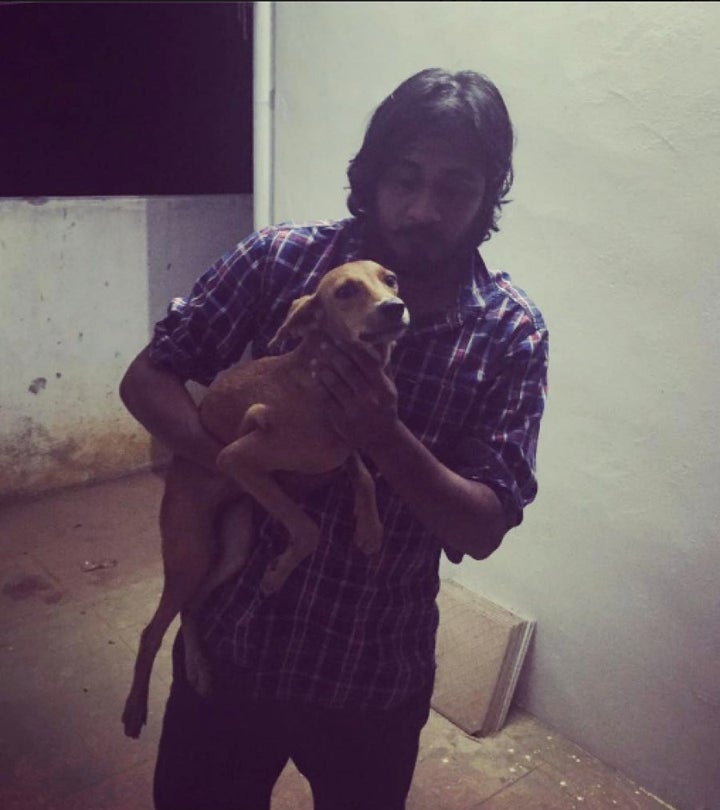 The men were arrested but released on bail with a fine of just Rs. 50.
"The Prevention of Cruelty Act is pretty outdated. It is a 1960 law and we want a change in that because they can just get away with a fine of Rs.50," Krishnan said.
In the meantime, Shravan, along with other animal rights activists, had rescued the dog who was thrown off the roof. The video went online two weeks after the incident, so Krishnan wasn't sure if she would still be alive.
"We went to the compound, but couldn't find her," he said. However, a day later, the police got in touch with them and told them that they have spotted a dog that looked like the one in the video.
The animal rights activists reached there and immediately recognised the dog. "She was injured, but kept wagging her tail," Shravan said.
After a few weeks, when the dog's injuries had healed substantially, Shravan sent her to a friend's place. "She needs to get better, there was too much media attention," he said.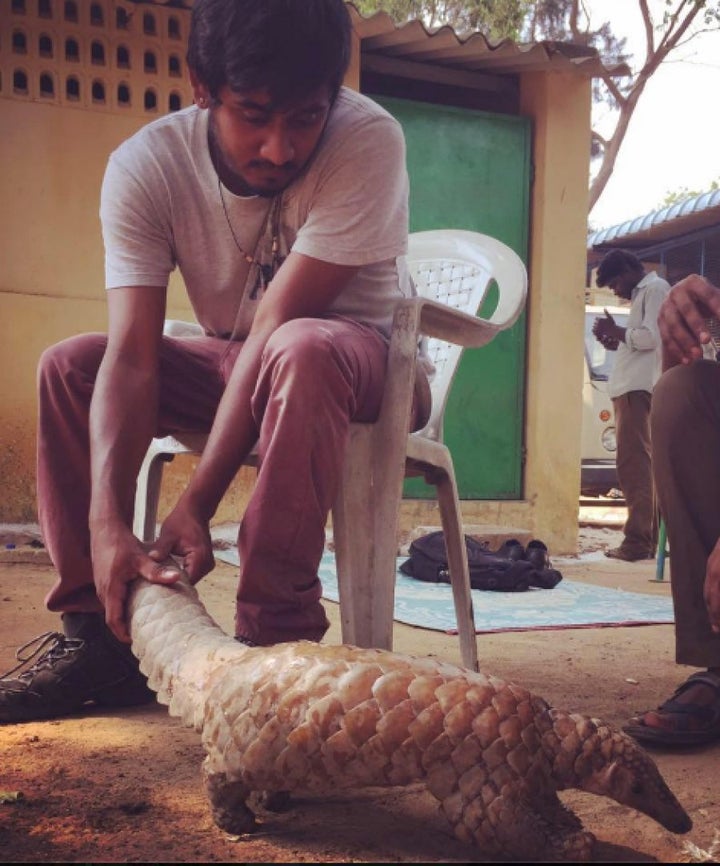 Shravan may be a hero for many Chennai residents, but there are people who like to keep away from him. "Maids don't want to work in my house," he said, laughing. "They are scared that something will pop out of my bag."
Shravan's parents don't complain about him bringing bagful of snakes but they never step in his room or touch his bag.
And then, there are others who are scared of this young animal lover. Once, just before he reached a spot to rescue a snake, a mob had already started hitting it. "One man just slit the live snake into half," Shravan recalled. He immediately filed a police complaint and the man had to spend a night in police custody.
"My neighbourhood is scared of me. They will never abuse an animal, because they know I will immediately go to the police," he said.
"Maids don't want to work in my house. They are scared that something will pop out of my bag."
Now, along with other animal rights activists in Chennai, Shravan is trying to build a Wild Animal Rehabilitation Centre. They are in the process of drafting a proposal addressed to the Tamil Nadu government, seeking a place for the rehabilitation of wild animals. "We should be able to get permission very soon," a confident Shravan said before signing off and running to the hospital to get his rabies shots.
Popular in the Community