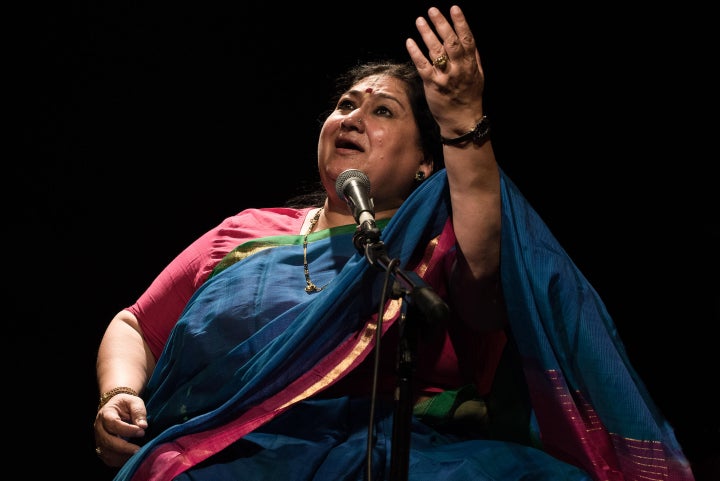 It's almost noon when Shubha Mudgal walks into the coffee shop that we agreed to meet at in Delhi. Not that you could guess it if you looked outside. In what has been a punishingly sweltering and parched monsoon season for the city, that morning saw Delhi hit by heavy—and welcome—lashings of rain. And as Mudgal shakes off her umbrella, folds it up, and steps in from the dark, overcast outside, it's hard to stop the chorus of one of her most iconic songs from burrowing its way into my brain.
Ab Ke Sawan, Mudgal's rock-infused paean to the rains, was released 20 years ago, catching the final Indipop wave before the genre's decline in the 2000s, but it endures as the seasonal song of choice for many. "I still get tagged in posts of everyone from little kids to old grannies dancing and singing in the rain every monsoon," she laughs.
The Hindustani classical singer remains deeply rooted to, and beloved for, her performances and compositions in the khayal and thumri-dadra genres of classical music—"I've lived with this music for a long, long time," she says—but has often ventured outside the realms of her traditional training since she began performing in the 1980s, experimenting with more popular genres, and earning legions of avid listeners—and a few detractors—in the process.
In a career spanning decades, Mudgal has worn many different hats—singer-composer, record label consultant, advocate for musical education, and co-founder of an online music label. But this year, as she turned 60, the multi-faceted artist found herself suddenly very nervous about her latest project: her first book and her fiction debut. Through seven short stories, Looking for Miss Sargam engages with what Mudgal knows best—the vagarious, demanding and often absurd world of music.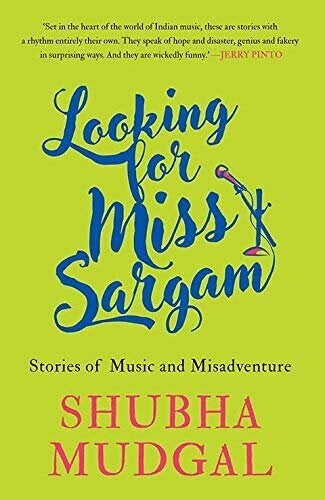 In the hugely enjoyable collection, an old-school recording company attempts to reinvent itself to hilarious results; a nationwide hunt for the next big classical music star becomes mired in greed, and a PR-driven India-Pakistan peace concert doesn't quite go according to plan.
It was this last story (the first in the book) that spurred the entire collection. Originally written to create a storyline for a part of Stories in a Song, a musical theatre production conceived by Mudgal, her husband Aneesh Pradhan and director Sunil Shanbag in 2011, Aman Bol did not eventually make it onto the stage. "It was just lying around for years and I would occasionally look back on it, wondering if I should add more to it," Mudgal recalls. Finally, Pradhan persuaded her to show it to a literary agent ("What's the worst that will happen? He'll trash it") who loved it, and Mudgal got down to writing more.
"Yes, art is a compulsion, it's a huge obsessive compulsion and we all feel the urge and pull of it but I also earn my livelihood through music and I'm very proud of it.""
While Aman Bol was her very first attempt at writing fiction, Mudgal, born to two professors of English literature in Allahabad, read novels hungrily as a child. "I grew up in a home full of books and we had heated arguments about them. A lot of them were classics, leather-bound Dickens volumes with gold lettering, and my sister and I were encouraged to read them and we were then quizzed."
As she grew older and Indian writing in English began to be more widely published, Mudgal gravitated in that direction. She's currently reading Bangladeshi author Numair Choudhury's novel, Babu Bangladesh!—"I'm a slow reader but it's amazing and I'm riveted"—but admits that in the last 10 years, fiction has taken a backseat to books about music or those that are obliquely related to her work. "I'm hugely interested in Hindi, as well as Braj Bhasha and I like singing it as well. So I'm reading more literature in that language. I feel like I need to know more about the context around it."
Warm, hilarious and bursting with irreverent tales, it's evident that Mudgal is a natural storyteller, a trait that lends itself to, and has been honed by, her music. "Creating a narrative is very much a part of music-making also," she elaborates. "Particularly in the forms that I'm really studying—khayal and thumri–dadra—the musical narrative moves in an almost architectonical structure. So you begin by laying this big foundation of a raag story, so to speak, and add more detail and filigree work and keep on building that." The big difference with writing, though, came down to the act of articulating in a manner that also spoke to other people. "I had to do a lot of practice for that," she says.
The result is a collection that easily shifts in register from outright hilarious to wry to heartbreaking. Mudgal brings an insider's perspective and an astounding eye for detail to these stories, creating characters and settings that pop. Her love for the tiniest of details meant that it took three years for Mudgal to write more stories, some of which did not eventually go into the collection. "I'm one of those creatures who can be distracted too easily," she laughs.
Her travel schedule didn't exactly speed along the process either. Mudgal splits her time between Mumbai, where her husband lives, and her Paharganj apartment in Delhi, which is also home to her two dogs, Nargis and Ringo. "The stories were swimming around in my head all the time but it's only at the dead of night when I'm not travelling that I write," she says. The nocturnal efficiency is true for composing music too—her neighbours once worriedly asked her why pressure cookers would often go off in the darkest hours of the night in her house.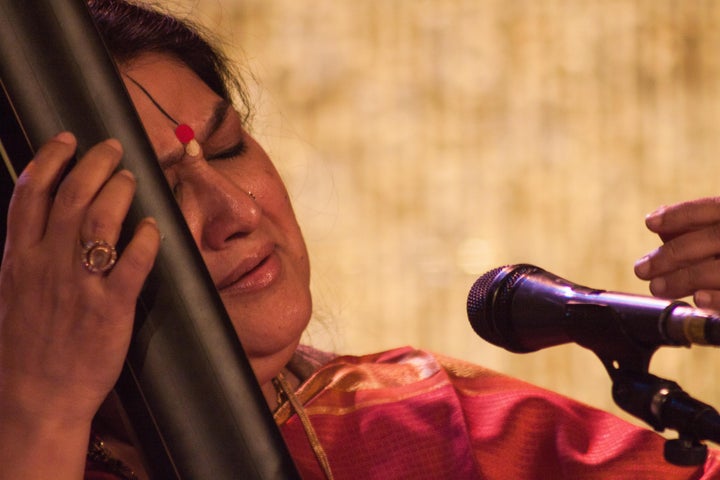 United by music, many of the characters in Looking For Miss Sargam are united by a burning desire for fame and recognition, desires that are often frowned upon by an artistic community that places value on austerity. Mudgal explains that especially in the classical music world, success often comes with its share of jibes and accusation of having almost "abandoned the music and sold out". "There is this desire to be making art for art's sake. And yes, art is a compulsion, it's a huge obsessive compulsion and we all feel the urge and pull of it but I also earn my livelihood through music and I'm very proud of it."
It's impossible to separate the musician from her beliefs and Looking For Miss Sargam, through its sardonic wit, fleshes out issues that Mudgal has held close to her heart, campaigned for and written about in columns for many years—the lack of government support to classical musicians, the unfair treatment of accompanying artists, intellectual property for musicians and the rights of artists. "These are concerns that I cannot get rid of. They haunt me," she says.
"Nobody taught us the business of music. The balance of power is so skewed, hierarchies need to be equalled and made a square playing field."
Holding those in power accountable extends beyond the music industry for Mudgal. In March, as war drums were being beaten and India-Pakistan hate fostered in the aftermath of cross-border attacks, Mudgal joined several other musicians, activists and artists in performing for peace at the Red Fort.
In July, she joined 48 other prominent artists and writers in signing an open letter to PM Modi, expressing concern over the rising incidents of lynching of Muslims, Dalits and other minorities in India, quoting statistics from the National Crime Records Bureau. The letter was met with one by personalities including Kangana Ranaut and Madhur Bhandarkar, accusing the signatories of "selective outrage". The statistics regarding increased violence under Modi were predictably not addressed.
Mudgal remains undeterred. "I can't bury my head in the sand and deny what's happening," she says.
For now, the musician is looking ahead and excited about upcoming projects. She is unsure whether more fiction is on the cards—"Right now I'm just grinning away when somebody says they actually liked the book," she says—but she's looking forward to performing a musical rendition of the free verses of legendary Hindi poet Kunwar Narain next month, including his writings on nature and his moving poem, Ayodhya 1992, written in the aftermath of the Babri Masjid demolition.
But Mudgal the writer is far from disappearing. A second book, non-fiction this time, is in the works and she's also keen to sharpen her art. "My ear is better in a sense than my eye so I actually want to work on that. How do I write about a piece of music that has really touched me that my readers might never hear?" she asks out loud. "I think I need to do some more riyaz on that."