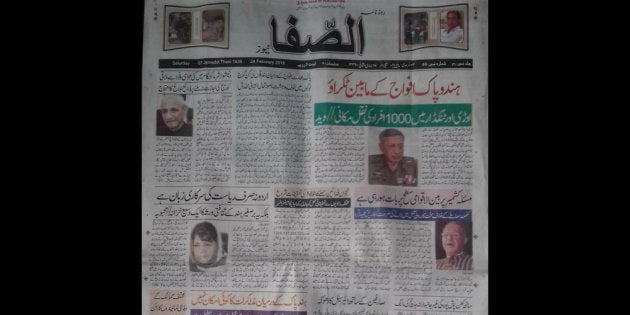 SRINAGAR — On April 23, 1991, a gunman walked into the downtown office of Shaban Vakil, the editor of Alsafa, and shot him dead.
The killer was never conclusively identified, and, the once-feisty Urdu daily's editors recall, Vakil's faded blood stains were visible on the office walls for several years — a ghostly reminder of the perils of reporting Kashmir.
Today, as Kashmir continues to burn, the assassination of Shujaat Bhukhari, the editor of Rising Kashmir, evokes memories of Alsafa's meteoric rise and abject fall.
The Rise
In 1991, the year Vakil was assassinated, Kashmir was aflame with insurgency and Alsafa — founded 4 years previously by Vakil in 1987 — was a newspaper fashioned after the rebellious spirit of the times.
Vakil, a lawyer from a family of wealthy landowners in the apple-rich Sopore area of the Valley, saw an opportunity for a energetic Urdu daily as Aftab, Srinagar Times and the other established newspapers were too laid back, tame, and Srinagar-centric.
Altaf Baba, one of northern Kashmir's largest distributors of newspapers and magazines said, Alsafa's focus on rural areas was unprecedented.
"The first thing people did after waking up was to go looking for a newspaper. Shaban sahib would bring newspaper bundles in his old Fiat car himself," Baba said. "Strikes and curfew were common those days and newspapers found it difficult to reach out to places outside Srinagar."
Vakil hired the best talent and paid them well, often dipping into his savings, a copy editor at Alsafa during its heydays, Zahoor Shair, recalled. Vakil, Shair said, was a disciplinarian who ensured everybody was in office by 11 in the morning.
"Most newspapers started work by the evening then, still do," Shair said.
Vakil paid delivery boys substantially higher than rivals. He was probably the first newspaper owner to gift them bicycles. Newspaper distributors and agents got to keep a sizable part of the ad revenue.
When militancy erupted, the newspaper became a vocal reflection of the ground sentiment, inviting the government's ire. The bold coverage of the molestation of women — by alleged government forces — in Chanpora, Srinagar in 1990, and similar reports, boosted its popularity.
The paper also published militant's press releases and obituaries, spurned by others.
The leaders of the resistance weren't spared either. According to an editor who worked with Vakil, in 1990, when the resistance called for strikes as a manner of routine, he headlined an opinion piece thus: "Hartal karana aasaan, kaam karana mushkil" [It is easy to call for strikes, much harder to get things done].
Political struggle for Vakil, a former Alsafa journalist said, was a "long haul".
Alsafa was among the few newspapers to have their own printing press. At the peak of its popularity, it published more than 40,000 copies, touching about 65,000 on weekends. Even today, newspapers whose circulation currently crosses the 5000 mark are counted as success.
Such bold coverage earned the newspaper its fair share of enemies, yet Vakil's assassination came as shock to the valley's corps of reporters and editors.
"Even if Alsafa is published in golden letters today it is unlikely that it will regain its lost glory."
The assassination
Journalists familiar with happenings of those days remain tight-lipped about what could have led to the assassination and by whom.
Some said it was Vakil's "recklessness" towards business matters and coverage of certain sensitive issues, others said it was because of some unscrupulous business dealings. But all agree that he was one of the finest newspapermen and his killing triggered the painful death of a robust media institution.
Alsafa at the time of Vakil's assassination was an extension of its founder, owner and editor. Barring Greater Kashmir, which is part of GK Communications Private Limited and a full-fledged institution, most newspapers in Kashmir are precariously placed family-run enterprises, heavily dependent on government advertisements and goodwill, Alsafa was no different.
"Even if Alsafa is published in golden letters today it is unlikely that it will regain its lost glory," said Ghulam Muhammad, a newspaper distributor in Sopore, where Vakil's family continues to manage their estate. "He (Vakil) had the knack. His successor didn't."
The fall
Ashraf Shaban, Vakil's only son, was barely out of school when he took over Alsafa. An editor who worked with both the father and the son said that handing a thriving newspaper to Ashraf was like asking someone who couldn't ride a bicycle to drive a truck.
One of Vakil's brothers chaperoned Ashraf in the intricacies of business and, importantly, how to navigate the turbulent situation, but they soon had a fall out.
Huffpost India has reached out to Ashraf, his mother and sister, for comment, and will update this copy when they reply. A family member said Alsafa's decline was unfortunate, he hoped that the paper would recover someday.
"The foundation laid by his father was very strong. That is why the paper flourished for many years even under Ashraf's juvenile leadership," said an employee who worked in the management in the 90s.
Ashraf would fire employees at whim, one employee said. He also struggled to establish a rapport with newsagents and hawkers vital to sustaining the paper's circulation.
He insisted on having at least 25 news items on the front page, and the spill-over from the front page was published on an inside page in tiny font, which was hard to read. The masthead was reduced by one-third of its original size so that more news items could be packed on either of its sides. Yet, the paper kept losing readers to competitors.
When the paper took to publishing unsubstantiated and libelous articles against politicians in government, Alsafa's fate was sealed.
Several former Alsafa editors and employees said things really started to unravel when the paper sought to attack reputed journalists. A front-page article described a rival editor as "impotent", another article spoke of an alleged affair of the wife of a reputed journalist, causing anger in the journalistic community.
And when former Jammu and Kashmir Bank Chairman Muhammad Yusuf Khan moved court after the publication of a defamatory report, an Alsafa headline mocked him saying, "Lady Yusuf Adalat Chali", (Lady Yusuf Goes to Court).
Morale dipped. A former senior editor said that printing press employees would cheat on the number of copies published. Outstation agents would embezzle ad revenue.
When the paper took to publishing unsubstantiated and libelous articles against politicians in government, Alsafa's fate was sealed. One front-page headline, for instance, falsely claimed that a brothel had been uncovered in a senior politician's home.
In 2004, Alsafa carried a front-page picture featuring former Congress minister and parlimentarian Saif-ud-din Soz, with an obscene caption. Days later, the Srinagar Municipal Corporation bulldozed the Alsafa printing press. Corporation officials said the newspaper had encroached on government land adjacent to the press, but the obscene caption was believed to the real cause.
The Alsafa office was ransacked and Ashraf was detained at the police station where he had gone to file a complaint against the demolition, as were several Alsafa employees.
The newspaper never recovered.
Government ads, which Kashmir governments often use as an instrument to control the media, reduced to a trickle.
Ashraf's mother and sister took over the operations and tried hard to revive it after the episode, but the damage was beyond repair.
Journalist Zahir Din, who edited Alsafa from 2012 to 2014 under the mother-daughter duo's management, said, the government would release advertisement bills only twice a year. Private ads had dried up by then.
"It was a sad sight. Ashraf had sobered by then. He became photographer for the newspaper. He would come to the office, download pictures onto a PC and leave," Zahir said. "One day he told me 'blood has been shed in this newspaper, it can never be normal. His words ring true."
Alsafa Today
On Sunday, I walked to the office where Vakil was shot all these years ago. The Alsafa office in Sarai Balia, in a rundown building owned by the local mosque committee, was locked.
I dialed the number written on the office board. A man on the phone said the newspaper was no longer published from the office, but from a printing press nearby. At the printing press, in a room that looked more a PC repair shop than a newspaper office, I was greeted by a lone youth seated in front of a computer, processing a government ad.
Afaq, who is also the editor-in-chief, said government "vendetta" against the paper had continued long after the printing press was demolished 13 years ago.
I learnt that Alsafa was now run by Afaq Bhat, editor and owner of an English daily, Precious Kashmir.
Afaq told me by phone that he took control of the newspaper and printing press in 2014 when Vakil's wife Raja Begum, listed as the Owner and his daughter Nusrat Shaban, the printer and publisher of the paper, signed over an irrevocable power of attorney to Afaq. He is now the de facto owner for a period and terms agreed upon by both parties.
Afaq, who is also the editor-in-chief, said government "vendetta" against the paper had continued long after the printing press was demolished 13 years ago.
"You will find it at newspaper stands," Afaq said. "I am trying hard to revive it and I won't accept defeat."