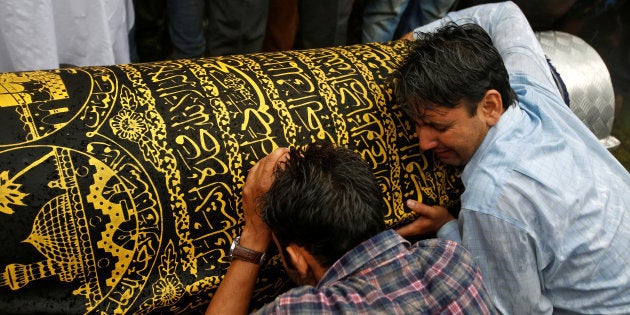 SRINAGAR -- Police in Kashmir investigating the killing of prominent journalist Shujaat Bukhari and two of his security guards arrested a suspect on Friday, an official said.
Bukhari, editor of the Rising Kashmir newspaper, was leaving his office in Srinagar, the summer capital of Jammu and Kashmir, when he was shot at close range on Thursday by gunmen on motorbikes.
The suspect, named as Zubair Qadri, was seen in a video stealing the pistol of one of the guards shot dead with Bukhari, Inspector General of Kashmir S.P. Pani told reporters.
"The pistol has since been recovered and he is being questioned about his presence at the scene of the crime. So far, he has not been able to give any convincing answers," Pani said.
Pani, who described the killing of the journalist as a terror attack, said the identities of the three other gunmen were still being ascertained.
Militant groups Lashkar-e-Taiba and United Jehad Council also condemned the killing and denied involvement. Instead, they blamed "Indian agencies".
Bukhari had been a strong advocate of peace in disputed Kashmir, at the heart of decades of hostility between India and Pakistan, both of which claim the Muslim majority region.
More than 130 people have been killed this year in militant violence in Kashmir.
India has long accused Pakistan of training and arming militants and helping them infiltrate across the Line of Control that separates the two sides in the region, a charge Islamabad denies.