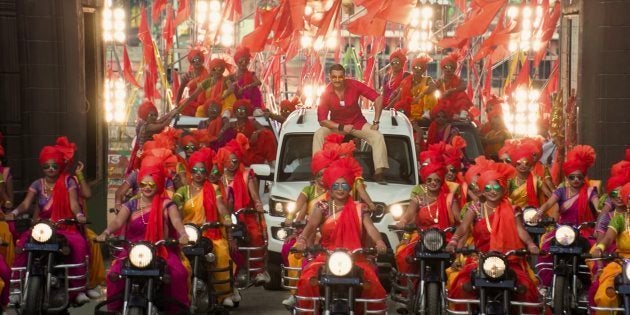 This has been a long, exhausting and infuriating year for many women in India. You can bet they don't want to end their year suffering through a movie which is basically a love letter to man who avenges women by beating up rapists.
The trailer of Rohit Shetty's Simmba, starring Ranveer Singh, seems like it is set to bring that nightmare to life.
The trailer shows Singh as a corrupt cop who turns on the men who've been paying him off when they rape and kill a woman. Cop-tosses-crooks-in-the-air has been the brief of Shetty's Singham films and the entire genre birthed by Salman Khan's Dabangg, and expecting nuance in this is like expecting clean air in Delhi. At least in the trailer, the makers of Simmba seem to have used tropes that woman have been pushing against for decades now.
Women have repeatedly expressed how insulting they find the discourse that they are 'someone's mother, wife, sister' and hence should not be assaulted—one can only hope the makers of Simmba were listening. However, it may be kind of hard to cling to that hope, considering how the trailer unfurls.
Before the woman is raped and killed, the trailer shows Singh telling the girl that she reminds him of his elder sister. To which the girl coyly declares that she would happy to be his 'chhoti behen'. All hell breaks loose when the woman the alpha male protagonist has just chosen as his sister is raped and murdered. His ego has to take a beating for him to eventually turn into the nemesis of rapists, it seems—his crook paymaster helps by comparing the character to his pet dogs. Then a gaggle of women in kurtis, 'no make-up' make-up and in various stages of being weepy, declare 'rapists ko maar do bhaiyya' (kill the rapists, brother). These scenes are slipped in between shots of Singh breaking bones and scattering men in the air.
Sara Ali Khan appears just in snatches of dance sequences and has one dialogue in the trailer, just to put the film's commitment to the cause of women in perspective.
This year, like other years, we've witnessed the struggle of woman against powerful assaulters, women narrating incidents of being violated by men they knew and Bollywood's own being hauled up for assault. We really don't need to be subjected to a shoddy, big budget film promoting all the awful stereotypes about women and sexual violence.