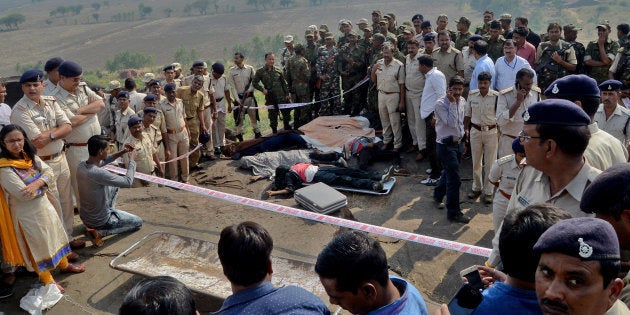 BHOPAL -- The eight operatives of the banned Students' Islamic Movement of India (SIMI) who died in an "encounter" on Monday after escaping from the high-security Bhopal central jail were monitored by CCTV cameras and jammers, along with round-the-clock security. Nearly a 32 feet-high wall surrounded them.
Some of them were part of the Khandwa jail break three years ago when six SIMI operatives had escaped the prison after breaking the toilet wall and injuring a jail guard. Security had been increased on them since then.
But unlike the 2013 jail break when it had taken a nationwide hunt and nearly two years to track them, this time it was different. It ended swiftly with eight dead bodies--the prisoners hadn't even made it out of Bhopal.
High-security jail that housed a don and hardened Naxals
In fact, the Bhopal jail was deemed so secure that SIMI operatives from other jails across the state, who were booked in different cases, were also brought and kept here because it was considered the most secure jail--a prison where mafia don Abu Salem was once imprisoned, and currently lodges hardened Maoists and other extremists.
Yet, on the wee hours of Monday, the SIMI operatives made a daredevil escape. At around 2.30 am, they allegedly killed jail guard Rama Shankar and managed to scale the wall by a rope made using the sheets to escape, said officials.
The police said that as soon as they got information, separate wings of police including Special Task Force (STF) and Anti-Terrorism Squad (ATS) were alerted, and began the hunt.
ADG Jail, senior cops shunted out
The state government has come down heavily on jail administration. The ADG (Prisons) was removed from his post, and four other officials including a DIG and the Jail superintendent were suspended.
Chief minister Shivraj Singh Chouhan called it was a serious lapse and warned that heads would roll. "Those responsible would face the axe, may even get dismissed, as this lapse is nothing less than sedition," he said.
Within half-an-hour of chief minister's statement, the police claimed to have cornered all the escaped prisoners and killed them in encounter at Acharpura in the outskirts of Bhopal.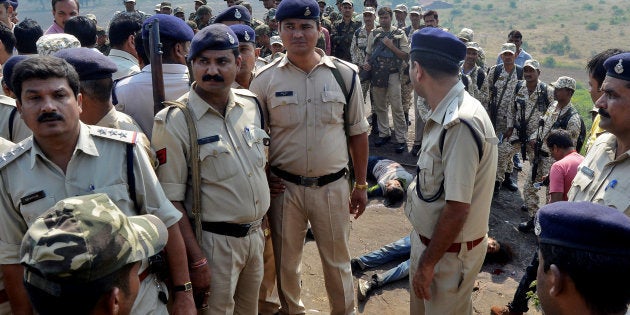 Those killed included Sheikh Mujeeb, Mohammad Salik, Khalid Ahmad, Majid, Amjad, Mahboob alias Guddu, Aqeel Khilji and Zakir Husain. Of them, Zakir, Amjad and Mahboob had escaped from Khandwa jail too.
Unlike the last jail break, it seemed all of them had remained together following the escape and didn't manage to escape too far. Most police officials kept mum over the entire operation.
While villagers reportedly claimed that the SIMI operatives threw stones, the policemen said that the operatives had firearms. However, it was not clear how they managed to get the weapons.
"It was a private security personnel who had given an input and on the basis of that, teams were sent to catch the SIMI operatives," claimed a senior police official.
Inspector General of Police (IG) Bhopal range, Yogesh Chaudhary told media persons that the accused were traced and asked to surrender but they refused. "The police fired in self-defence. All the accused were killed in the firing," he said.
ATS chief Sanjeev Shami said that the trail was over with the encounter and other aspects couldn't be revealed as they are part of the operational details.
Facing sedition charges, robbery & cops' murder
The SIMI operatives were facing sedition charges. They were arrested for running the banned outfit's activities in Madhya Pradesh and robbing banks to finance their operations.
The ATS earlier said that SIMI operatives wanted to take revenge on several persons including those police officials who had allegedly tortured SIMI detainees in the past.
They were accused of killing two policemen in the past apart from robbing Manappuram bank and some other banks. However, in one of the bank robbery cases, some of them had been acquitted.
In the 2013 jail break, six SIMI operatives had run away from Khandwa jail apart from another criminal who was not a SIMI operative.
Abu Faisal, who hailed from Mumbai, and studied in a homoeopathy college in Indore, is said to be head of SIMI operations in MP.
ATS officials maintained that he had organised the SIMI again in the State. He had allegedly led the escape from Khandwa jail and arrested from Sendhwa later. However, today he didn't run.
Opposition raises questions on entire turn of events
In an official statement, opposition Congress raised questions on how prisoners could manage to escape from the high-security jail during a high-alert situation. Congress also questioned why so many SIMI prisoners were kept in the same jail together.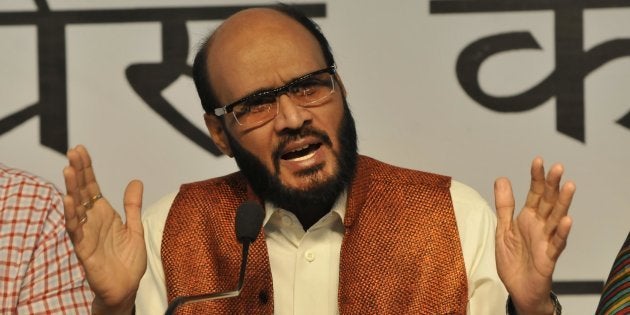 The party's chief spokesperson KK Mishra commented that it was bizarre that they easily managed to break the security and obtained weapons before being killed. The party also asked how such a high wall could be scaled so easily.
Lawyer terms it cold-blooded murder
Lawyer Parvez Alam, who has fighting cases of SIMI operatives, said that it was cold-blooded murder and the six persons were deliberately shot dead. "The trial was not moving ahead, even thought it was conducted through video-conferencing," he said. "One of them was an absconder and police were looking for him. I had advised the client's kin to get him surrendered before the law, which he did. If the cases didn't drag, they might have got acquitted."
The lawyer also said that the story was unbelievable. "How they got new clothes and late acquired weapons," he asked. "I challenge the Bhopal police to get the fittest policeman in the force to scale the wall and jump off it."
Alam said that he would move High Court, and he demanded a CBI inquiry. "They have been killed in the head, because if they remained alive after getting injured, it would have revealed a lot."
After the Khandwa jail break, it had taken police and the ATS nearly two years to track the absconders— the MP head of SIMI operatives, Abu Faisal, was arrested from Sendhwa in MP, while the other accused were arrested from different parts of the country. Two others were killed in an encounter in Nalgonda (Telangana) on 14 April, 2015.
After the SIMI operatives had raised slogans during a court hearing in Bhopal over a year ago, security was enhanced even more in the Bhopal central jail and security was extraordinarily tight.
Chief minister Shivraj Singh Chouhan said that National Investigation Agency (NIA) would conduct probe into the jailbreak and that he has spoken to the Home minister Rajnath Singh in this regard.