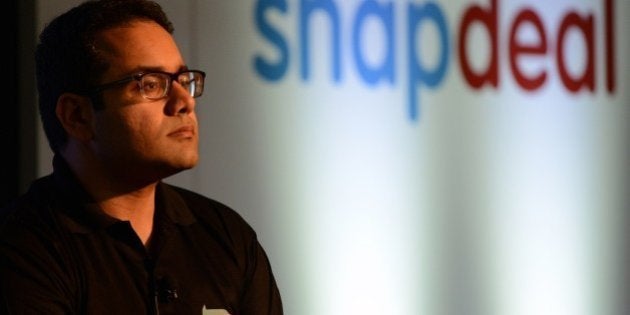 NEW DELHI-- Online marketplace Snapdeal has launched an app called Shopo that will allow small business owners set up a virtual "shop" within 30 seconds. CEO Kunal Bahl said that though India had over 32 million small businesses, barely one in thousand of them were online. His company's big push, through this app, is to add at least a million more such businesses to Snapdeal's market by the year-end. With no clear revenue model—Snapdeal says it will charge no commission as the middleman—it is apparent that like several other e-commerce firms, Snapdeal's game plan is to snap anyone, looking to sell anything, into its fold.
In an interview to Bloomberg, Snapdeal claims 150,000 sellers on its site which is three times more than nearest rival Flipkart. Shopo, as an app, allows a prospective seller of say, niche cakes or candles, to advertise their wares to on the online window shopper who isn't really sure what he's looking for. "It's then possible for a buyer to initiate a chat, bargain, set up a drop-off point to pick and sell goods. The aim is that buyer and seller must seamlessly connect," said Snapdeal's chief product officer Anand Chandrasekaran.
To be sure, other online sellers such as Quikr and Paytm also offer similar facilities through their apps, but Snapdeal says that the value proposition they offer is different. "Both sellers of used goods and new sellers can use this app," said Sandeep Komaravelly, senior vice president at Shopo. "But we primarily want to make it easier for the 8-in-10 informal, prospective sellers on our site who we now have to turn away."
Snapdeal has had issues with authorities earlier this year when prescription drugs and sex toys were sold through the site, but Bahl clarified that Shopo had mechanisms to prevent illegal transactions.
Goldman Sachs estimates Snapdeal and its rivals lose on average $1.35 for every dollar in sales. However with $627-million of funding from SoftBank last year and bevy of investors including Ratan Tata, the company can rest easy in spite of not—atleast publicly—specifying a plan to make money out of their initiatives. The size of the ecommerce market in India is around $20 billion and it is growing at an average rate of about 40-50 per cent per annum, according to the E-commerce Association of India. Most of the e-commerce transactions are expected to be app-only in the near future.
Popular in the Community