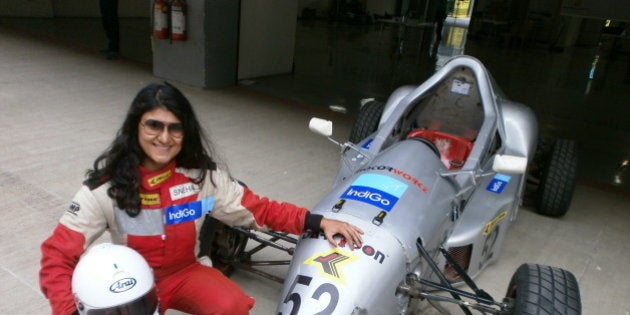 Fuelled by her love for speed and machines, Sneha Sharma knew exactly what career she wanted to pursue even when she was 16 years old. Today, this 25-year-old is not only the fastest woman racer in the country, she is also a pilot with Indigo Airlines, and balances both worlds seamlessly.
"My mother took me go-karting when I was 16 to a local track in Mumbai called Hakone (it no longer exists)," the Formula 4 racer said in an interview with HuffPost India. "I remember that she was worried about my safety. I wasn't. I like speed, always have," she said.
In an interview with HuffPost India, Sharma shares her extraordinary journey that, like any race track, has had its own twists and turns. Her parents were the first roadblock in the course of her dream career. They were simply not convinced about her career choice at such an early age. Forced to lie to pursue her passion for car racing, Sharma would visit the karting track twice a week, and carried her schoolbooks around with her to study.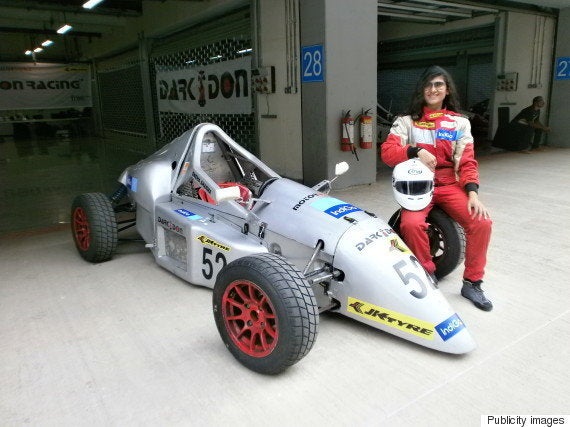 Sneha Sharma all geared up to race
In just two weeks, Sharma started clocking the quickest times at the karting centre, but her hunger for the sport was slightly dampened by the lack of education in the field. "People in the country are more focused on cricket, but I am seeing a change, and more appreciation for racing," says Sharma who hopes to travel to Germany next year (under 60 per cent sponsorship) for the ADAC Cup. She was invited this year, but could not make it because of her job.
The drivers abroad are (comparatively) far superior in terms of experience, facilities and support, and it is essential for an Indian driver to travel to gain some ground.
Not being able to find a trainer, she would pay marshallers with her pocket money in exchange for some education on cars. Eventually her hard work paid off. In a sponsored race, where she secured a podium finish, Sharma was asked to join the Rayo Racing national championship team. "I was in my 12th and it was a tough call, but I decided to join them," she remembers.
In 2009, Sharma earned the tag of India's fastest woman racer in the Mercedes Young star driver programme: she secured 6 race victories and 9 runner-up position and karting. Earlier this year, she finished in the 11 position at the Formula 4 event, and was one of the two women competing. She will also be making her presence felt at Formula 4 on November 26 at the Buddh International Circuit in Noida.
But sponsorships are not easy to come by. Racing is an expensive sport, says Sharma who, in the past, cleaned cars to earn some extra cash. "My parents gave a little bit of money, but I used to work part time with my team handling odd jobs such as keeping accounts." Today, she is the only Indian driver to be sponsored by JK Tyres and by Indigo Airlines and as a pilot she is able to finance herself as well.
The race track has also prepared her well: "I have learnt to focus single mindedly, and make quick decisions – the latter has also helped with my flying," she says, also adding how her tolerance for high temperatures and challenging work environments stand her in good stead.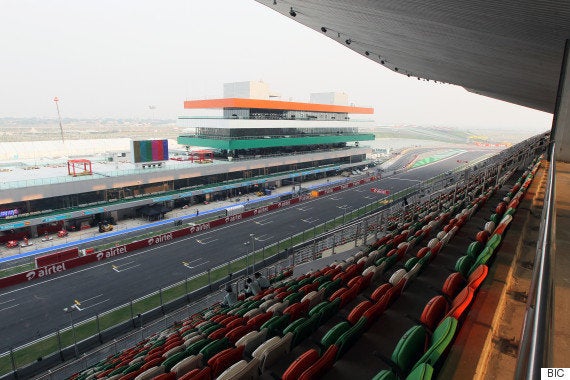 Buddh International Circuit, Noida
Sharma claims that racing encourages men and women to compete on the same platform. But men she says are at a natural advantage because they're stronger in build for this physically demanding sport. She has lost over 30 kilograms just for racing, and follows an exacting diet and exercise regimen. "You need serious neck muscle power," she says, revealing that she has to work out in the gym with her helmet on to strengthen her neck.
Apart from the gym where she focuses on free weights workouts, Sharma alternates between swimming, badminton, running and power yoga. "You need a lot of upper body strength and flexibility, which translates into a lot of stretching, free weight workouts like burpees and pushups," she says.
Sharma hits the gym right after her round of flights – at times she wakes up as early as 3 am. She also avoids any forms of sugar or aerated drinks, but loves her greens and a bit of dark chocolate. Her routine has left her without much of a social life, she admits, but Sharma highlights that none of these things are a sacrifice of any sort.
"I want so much to succeed so I don't feel like I have given up much," says the young lady, earnestly.
With the sport picking up attention in the country, Sharma hope to see more women drivers, aside from herself and just a couple of other women (the young Mira Erda and Alisha Abdullah). "There's a heavy age-range – people from 19 to 30s come to race, but there's not many women," says Sharma.
Off the field, Sharma drives a diesel Hyundai Verna, but stays away from automatic drives. "I love manipulating the rev of the engine", she says and grins.
A big advocate of safe driving, Sharma passes on a few tips to drivers on Indian roads: Know the braking capacity of your car, because it's not about how fast you can go, but how fast you can stop if things go wrong. To avoid hydroplaning, light tap brakes in the water to make for a better grip, and always check tyre pressures for changing weather conditions – it'll help determine how much grip you get in the corners when you're taking turns on the road.
Even as she learns new tips and tricks, there is one important lesson that stays constant in her life and should apply to everyone, Sharma says: Success always happens outside the comfort zone.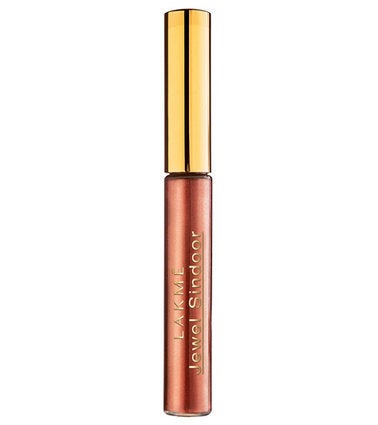 35 Beauty Buys Under Rs 500