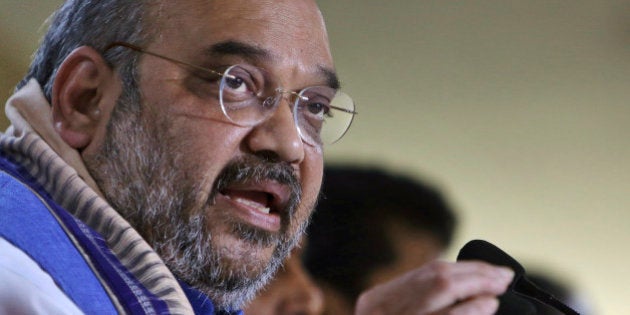 MUMBAI -- Bombay High Court has refused to drop a plea challenging Amit Shah's acquittal in Sohrabuddin Sheikh encounter case.
Rubabuddin Sheikh, brother of Sohrabuddin Sheikh, killed in an alleged fake encounter in Gujarat, on Tuesday moved the Bombay High Court seeking to withdraw his petition challenging the discharge of BJP President Amit Shah by a Mumbai court in the case.
The application was filed in the court of Justice Anuja Prabhudesai seeking to withdraw his petition in which he had challenged Shah's discharge by the trial court in the Sohrabuddin Sheikh and Tulsiram Prajapati fake encounter killing cases. Shaikh pleaded that he wanted to withdraw the petition as there was some "communication gap" with his lawyer. The Judge posted the matter for hearing after two weeks.
Rubabuddin's lawyer Vijay Hiremath said, "Rubabuddin has gone to the High Court seeking withdrawal of his petition on his own and has not consulted me. Therefore, I am not aware of the grounds cited in that application for withdrawing the petition." On December 30, 2014, a CBI Court in Mumbai had discharged Shah in the alleged fake encounter cases saying there existed "no case" against him and that he had been implicated for "political reasons".
The trial court had also ordered dropping of charges of murder, abduction and criminal conspiracy against the BJP Chief.
Sohrabuddin, an alleged gangster whom the Gujarat police had claimed to have links to Pakistan-based terror outfit Lashkar-e-Taiba, and his wife Kausar Bi, were allegedly abducted by Gujarat ATS from Hyderabad on their way to Sangli in Maharashtra, according to prosecution in the trial court. Sohrabuddin was killed in the alleged fake encounter near Gandhinagar in November 2005 after which his wife had disappeared and was believed to have died.
Tulsiram, an aide of the alleged gangster and an eyewitness to the encounter, was also allegedly killed by police at Chapri village in Banaskantha district in Gujarat in December, 2006.
Shah, who was the then Minister of State for Home in Gujarat, was alleged to have plotted the killings with some police officers.
He was arrested by CBI in July, 2010 and granted bail by the Supreme Court three months later on October 29 on the condition that he will not enter Gujarat.
The Sohrabuddin killing case was transferred to Mumbai in September, 2012 at CBI's request for a fair trial. In 2013, the Supreme Court had clubbed Tulsiram Prajapati's encounter killing case with that of Sohrabuddin.