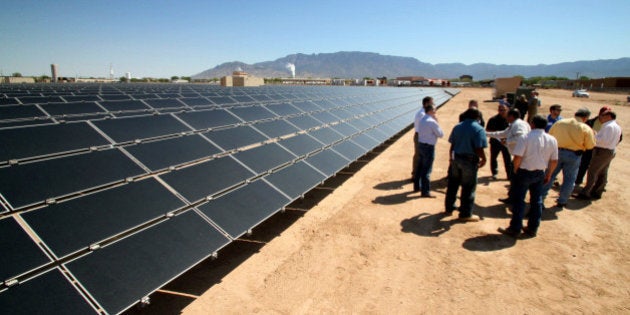 India might be one of the fastest growing economies, but around one-third of the rural population does not have access to regular supply of electricity. And despite having some of the lowest per capital consumption of power in the world, India's power shortage had reached 30,000 MW per day in August, leading to frequent power cuts during peak consumption in the summer.
The federal government's Jawaharlal Nehru National Solar Mission (JNNSM) was started by the previous UPA government to help bridge the gap between the rising demand and lagging supply. The mission also seeks to divert production of energy from polluting sources like coal to solar, of which tropical India has an abundant supply.
Several startups and small independent producers have taken this opportunity to develop solar energy. Among them is Azure Power, which was started in 2007 by former Silicon Valley executive Inderpreet Wadhwa, and has a stated aim of being the lowest cost producer of solar power in the world. It builds, owns and operates solar power plants in Punjab, Gujarat and Rajasthan. Wadhwa, whose debut project was the first plant to sell solar power commercially in India, says his firm now offers rooftop solar power at Rs 6, making it comparable to the cost of a household's conventional power bill. Helion Venture Partners, Foundation Capital were early investors in the firm, and last year Azure raised $14.3 million from IFC, the private sector investment arm of the World Bank.
Yesterday, it commissioned a 100 MW solar plant in Rajasthan under JNNSM. Wadhwa talked with HuffPost about the state of solar power in India, ways to scale up its role in India's energy mix that still relies heavily on coal, and how enterprise-level generation of solar will become cheaper than conventional power by 2017.
The main problem with solar all these years has been its pricing. It is more expensive than conventional power. Are you achieving some sort of parity now with better technology?
We built India's first commercial project in this sector in 2009. At the time we were selling power at Rs 17.91. per unit. That's extremely expensive as you pointed out. But over time, improvements in technology and pricing of tech and more efficiency in construction meant we could bring it down to Rs 6 now. Some of our recent projects are in that range. So that's a 70 percent reduction over a four-year period, which is huge. If we continue to move in that direction, it is only a matter of time that solar will be cheaper than coal. Today in most cities we are able to sign bilateral contracts for rooftop solar without any subsidy. Because the delivered cost of power is even higher and solar can compete at the point of consumption. And we will soon get there at the point of generation as well.
Today, whatever you pay at home, whatever is the daily upper limit, we can beat that. In the cities we are at a price advantage. In large-scale projects however, there is a still a gap between conventional and solar power. But with time solar will become cheaper.
One limitation with solar is that you won't get power if there is no sun. So in areas where sunny weather is not a regular occurrence, this might not be a viable source of power. What is your view on that?
For that storage has to get better. I think there is some innovation happening on that if you followed Tesla. They have made very large investments in storage, so I don't see any reason why that technology cannot be used for storage of renewable energy as well. But again, solar is a function of sun, so when it is sunny out it works really well. When the sun it not out, well that is a storage problem not a solar problem. Storage tech will get better with time but they are not there today where you can do mass storage of solar. But in my mind India by and large has three-quarters of the country available to produce many gigawatts of solar. Right now India also has a good energy mix, and you can have smarter energy grids that can decide which energy to use when. I think that is an easier problem to solve than the storage problem.
As you scale, you will need solar panels on larger tracts of land. And acquiring land for industry has been a problem. The Land Bill meant to address the issue is still stuck in parliament. How are you managing the issue?
I think with scale that is likely to be a challenge. What has worked for us so far is community engagement where you try not to displace any other activity. There's plenty of wasteland that's available in most of the states we operate in where you are now creating a revenue stream for wasteland. If you were looking for a very specific piece of land, and there are linkages associated with it, then you have a problem. But we are flexible, and can relocate from location 1 to 2 to 3 and so on but generally when we go for wasteland, people have no problems in concluding that transaction. But land acquisition in India is still complicated and if it can be simplified from a process standpoint, it's most welcome. But we are not too hindered because we are going after wasteland.
Skilled manpower has been an issue for certain industries in India. Do you face a challenge there, particularly because you are growing fast?
We have a core engineering and execution team that manages and controls the core activities of the business. When we talk about scale, it is more in terms of execution, supervision and then operations. Its not a high-tech function, and for the foreseeable future I don't see a skills problem because it's easy to train. The programs we developed internally are very efficient. They have helped us hire people from the industry. The slowdown in infrastructure projects the last couple of years actually allowed us to tap into a good talent pool for solar.
At the bottom skill level, we hire technicians from vocational schools like it is. Above that level we hire from engineering schools and there are a lot of them in India. And supervisors are hired from the construction industry. This is the talent pool we tapped the last couple of years.
What is the potential for solar energy?
The mix now is that almost 60 percent is coal, 10-15 percent is hydro, a small percentage is gas, and then the rest: biomass, nuclear, solar, run of the mill. Largely still coal. So the potential for solar is huge, you can build more than what India needs.
Where do you see solar expanding in the next couple of years, realistically?
Right now it's small capacity because the industry has just started to take off. But India can get to 10-15 percent of the mix from solar in the next 3-5 years. And if we can continue with the same ambition you can even get to 30 percent. I think the highest mix of solar anywhere in the world is in Germany, where most months in the summer it goes as high as 50 percent. From an integration standpoint it has been tested. So 10 percent is perhaps a good first goal to achieve and then getting to 30 percent would be great.
But they also pay much higher energy bills than Indians do.
But I think when solar becomes Rs 4 and coal becomes Rs 7 then the discussion in India will also change. That's the inflexion point for India. I believe it is possible by 2017-18 that you get power cheaper from solar than new coal-based plants, if not the old.
State and federal governments have provided subsidies and incentives to install solar. But beyond that we need viable models that might work with distributors. What has been your experience so far?
The government's efforts are still early stage, just starting right now. Good they are at least putting the framework in place for inter-connection i.e., how solar power at home will connect to the distribution company. We did a project in Gandhinagar maybe 2 years ago, where we took almost 200 buildings – residential and commercial – and we had an agreement with the distribution company there for integration with the grid. We were selling to them, they were in turn selling to the building owner, and the owner was having a revenue share with us. So models like that, where the distribution company is able to displace other sources of power works out cheaper. The customer benefits too, his cost of electricity is actually going down. So models like that will become extremely useful and we are talking a lot about smart cities now, and solar will be an integral part of that.
How has the landscape changed for solar power entrepreneurs since the time you started in 2009?
Today there is more competition. When I started the business, nobody knew what the business is going to be, nobody knew what solar is going to be like in India, so there were different challenges in that phase. I started looking at it in 2007, and incorporated a company in 2008 and built the first project in 2009. So between 2007-09 there was a lot of effort in researching, getting permissions from regulators, setting the tariff order, structuring the power purchase agreements, structuring the financing. None of that had been done before. Nobody knew how much energy we could produce. So a lot of those challenges existed in those days. Today none of that is a challenge because you have got standard references to look at for everything. You have plants running everywhere. So the challenge now is more in terms of how do you differentiate yourself. New business models perhaps. How can you be more efficient? There is lot more competition. But having said that, this is a very large market and lots of opportunities out there.



Popular in the Community