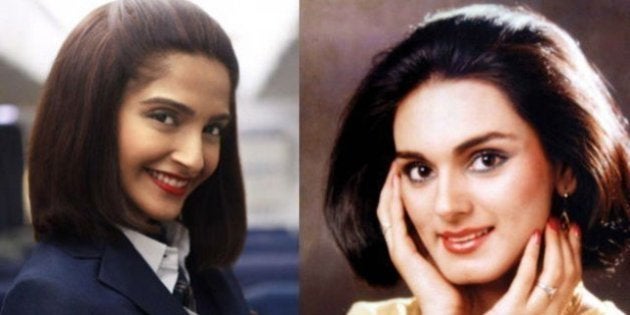 On Monday, Sonam Kapoor shared her look as slain Pan Am purser Neerja Bhanot from her upcoming biopic 'Neerja'. Directed by Ram Madhvani ('Let's Talk'), the film went on floors last week at a studio in Mumbai.
With her long locks shorn off, Kapoor looks quite similar to Bhanot, who was shot by terrorists who hijacked the Mumbai-New York flight at Karachi on September 5, 1986.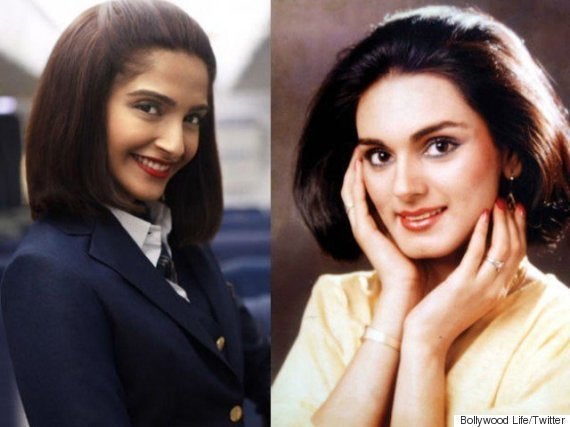 Bhanot was a senior flight purser for Pan Am or Pan American Airways, an American airline which was the largest in the world until the company collapsed in 1991. She has since posthumously been awarded the Ashok Chakra (India's highest award for gallantry), of which she is the youngest recipient. In her name, the Neerja Bhanot Pan Am Trust, set up by her parents after her demise. presents two awards every year to flight crew members who act beyond the call of duty and women who overcome social injustices (such as dowry and desertion) to help other women in similar situations.
On October 5, 1986, her father Harish Bhanot, a journalist, wrote a heartfelt obituary about his daughter in Hindustan Times. Here is what one can glean about Neerja as a person as well, as the incident that took her life, from what he wrote:
1. She was also a hardworking model.
According to the piece, Neerja, who was only 25 hours shy of her 23rd birthday when she was killed by the hijackers, was a "vivacious" and "valiant" girl who also dabbled in modelling. Her father describes her as being "highly duty-conscious". Just three days before her death, she had returned from Frankfurt late at night. Yet, she spent the next two 'off' days shooting from morning to night, catching only a few hours of sleep before her ill-fated flight. Her mother even asked her to "excuse herself" from the flight, but Neerja refused to do so.
2. When the hijack happened, she was left in charge of the plane.
As the hijackers rushed in to capture the aircraft, Neerja managed to shout out the 'hijack code' to the cockpit, despite having been held back by one of the terrorists, who was grabbing her hair. However, as it later transpired, she was unaware of what the effect of the hijack code actually was — the resultant action taken by the cockpit crew (comprising pilot, co-pilot, and flight engineer) was that of escaping the aircraft immediately, leaving the fate of 400 passengers and 13 crew members in Bhanot's hands.
3. During the ordeal, she helped keep things under control before letting people escape through the emergency exit.
It was 17 hours after the hijacking that Bhanot managed to open the emergency exit, after a failing power generator unexpectedly dimmed the cabin lights. While people escaped in the chaos, she was shot dead at point blank range by the leader of the hijackers as she attempted to shield three little children. But before this, while the entire ordeal was on, Bhanot kept her cool and kept smiling in an attempt to calm distressed passengers down. She communicated with the terrorists and attended to their needs, "within permissible limits".
4. Known as 'Lado' at home, her family doted upon her.
Born in Chandigarh on September 7, 1962, Neerja was the first daughter born to her parents, who were already raising two sons at the time: Akhil and Aneesh. Her father wrote, "The maternity ward matron rang up to inform me that we had been blessed with a baby-girl. I was very happy to hear this and gave her a 'double thanks'. She thought I had got her wrong and so she repeated "It is a daughter". I explained to her the daughter had already 2 brothers and that is why it was an occasion for 'double thanks'." He added that Neerja, who attended Sacred Heart School in Chandigarh during her childhood, was almost never referred to by any other name at home than 'Lado'.
5. She lived a happy life, barring two months spent in a loveless, dowry-clouded arranged marriage.
In March 1985, Neerja had an arranged marriage through an advertisement to a man who lived in the Gulf. However, despite both parties having agreed to a dowry-less marriage, when she joined her husband, she was told that "even a very poor man gives something to his daughter in marriage". In the two months she spent in the marriage, Neerja was deliberately denied finances as well as food in presumed revenge for the lack of dowry, as a result of which she lost 5 kg. The last straw came when — after returning to Mumbai (then Bombay) to honour a modelling contract — her husband sent her an "ugly" letter, ordering her to return, taunting her about her educational qualifications ("You are just a graduate," said the letter, reportedly), and threatening her with separation.



Popular in the Community