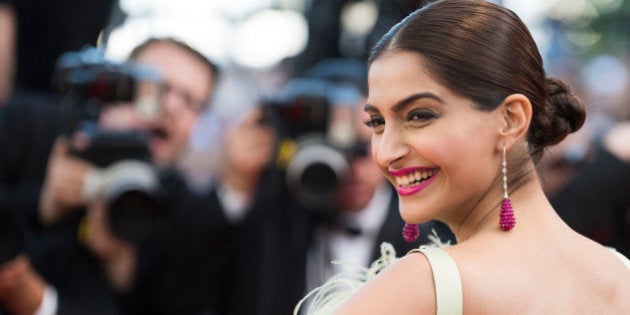 On 1 May, actor Sonam Kapoor launched her app about herself. And no, unlike what detractors may have predicted, it's not named 'Die Wanting These Clothes' or 'Your Salary Sucks'. In fact, it is rather helpfully and unassumingly called 'Sonam Kapoor'.
The app is available for free download on Google Play Store and the iTunes App Store. Within days of its launch, the app has turned out to be irrefutable anthropological evidence of the fact that Android and Apple users follow two disparate curves of evolution. Android users loved the app so truly, madly and deeply and they could tattoo in on their foreheads. Or get married to it. Or name it 'Golu' or 'Puchkoo' or both.
I have arrived to the aforementioned conclusions based on the fact that after over 10,000 downloads on Play Store, the app's rating remains at a high 4.6 out of 5. Millennial lifelines like Twitter, Facebook, Instagram and oh, Tinder, hover between 4 to 4.4. (Don't trust any other explanation that Zuckerberg now offers for not 'feeling thankful', purple flowers et al, anymore.)
On the other hand, on App Store, 'Sonam Kapoor' is stuck at a sorry 2-star rating. "Jealous types ki hai," sources quoted Android users as saying in response.
When you log-in with your Facebook account you are led to a page where Kapoor has been photographed in the vicinity of a (shirtless?) Fawad Khan. I matched the intensity of her hiding-behind-coffee-mug stare with that of average humans' who have been subjected to images of Khan on laptops, phones etc. They seemed to match.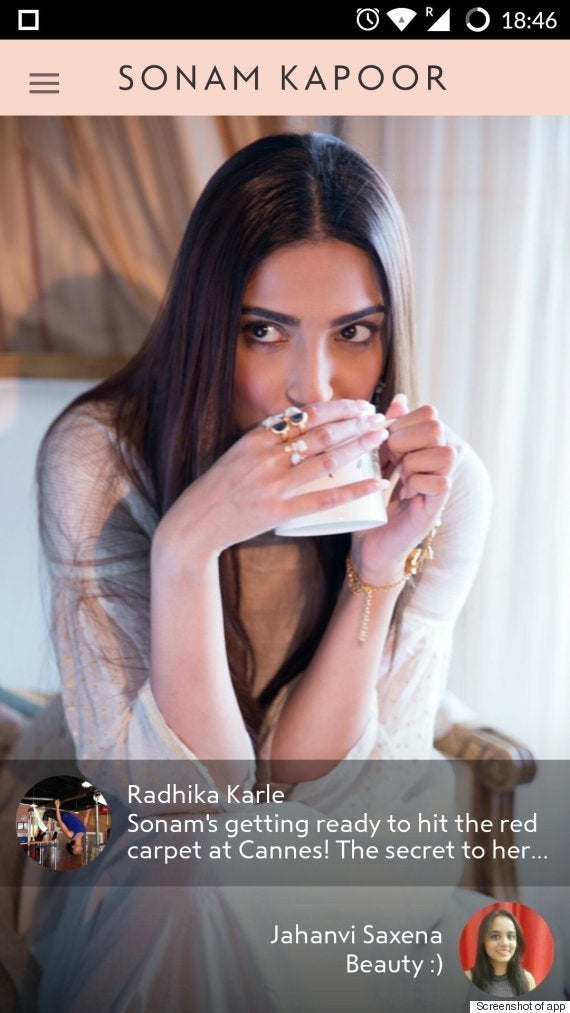 If you are the aforementioned 'jealous types', you quickly move to the navigation bar, unable to deal with the knowledge of the kind of privileges some people have. It has 8 sections. The first says, "My Life". Hers, not yours.
While this copy was being typed, 'My Life' immediately took you to a picture of what looked like oily palak on the stalk, upma and green coconut. Depending on which side of the Aisha divide you are on, you are either going, 'aww, Sonam is like us only and has a cook who hates her' to 'Lol, someone please give her the KFC number'.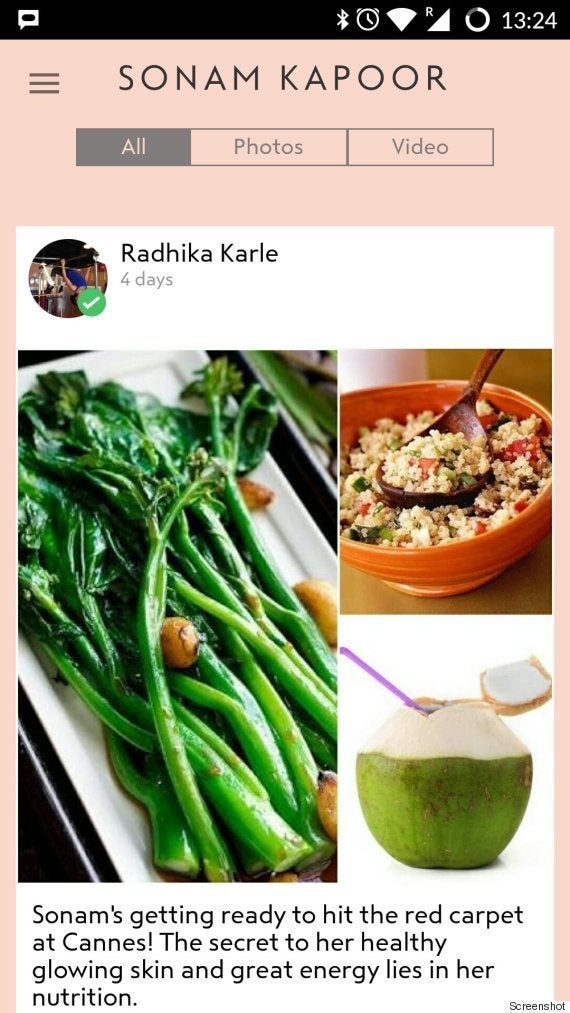 Either ways, you need to calm down. Those things in that picture don't belong to any ordinary kitchen. The first one - named like villains in Kung Fu Panda films - is Kai-lan, the Chinese Broccoli. The other one is quinoa. This upma impostor apparently hails from South America.
The photo has been posted by one Radhika Karle, who is seen hanging upside down from rails, with not as much as a grimace on her face. You can bet that your phone screen, work desk, chopping board, is not flatter than her abdomen.
So before you snigger or reach for your burger, kindly feel up the rolls on your stomach once more.
The next few posts comprises Sonam Kapoor working out, Sonam Kapoor wearing a fabulous dress, Sonam Kapoor pouting at the camera, Sonam Kapoor wearing a fabulous dress, Sonam Kapoor shooting a video with Daddy Kapoor, Sonam Kapoor wearing a fabulous dress...
The other interesting page is called 'My Tribe', where users can post pictures of Kapoor, with pithy observations like 'bae', 'cute smile ever', 'Princess', 'unrelated string of lipstick, heart, strawberry, flowers, music, shoes emoticons'.
However, some canny women, have also taken to posting their own pictures leading to much anger amongst The Tribe. Oh, 'The Tribe'. My theory is, 'The Tribe' is clearly modelled after Beliebers and Beyhive. However, Kapoor fans discovered that the only legitimate spinoff on their favourite star's name was Sonhalwa. And since that can't be cool, they chose to call themselves "The Tribe" instead.
Then there's the section you should seriously steer clear of during month-ends, or when you are depressed, or you are drunk with a credit card in hand. This section is called Style Mafia. Apart from Sonam Kapoor in clothes that incite dangerous degrees of wardrobe-loathing and dress-doubt, it has make-up tutorials. You may be left wondering why socialist governments and concerned columnists don't take up make-up poverty as a legitimate issue.
Oh, did I tell you that you can also add friends from 'The Tribe'? If it ever gets a little lonely - too many fans these days of the woman Kapoor said needs English lessons - remember, you have a damn 'tribe' just a click away.
Popular in the Community