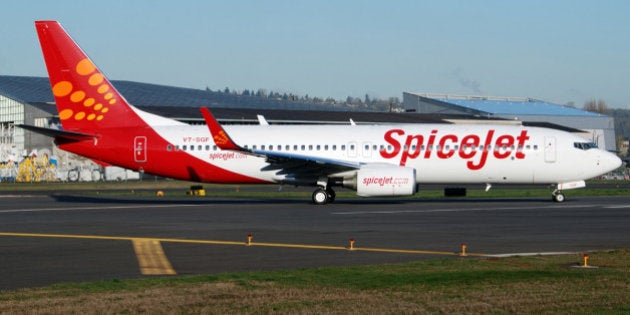 NEW DELHI — On 17th December 2014, SpiceJet's flights were grounded after oil companies demanded dues be cleared before they would supply any more fuel. It had seemed at the time that this might be the second airline to fail after Kingfisher.
Since then the airline has staged a turnaround and posted a profit in the previous quarter, its first since 2013. And today's results confirm that the beleaguered carrier is now on the right path.
Gurgaon-based SpiceJet reported a net profit of Rs 71.80 crore during the first three months ending June 2015, over a net loss of Rs 124.1 crore during the same quarter last year as it cut costs and flew more passengers.
It said on Tuesday that its load factor - the percentage of an airline's carrying capacity it has filled and a key indicator - rose to 89.8 percent in the quarter, a rise of almost 15 percent from last year. And it managed to cut costs by 42 percent in the quarter compared with the same period last year by reducing capacity.
The stock soared 7 percent when the news broke, before paring gains to 5.77 percent at close. "This is the second consecutive profitable quarter and I am proud of what we have achieved. But there is still a long way to go. I am confident that the best is still ahead of us," SpiceJet chairman Ajay Singh said in today's statement.
"If the airline makes at least a marginal profit for at least two consecutive quarters, that would be a sign of a turnaround. However, the industry's biggest single problem is the gross overcapacity situation that the airlines have inflicted on themselves," said Hormuz P. Mama, an aviation analyst in a Mint report.
Lower fuel costs have helped. It reduced SpiceJet's operating cost and allowed it to fly its planes for longer. "Our Boeing utilization is now over 14 hours a day, one of the highest anywhere in the world—allowing us to earn more revenues, get a better return on asset," said SpiceJet's chief operating officer Sanjiv Kapoor.
SpiceJet's revival started last year after Ajay Singh, who had helped start the airline, returned during SpiceJet's darkest hour. The airline had failed to disburse salaries to employees, flights were grounded, and it had to clear Rs 400 crore in deferred taxes. Singh, who had steered the airline through a turbulent phase in 2005, took back ownership from Kalanithi Maran, the billionaire chairman of Sun TV who had bought the airline in 2010 for Rs 750 crore and had invested a further Rs 500 crore.
Singh set about cutting costs, while making sure the airline flew as many passengers as it could. Singh, along with other investors, put in Rs 650 crore for a 60 percent stake, and repaid Rs 200 crore worth of bank loans.
SpiceJet had 10 discount sales in the last year to raise its load factor. The results are now showing up, helped by subdued oil prices. The airline, which was going downhill just nine months ago, is now back in play. And it is profitable, unlike most other Indian airlines which are groaning under high operating costs and fierce competition for fares despite being in a market that is among the fastest growing worldwide.
SpiceJet is now looking for investors — which might include Qatar Airways — who might take a stake, and help accelerate the turnaround process.
(With inputs from Reuters)



Popular in the Community