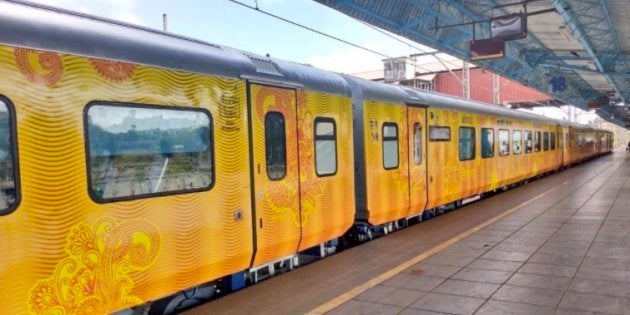 Only two days ago news emerged that Tejas Express, all set to be the country's first high-speed and world-class train, was vandalised while on its way from the Rail Coach Factory Kapurthala to Mumbai. According to Business Standard, DK Sharma, general manager of Central Railways said that the issue was not a major one and only a couple of panes had been smashed, which they were planning to fix once the train reached Mumbai.
However, it is not the extent of the damage that is disconcerting, rather it is the fact that someone damaged the panes in the first place.
The Mumbai-Goa Tejas Express is capable of running at speeds of up to 200 kmph. It also has several unique features, such as 9-inch infotainment screens for every seat, tea and coffee vending machines, vacuum bio-toilets, automatic doors and hands-free water taps.
Now, according to a recent report in the Mumbai Mirror, several headphones were stolen and many LED screens were left with scratches on them during the train's maiden journey from Goa to Mumbai. The railway staff reported that several headphones were missing, leaving passengers for the following ride complaining that they never received any headphones.
As mentioned in the report, a railway official said that headphones were distributed after the maiden journey had commenced and that there were no announcements made to inform the passengers to return them after use. The official mentioned that they however had not expected passengers to take the headphones with them.
According to a report in the Deccan Chronicle, not only were the headphones stolen and screens scratched, the train was littered and the toilets had also been soiled. Upon seeing the mess, the authorities had to plead with the passengers to keep the train clean.
The Deccan Chronicle also quoted a passenger as saying that some passengers even tried to remove the LED screens and take them away in their bags. The report also quoted the maintenance staff as saying that the floor was littered with cups, wrappers, bottles and such.
The Hindustan Times reported that a passenger had complained about unclean toilets.
Popular in the Community