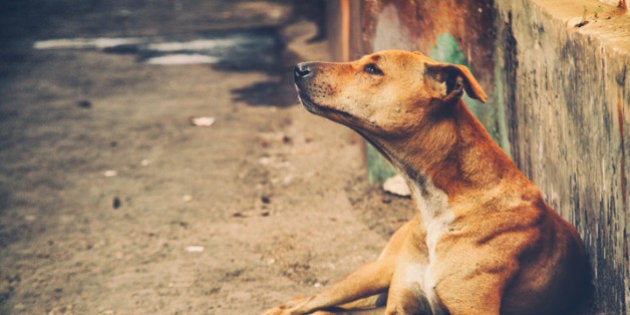 (The following article contains graphic images of cruelty towards animals)
On 27 January, Ahmedabad-based student Haardikaa Goswami had posted a photograph of a dog allegedly beaten and tied to a tree in her hometown, Chandigarh.
According to Goswami, the stray dog had appeared in the residential area in Chandigarh around two months ago, but the residents wanted it away, since it was a stray.
"The kids in the area nurtured the dog everyday, provided him food and water, as it was weak. The kids had even collected funds to get the dog vaccinated so that people are not scared to keep it in the area... (sic)" wrote Goswami.
But on Wednesday, she got a call saying that the dog had bean beaten up and tied to a tree. It was also covered in bruises and was almost on the verge of dying.
Allegedly, when the police arrived on the scene, they also hit the dog with their lathis.
"...When the police arrived and with a half hearted belief to this, its shameful for me to state, that the police beat the dog too (sic)," wrote Goswami on her wall.
In her Facebook post, Goswami had asked her friends to help her track the injured dog's whereabouts.
Now all her Facebook friends and their friends are rejoicing that after over 7,000 shares, Goswami was able to track the dog down in Patiala, with the help of social media.
From all the 'raw information' and comments on her timeline, Goswami posted that the dog has allegedly been traced to a NGO in Patiala and has reportedly been given all the vaccines as well as a home.