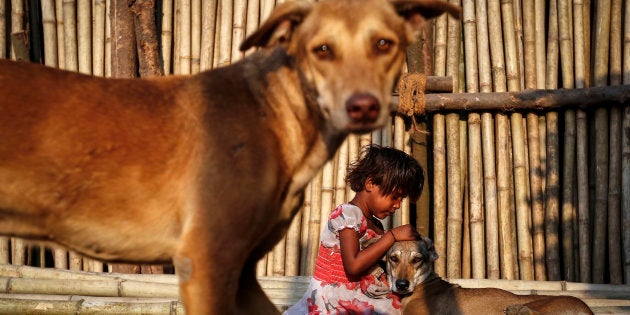 For hours, no one suspected that the baby girl lying on the ground in the busy waiting area of Howrah station in Kolkata's fringes could be in trouble. A half-filled bottle of milk lay beside her, along with a half-open bag with diapers. She bawled occasionally, but fell quiet after a bout of crying. Hundreds of people passed her by, assuming one of the few dozen women around must be her mother. A handful of dogs, permanent fixtures at the station hovered around the baby occasionally.
Soon, the peak-hour footfall ebbed and the baby still lay there -- she had been abandoned. The only ones that remained were the group of dogs, who still hovered around her. As the station emptied out towards night, this Sangbad Pratidin report states, a RPF personnel noticed the group of strays forming a protective circle around the infant lying on the ground. The dogs refused to venture too far in search for food and never let the baby alone. And for a while, no human approached the baby. This when the RPF personnel alerted higher officials who came and got the infant.
This isn't the first time that reports of dogs guarding babies have surfaced. Last November, again in West Bengal's Purulia district, four strays came to the rescue of a new-born -- another baby girl. The baby was left in a dumpster. On finding the baby, four strays stood guard around her, chasing away crows that threatened to swoop down on her. They didn't move from the place until a police team came and rescued the baby.
A iconic photo that is often used in campaigns to protest atrocities on strays was shot in 1996 in streets of Kolkata. A baby -- no prizes for guessing, a girl -- was left abandoned on the streets. Three strays guarded her zealously till help came.
In 2008, it was reported that a dog not only guarded a newborn boy dumped in Argentina's La Plata, but carried him to safety in a shelter she shared with her puppies. When the dog stumbled upon the baby, it was 37 degrees and the baby was crying under the sun. The dog carried the baby, like she would carry a pup, 50 metres away to a place with a shade where her puppies were deposited. Later, some people heard the baby crying and rescued him. Had the dog not dragged the baby to the shade, he would have died, doctors said.
Like this article points out, dogs often tend to react to babies the way they would to pups. They sniff their mouths and bottoms, often nudge them to see if they are healthy -- like they usually do with puppies. Often they won't easily leave the side of the baby because their protective instincts kick in.