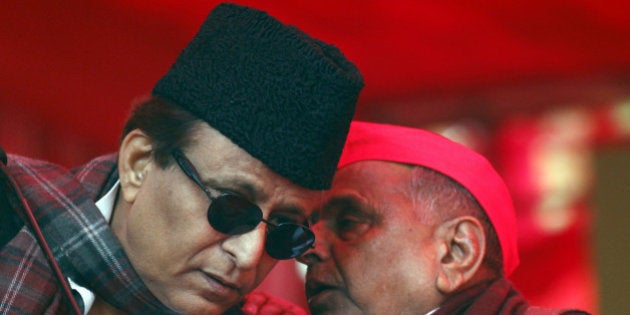 A student in Uttar Pradesh has been sent to jail for allegedly uploading an "objectionable post" against Samajwadi Party firebrand leader Azam Khan.
The content of the post, which was attributed to Khan, is not known at this point. "The boy made controversial allegations, It is conspiracy to make Hindu and Muslim to fight with each other," said Fasahat Ali, Khan's aide.
The irony of the situation is hard to miss since Khan has been making hateful and objectionable speeches in UP for most of his political career.
"There was a comment from a boy on Facebook against me which caused problem to me as people started abusing me over phone and started getting flak on Facebook. These incidents will stop only after taking hard steps, his act was highly objectionable," he said, IBN-Live reported.
The 19-year-old student, who was booked under section 66-A (punishment for sending offensive messages through communication service) of the Information Technology Act, was arrested on Monday and sent to jail on Tuesday by a local court. He has also been charged with promoting religious enmity and with intending to breach the peace. "The Facebook post carried derogatory language against a community and was wrongly attributed to Azam Khan," said Dinesh Kumar Sharma, SHO, Ganj Kotwali thana, TOI reported.
Khan was charged with promoting religious enmity for the speeches he made during the election campaign, last year. The Election Commission also banned him from holding public rallies because his statement were "made with "deliberate and malicious intention of outraging the religious feelings and religious beliefs."
In an April 7 speech, Khan said that it was Muslim soldiers, not Hindus, who won the 1999 Kargil war against Pakistan. "There was no Hindu who conquered the peaks of Kargil, but the peaks of Kargil were conquered by the Muslim soldiers, who said 'Allah ho Akbar.'" In another election rally, Khan said that Muslims should "press the button and take revenge against the atrocities of 2002 in Gujarat."
The student's family member said that he did not upload the post, but only shared it. They are willing to apologise to Khan for their boy's release. "Police kept us in the dark. On Monday evening they raided our house and took away our son, saying that he had uploaded some objectionable post on the social networking site against Azam Khan. They also told us that he will be released only after being produced before the minister in Rampur," the student's father told TOI.
Bahujan Samaj Party and the Congress Party have strongly condemned the arrest of the student.