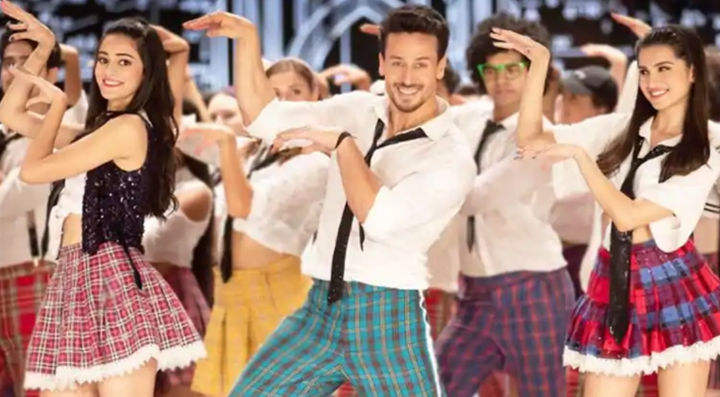 In her seminal essay Notes on "Camp" which has now attained global fame thanks to the Met Gala, Susan Sontag writes, "Many examples of Camp are things which, from a "serious" point of view, are either bad art or kitsch. Not all, though. Not only is Camp not necessarily bad art, but some art which can be approached as Camp merits the most serious admiration and study."
For the longest time, one could evaluate a lot of Bollywood films, especially from the stables of legacy studios such as Dharma and Yash Raj, as camp. In fact, Karan Johar's Student of the Year, which heralded the arrival of Alia Bhatt and two other actors, was, like a friend pointed out, "completely committed to its silliness," a drama that was so self-aware, it almost felt like a parody of itself.
While SOTY was saved by its soundtrack and the arresting presence of its three leads, the sequel, directed by Punit Malhotra, is that pretentious foreign-returned cousin who's trying really hard to be cool but falls staggeringly short, making a joke of himself. Sometimes, really bad art redeems itself by entering the so-bad-it's-good category, but SOTY 2 offers no such consolations, it's simply a terribly-made film that you forget even as you're watching it.
Featuring Tiger Shroff, or budget Hrithik Roshan in Twitterverse, SOTY 2 tells the familiar story of an underdog who gets back at the school bully and in return, wins the love and adoration of not one, but two campus hotties. A seemingly middle-class boy, he comes from Pishorilal to join St. Teresa, where the cool, rich kids go. At this fortress of a school, Caucasian women are deployed as cheerleaders even when no sporting event is underway (not that that would have made it any better) and Olympic-sized swimming pools are contained within Olympic-sized running tracks.
I've a term for this—Dharmatization. When reality isn't simply exaggerated for cinematic effect but dharmatized, which means it's woefully alienated from the soul of a place. It's in the aesthetic of Ishq Wala Love, it's in the anachronisms of Kalank, it's in the sprawling yet soulless campuses of St. Teresa, an elite school whose inner universe of hyper privilege can be read as an extension of Dharma itself.
Once in, Shroff, who plays Rohan (a character name shared by, well, Hrithik Roshan in Kabhi Khushi Kabhie Gham) needs to work hard towards winning the Student of the Year trophy, one that's been held by bully Manav Mehra (Aditya Seal), who is the son of the school trustee and looks like he's at least once OD'd on protein shake.
After a number of sporting events, dance competitions, bashed faces, more bashed faces and emotional double-crossings that patently belong in a K-serial, SOTY 2 comes to a wildly unpredictable end (no) when Alia Bhatt is seen pole dancing in Tiger Shroff's bedroom. I'm not making this up.
Tara Sutaria and Ananya Panday, who make their film debuts, are reduced to being Shroff's decorative props. The film's philosophy is so archaic that barring the 'dance competitions', the women aren't shown as having the ambition to win the Student of the Year trophy, which appears to be a male preserve. So the sporting events, the racing and the discus-throwing and the kabaddi, oh lord, so much kabaddi, are all played and won and lost by the men, with the women reduced to being cheerleaders.
Between Sutaria and Panday, the latter has the chunkier role (she's Chunky Panday's daughter, after all. Sorry). Somewhere, there was an interesting backstory to be explored—of Panday's Shreya being a Grade A elitist bully as a means to overcompensate for the oppression she faces at home but well, this is a film where a character says to another, "Change nahi, evolve hui hoon," just minutes before they devolve into being the same old person.
"Shroff, who is shown jumping across roofs simply because that and not acting is his best feature, narrows his eyes firmly, whether he's expressing love or preparing for violent kabaddi attacks."
While the film's music is largely forgettable, the performances aren't too memorable either. The three leads, Tara, Tiger and Ananya, collectively have a couple of expressions, and thanks to the lacklustre script, they use it alternately, so nobody is falling short. Except literally everyone.
Shroff, who is shown jumping across roofs simply because that and not acting is his best feature, narrows his eyes firmly, whether he's expressing love or preparing for violent kabaddi attacks. Sutaria says her lines with so much effort that it feels like we're watching a rehearsal video. Ananya Panday, whose character is a recycled-for-the-millennials version of Poo and Shanaya, doesn't carry half the spunk of either Kareena Kapoor or Alia Bhatt and after a point, just appears to be mouthing her dialogues like a template Bandra snob who's missed their avocado breakfast because they couldn't find their yoga pants.
With Bhatt, there was promise. She owned the part of being a superficial diva caught up in her own vanity, but with Sutaria and Panday, they don't reveal any depth or even a hint of depth. You could easily mistake them for Instagram influencers selling organic cosmetics after applying the Paris filter.
As if this wasn't bad enough, poor Gul Panag is reduced to being a lesbian coach who hardly has any dialogues.
High on testosterone and low on storytelling, SOTY 2′s assault on reality and obsession with privilege is best summed up in a dialogue when Panday's Shreya breaks the music system in the college auditorium after the tempo fails to go the way she wants.
"Bill mere daddy ko bhej dena."