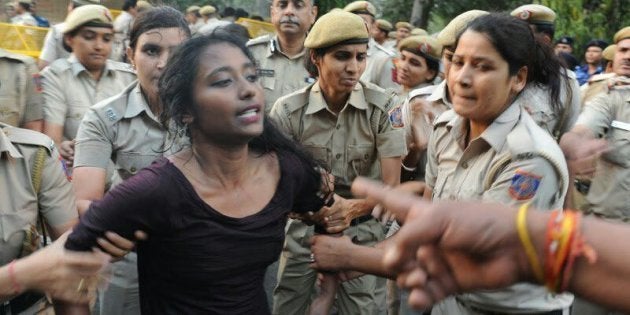 Moments after the Delhi Police trained their water canons on the throng of protesters from Jawaharlal Nehru University on 23 March, Md Jaleel Iqbal Khaki made his way to the front of the rally. And minutes later, a policeman slung his right arm around Jaleel's neck in a wrestling hold and hauled him across the street.
"I remember a pair of red shoes. The man in those shoes kept kicking me on my legs and stomach for the entire time this policeman was dragging me," the slightly-built, soft-spoken MPhil student told HuffPost India.
A week after the Delhi Police violently suppressed a demonstration by JNU's students and faculty, Jaleel is yet to recover. His left hand is fractured and the police has pressed charges of 'causing damage to public property', meaning he could be arrested at any point. Twenty-two students were arrested that day are facing similar charges.
The Delhi Police has blamed protestors for instigating the violence, but dozens of students and faculty members suggested that the attack was a premeditated assault. The attack comes at a time when universities across the country have become focal points of dissent against the BJP-led union government and its regional allies.
Delhi Police spokesperson Madhur Verma did not respond to multiple requests for comment.
'Tear her clothes'
Sheena Thakur, a former student of JNU's sociology department, was standing a good few metres away from the barricade the police had set up when one woman constable anxiously walked up to her asking her to leave.
"Madam, please leave. These people will beat you up," she warned Thakur, who said she refused to budge.
"I can take some shoving and pushing, I thought to myself," Thakur said, adding that some of the police personnel had taken off their name tags – which is in violation of the law and police regulations.
Thakur was familiar with the back-and-forth mechanics of students protest and police intervention, so she was caught unawares by what followed.
"Some policeman clumsily grabbed my chest from behind, someone grabbed my waist. I also fought them and wrung myself free," Thakur said. Then she saw some police women trying to drag women by their hair. "I ran to them and asked them why they were pulling the girls' hair? That's when all 8-10 of them turned towards me."
Thakur has short hair, so the women couldn't pull her by her hair. Instead some grabbed her from behind, others punched her -- on her back, on her chest, arms. Her back is still bruised. Thakur kept asking the women why they were beating her or anyone for that matter.
"That's when I heard a woman say, 'tear her clothes'," Thakur said.
The policewomen complied, and tore off her shirt.
"I kept shouting 'leave my clothes, leave my clothes, but they wouldn't just stop. I tried to free myself, but three women had my arms pinned at the back," she said.
She remembers trying to climb the road divider and could feel her bra straps coming off. The police women did not let go of her.
"The front of my top was already torn and I could feel my bra slip," she said. Then a male police man shouted at the women holding her, "sab kuch dikh raha hai iska (everything can be seen)". "My bra had slipped down and my breasts were literally out in the open for at least 20 seconds," she says. That's when the women let Thakur go for a few seconds till she could pull her bra up.
"I blanked out after that. Everything was a haze and I remember my friend flinging her stole over me as the women dragged me away to the bus," she said. Most other detainees remember Thakur climbing the bus without a top, a stole wrapped around her.
Sreyashi Biswas, a councillor at JNUSU, said she was repeatedly kicked by policemen, while Dipisita Dhar, another student, was dragged by her hair by a policewoman, while other policewomen repeatedly hit her. Biswas walks with a limp, her right leg smattered with bleu-red welts.
"They hit my lower abdomen with a lathi and it's still sore," Dhar said.
"Leave him now, he'll die."
Bhupesh Kumar, an MPhil student at JNU from Jharkhand said he was standing in a corner witnessing the violence, when ten policemen surrounded him and attacked him with lathis.
"When I couldn't bear anymore, I fell face down on the ground," Kumar said. The policemen continued to beat him until Kumar heard another policeman shout, "Leave him now, he'll die." Kumar says he was then pulled up and flung on to the sidewalk.
Kumar walks slowly, wincing every time he has to sit down or get up. His left shoulder and arm are swollen and red and his stomach he says hurts even while breathing.
The aftermath
The police herded 22 protesters and took them to the Defence Colony police station, and not Sarojini Nagar police station which the area falls under. The women were given kurtas and white Decathlon tees to wear since they were drenched and their clothes were torn. The women took the clothes readily as some of them were torn and everyone was wet and muddy. "We later realised, they tried to trick us. So that they can click us wearing clothes and pretend they didn't tear them," Thakur said.
At the station, a student said, a IPS officer whose last name was 'Arya' directed the police to take the photos of the detainees.
"We protested, saying this isn't legal. But they grabbed us, kept us still and clicked away," one of the woman detainees said.
Jaleel said when the men pointed out that taking their pictures was illegal and demanded a lawyer, the woman IPS officer directed two policemen to grab the top of their heads and their chins and hold their heads still while a third person took pictures. First Information Reports were lodged against all the detainees.
Were the students set up?
The Constitution of India safeguards an unarmed citizen's right to assemble peacefully. The police can choose to not allow a protest march if they think it threatens the 'sovereignty and integrity' of the country – a stipulation that doesn't apply in this instance.
However, several parts of Delhi, including the area around the Parliament is sealed under the section 144 of Code of Criminal Procedure, which disallows large gatherings.
Balaji, one of the organisers of the march, said the organisers had informed the Vasant Kunj police station of the protest march, provided them with the tentative route map and given them a rough number for the expected turn-out. Snapshots from the first couple of hours of the march show small groups of policemen walking alongside a neat column of protesters.
Two hours after the students began walking from the North Gate of the university, the police allegedly asked the protesters to make a small detour from the pre-decided route. Minutes later, they walked into the road around INA market where protesters at the head of the rally, spotted a barricade of policemen.
"There were two-three rows of policemen, followed by a line of metal barricades, then three-four more rows of policemen followed by another line of metal barricades and finally a couple of rows of of Rapid Action Force (RAF)," Shreya Ghosh, a student, said.
There were also four water canons placed behind the barricades.
A copy of the FIR filed by the Sarojini Nagar police station against one of the protesters claims that at 2:50 pm, the police was informed by the Control Room that JNU students were going to march to the Parliament. The FIR also doesn't state if Sarojini Nagar police station, acting on the 'information', communicated with the Vasant Kunj police station under whose jurisdiction JNU falls. All it says is on receiving said information, they went to set up barricades at INA.
Despite personnel from the Vasant Kunj police station accompanying the protesters from the beginning of the march, the FIR doesn't mention any attempt by the police to communicate with the students before they decided to use force against the protestors. The march commenced a good 40 minutes after the Sarojini Nagar PS received information about it.
A case involving the Delhi Police assaulting a gather of advocates protesting the imposition of CrPC 144 around Patiala House Court, Justices A.K. Sikri and Manmohan Singh said, "It would be a totally different scenario where the demonstrations or the mob constituting unlawful assembly are holding weapons or they try to pelt stones at the police or are equipped with lathis, with an intention to attack the police or use some kind of force when the police try to disperse such a mob. In the present case, however, it is found, as a fact, that the demonstration in question was peaceful; all the demonstrations were without any arms; and were holding peaceful march."
"They have to be given a chance to disperse and if they don't then force can be used. Even in such a case the force cannot be excessive," Samson said. "I think it's important to note that this was not an unlawful assembly and it was something which was peaceful." Professor Satyabrata Das, who has been in JNU since 1998 first as a student and then as a teacher, says he has not witnessed an attack of this intensity in all these years.
The Delhi Police later took to social media that they had to disperse students because they had become 'aggressive' and had been pushing barricades, but it is clear that the protesters were neither carrying weapons, nor pelting stones or brandishing lathis.
The issues
The decision to hold the rally was taken by the JNU Students' Union (JNUSU) and JNU Teacher's Association (JNUTA) to draw attention to the following issues, among others:
--- In September 2017, Gender Sensitization Committee against Sexual Harassment (GSCASH), a body of students, teachers and external members elected autonomously by students and teachers of the university for gender sensitisation and dealing with cases of sexual harassment, was replaced by a nominated body by the Vice Chancellor Jagdish Kumar.
Students and teachers fear, this hasty decision was taken to influence cases of sexual harassment filed against members of the administration and professors like Atul Johari, who is a part of various university administrative bodies, and has been accused of sexually harassing 8 students in the life sciences department. Johri was arrested, but granted bail immediately.
--- The students were also protesting a decision by the University Grants Commission to grant complete autonomy to JNU. This frees the university to raise academic fees, making it harder for students to pay for their education. The new directive asks 20 percent of the teaching positions to be reserved for foreign faculty at very high salaries. Under Indian tax law, a foreigner employed in India must be paid at least $28,000, approximately Rs 18,00,000, a year.
Popular in the Community