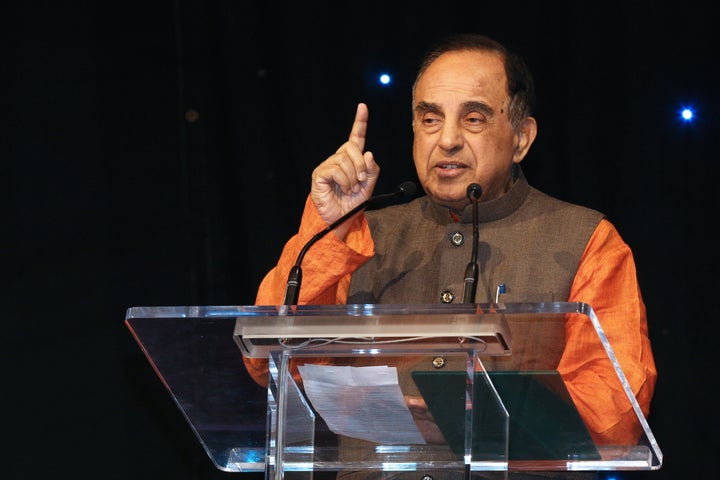 Once a critic of rightwing organisations like Rashtriya Swayamsevak Sangh (RSS) and Vishwa Hindu Parishad (VHP), Swamy has emerged as a champion of Hindutva or Hindu nationalism over the past decade.
The Bharatiya Janata Party (BJP) leader says the Ayodhya verdict, which gave the land where the Babri Masjid once stood to the Hindus, meant that India had "regained its historical legacy." He added, however, the matter is not over. From a Hindutva lens, the 80-year-old lawmaker said the hopes and dreams of Hindus will only be fulfilled when the temples in Mathura and Varanasi are also restored.
Swamy, who was a Union Minister in the Narasimha Rao government when the mosque was demolished in 1992, spoke of his plan to try and get Parliament to amend the law that safeguards against changing the religious character of places, how BJP veteran L.K. Advani, who led the Rath Yatra in 1990, will be remembered, and his interactions with PM Rao at the time.
We talked about what the Ayodhya verdict means for the BJP. What does it mean for India?
It is regaining the heritage of India. Today, I perceive this country as one that has regained its historical legacy. If you have demolished a temple and then built a masjid on it, then I have every right to restore that temple. There are three temples that we want liberated for special reasons. Ram Temple where Ram was born, the Krishna mandir in Mathura where Krishna was born, and third is Kashi Vishwanath in Varanasi. When all three are restored, the matter is over.
But the matter is over. The Supreme Court invoked the Places of Worship Act, 1991, which says there will be no change to religious character of a place as it existed since independence.
It's an Act. It cannot supersede my fundamental right to pray. So, I will move for an amendment or declaring that Act as unconstitutional when the time comes. Like you made an amendment for the Ram Temple in the Act itself, you make an amendment and include these two temples because these involve fundamental rights. I'll first try in Parliament.
"It's an Act. It cannot supersede my fundamental right to pray."
We are now a Hindu majoritarian state.
No. There are lots of differences of opinion. The rational Muslim knows the BJP has not allowed a single communal riot to take place.
What about the cow lynchings of Muslims?
The BJP is not responsible for that.
These are happening under the BJP government?
Did it not happen before?
These kinds of lynchings of Muslims started after the BJP came to power in 2014.
I'm sorry, I don't agree with you.
You are not acknowledging the level of hate since the BJP has come to power. Look at the Residential Welfare Association (RWA) Whatsapp groups where hateful messages against Muslims are posted openly.
They have the guts to say it now. They did not have the guts to say it earlier. We would have never come to power if the sentiment is not there.
But it's a toxic sentiment.
It's a toxic sentiment that can be cured by a mature presentation of what this nation is. Not by the hocus pocus that Jawaharlal Nehru dished out to us. You see that is where people felt that after all this history, we are still second class citizens. Whether they were or not is another matter. But they saw that whatever we were doing to accommodate Muslims as appeasement. When such things takes root, there is no use in using logic. You cannot block it unless you address the core grievance.
"It's a toxic sentiment that can be cured by a mature presentation of what this nation is."
Which is?
The core grievance is that after all this effort to liberate our country back, and partitioning our country, we are still appeasing the Muslim population.
Why do you insist on looking at Indian Muslims are foreigners.
I don't. I have said that if they agree that their ancestors are Hindus then they are my family. I mentioned to you last time as well that my son-in-law is Muslim, go talk to him and his father, who is from Aligarh. He was our ace diplomat, ambassador, foreign secretary. He will say that I have not shown any bias at all.
They are already citizens of India. Why must Muslims prove their loyalty. No other religious community has to.
As Samuel Huntington of Harvard University has said in the American context: citizenship is different from identity.
Why do you want Muslims to prove their loyalty.
I'm not asking them to prove. I'm just asking them to admit the truth.
Why?
What do you mean why? It brings us closer. I don't want them to be identified with Ghori and Ghazni. It brings out bad memories.
But that's history.
So, what? I want to forget that history.
L.K. Advani was central to the Ramjanmabhoomi movement, but it's Narendra Modi who will forever be seen as the man who got it done. How does Advani come out in all of this?
Yes, it happened under the Modi sarkar. That is a fact. Advani made two mistakes. Mistake number 1 is that after the Babri Masjid was demolished, and they could not stop it or did not stop it, Advani got up in Parliament and said ― this is the saddest day in my life. This is the first thing that is held against him by the party workers. A few years later, in 2007, he went to Pakistan and said that Jinnah was a secular man. People's blood boiled here. That was the sentiment. No one forgave him after that. Then, Modi came and put him in the gaushala.
"Advani made two mistakes."
But how does one drive people to a frenzy and then say it was the saddest day of my life. He must have known that the mobs attacking the mosque was a real possibility.
That was not his intent, but he must have been a naive person to think that 2.5 lakh people assemble there… I'm sure he came across the across the chatter that isko todna hai… so the responsibility is yours. If you had not given an assurance to Narasimha Rao, then you could say ― listen what could I do, I went to address a rally and the rally got out of hand. But you assured them. I'm only explaining to you why there is such coldness. Both have equal weight. Not doing anything about the Babri Masjid's demolition after promising to prevent it and then saying it is the saddest day of my life. And the second part is him saying that Jinnah is secular.
The Ram Janmabhoomi-Babri Masjid property dispute litigation started decades before the mosque was demolished. But it would have been much harder for the Supreme Court to rule in favour of the Hindu parties if the mosque was standing.
It would have been harder, yes.
It would have been impossible. The Supreme Court would have never ordered the demolition of the mosque and for a temple to be constructed instead.
The Supreme Court was empowered by the fact that during the UPA (United Progressive Alliance) government, the Allahabad High Court said that Ram Lalla was born there and the central dome should be given to Hindus. The only unacceptable part was that Muslims should be given one of the things (the outer courtyard of the disputed area), which neither the Hindus nor the Muslims accepted. But to say take it over and demolish it, that would have caused a riot.
But even the Allahabad High Court was giving this judgement (2010) after the Babri Masjid was demolished. No court would ordered a demolition of a mosque.
One could say that it was the demolition, that no mosque is standing there, that enabled the judgment.
I don't know. This is a very iffy question or Monday morning quarterback in America.
You were a leader of the Janata Party and a union minister in the Narasimha Rao government when the Babri Masjid was demolished. How did you process it?
I, who was not a member of the BJP then, had enough friends in the BJP, RSS and VHP to tell me that this time they are not going to come back without demolishing the building. I conveyed this to Narasimha Rao. But Narasimha Rao told me that both Vajpayee and Advani have assured me that they will not allow this to happen.
What did you think of the Ram Janmabhoomi movement?
I was not against the movement. My best friend was Syed Shahabuddin. He was the head of the Babri Masjid Action Committee. We would write letters having roaring arguments. Despite all my vitriol against the RSS, and VHP, and Advani and Vajpayee, they have not held it against me.
Many people in the Congress were blaming me for modifying Narasimha Rao, but Narasimha Rao was also of the same mind. He was too cowardly to admit it as a Congress man. Rajiv Gandhi did more for the Ram Mandir movement than Narendra Modi has done. He opened the locks. He showed the Ramayan serial on television. There just used to be one channel at the time — Doordarshan. The streets used to be deserted because everyone was inside their homes, watching it. The awareness was created by that. Then, he allowed the VHP to do shilanyaas in Ayodhya. If he had come back, he would have made the Ram Mandir and the Congress Party would have been the gainer. They lost a big opportunity. Narasimha Rao went to the extent of submitting an affidavit in the Supreme Court that if it is shown that there was a pre-existing temple where the masjid once stood then we will have it over to the Hindus.
"Rajiv Gandhi did more for the Ram Mandir movement than Narendra Modi has done."
What do you think about the demolition of the Babri Masjid?
I would not have done it. I would not have allowed it. I would not have relied on… I never thought very highly of Mr. Vajpayee, but Narasimha Rao thought highly of him. I even asked Mr. Narasimha Rao whether he would send the army. He said — you want me to shoot the sadhus, I'd never do that and let it go.
(Editor's note: This interview is part of The Idea of India, HuffPost India's monthly newsletter. You can subscribe to the newsletter here).
(Read the first part of Subramanian Swamy's interview with HuffPost India on the state of the economy here).