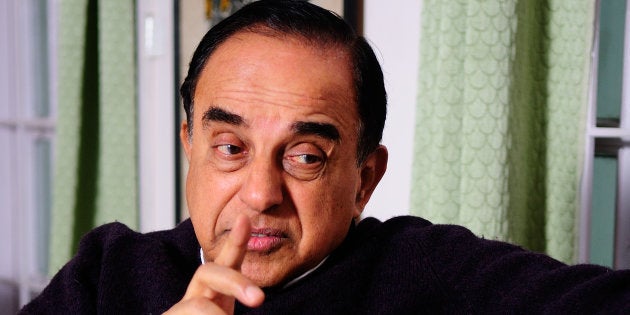 NEW DELHI — Subramanian Swamy abhors false humility, and that is why the Harvard-educated economist and Rajya Sabha lawmaker feels no need to conceal his desire to be India's next Finance Minister.
In fact, the outspoken and controversial leader of the Bharatiya Janata Party (BJP), who is often critical of his own party and its polices, laid out why the economy has been "terrible" under the Modi government, and why he—a former professor of economics at Harvard University — would be a far better Finance Minister than Arun Jaitley. "I will abolish income tax on Day 1," he said.
Swamy, a six-time parliamentarian whose wife is Parsi and son-in-law Muslim, is an unapologetic proponent of Hindu nationalism, but his public standing stems from his legal work against corruption.
The 79-year-old politician, who exposed the 2G scam under the United Progressive Alliance (UPA) and ensnared former Tamil Nadu chief minister J. Jayalalithaa in the Disproportionate Assets case, is currently litigating anti-corruption cases against Congress leaders Sonia Gandhi, Rahul Gandhi and P.Chidambaram, and he is also looking to prosecute Finance Secretary Hasmukh Adhia. Swamy feels the Modi government has not done enough to expose corruption in the past four years. "Right now, I find the Ministry of Finance is blocking the prosecution of many Congress leaders. I have attacked some members of the Prime Minister's Office (PMO). I have raised questions about people in the CBI. That part is weak," he said.
While he continues giving heartburn to people within his own party, Swamy believes he is the second most popular person after Prime Minister Narendra Modi in the BJP. Since April 2017, when HuffPost India interviewed him, Swamy's Twitter following has increased from four to nearly eight million followers. In a conversation last week, Swamy explained why Hindutva will override the economic failures of the Modi government, and why the BJP will return with an absolute majority, with Modi as prime minister.
Edited excerpts:
Will BJP win the 2019 general election?
In the last election, even though the media hype was so much around Narendra Modi, there were two other factors: the corruption of the UPA and increasing feel in the younger generation that Hindus don't have a right to their own country and that other people's interest comes first. That feeling of 'let us rise above our caste, region and language', added 10% vote. That's how we got absolute majority.
There is disappointment that we have not done enough about corruption. But because of my efforts, Mrs. Sonia Gandhi and Mr. Rahul Gandhi had to take bail in the National Herald case, Mr. Chidambaram has been charge-sheeted (in the Aircel-Maxis) case, there is a feeling that not enough was done but good enough. And Hindutva has now heightened. My projection is that we will get majority again.
Hindutva has now heightened. My projection is that we will get majority again.
Heightened? Do you not sense a Hindutva fatigue?
No, there is no fatigue. The elite and the English newspapers may say we are intolerant, but the average Hindu... It's like Trump in the United States. CNN is only on Trump daily, but there is an undercurrent of conservative support which is helping him and he has done very well in the economy.
So, the same way, the feeling of pride, which the Hindus, particularly the younger generation, feels is much higher than before. The fact that we dared to do this triple talaq abolition, and we didn't hesitate to put the case for women's right in Sabarimala, there is a feeling that we have a much bigger say than before.
But the Modi government has not done very well in the economy.
(PV) Narasimha Rao produced the most spectacular growth in any five-year period, but he lost and he lost badly. Atal Bihari Vajpayee was considered a liberal by all liberals. He played down the Ram Mandir and he started saying India Shining. He got so carried away that he advanced the election by six months. And the net result was that we were badly defeated because the cadres did not work. The BJP is a cadre-based party. They don't care about Make in India—they want the Virat Hindustan concept. Therefore, judging by past experience, pure economic development will not necessarily produce electoral success. Even Morarji Desai controlled prices beautifully, but got no relief from it. Yes, if the economy is really bad, then it can go badly. Today, I think our economy is doing terribly, but the fight against corruption, Hindutva, building the Ram Temple, will compensate for whatever negative feelings there are about the economy.
The BJP is a cadre-based party. They don't care about Make in India—they want the Virat Hindustan concept.
You see the 2019 election being fought on Virat Hindustan?
Absolutely. We can't say Virat Hindustan, but we will talk about Ram Mandir, the Uniform Civil Code, defending the cow; the symbols of Virat Hindustan. The election will be fought on Hindutva issues.
But the BJP has no new ideas to sell Hindutva.
We don't need new ideas. We need to implement old ideas. I'll tell you five ideas that are very appealing to our youngsters. What is your identity? What is the true history of India? Why we should all learn Sanskrit. What should be our economic policy? It should be a policy that is harmonised with spiritual values. And finally, what should be our doctrine as far as our national security is concerned?
These are not ideas that inspire voters. On the other hand, there is staggering unemployment.
They may not inspire you, but come to any of my meetings and see the reaction, especially from the younger generation. But economically, we have failed. I have no questions about that in my mind but that does not change my view that we will get absolute majority. Course correction in economics is possible. But the way that the present Finance Ministry is structured right now, it cannot deliver the goods.
You really think that Hindutva will counter demonetisation, GST, record fuel prices?
I'm telling you again that the economy is terrible and the Ministry of Finance people are clueless. But the same people who are hurt are also motivated by Hindutva. The traders, for example. They have been badly hit, but they are the bedrock of our Hindutva.
Traders whose businesses are suffering will care about gau raksha?
Many of us have kindled hope in them that things can change. I don't get the impression that the economy is overpowering the other sentiments. They certainly think our party is better than Congress and the rest is all in pieces. There is no other national party.
The economy is terrible and the Ministry of Finance people are clueless.
The 2019 election feels like a battle for the soul of the country, choosing between secularism and Hindutva. Would you agree?
Yes, but there is a definition problem. A Hindu can never not be secular.The question is, do we want a Jawaharlal Nehru type of secularism sanitised to the point where any association with 83% of the population is considered infra dig—or do we work for a dynamic new model Hindu religion through the inculcation of Hindutva ideas? Hindutva means Hindu-ness. Hindutva appeals to people as empowerment. Secularism has been taken to mean the dominance of English-educated people. That's how it has filtered down.
A man is willing to spend crores to get men accused of lynching Muslims elected to Parliament. Is the BJP responsible for this toxic atmosphere?
You go to America, you still have Ku Klux Klan people standing for election.
You have to admit that it is appalling for men accused of lynching Muslims to stand for election.
Of course, I admit it. But the BJP is not putting them up. We have not created this space. If the party had decided to give them tickets, then I would be the first one to speak up. We are totally against it. It is totally un-Hindu.
The question is do we want a Jawaharlal Nehru type of secularism sanitised to the point where any association with 83% of the population is considered infra dig...
Do you see Modi becoming prime minister again?
I don't think there is any challenge to him. Unless someone wants to come forward, we have a parliamentary party meeting and take a vote. I don't see any such person. Modi has many good qualities but I don't necessarily extend that admiration to his team. There are many members of his team who are incompetent and he probably thinks so too. Perhaps he is waiting for the election to get a new team.
Last time we spoke, you said that you would have liked to be Finance Minister. Do you still want that?
What if the BJP does not get an absolute majority and has to ally with other parties? Will Modi still be prime minister?
Since I'm so convinced that we are getting an absolute majority, I don't want to strain my mind on this. I'm not an academic anymore. I'm an activist politician.
Does the RSS like Modi?
They don't have likes and dislikes. They are very practical people. RSS means shakhas, drills, ideological education and providing workers to the BJP. Occasionally they will intervene and say that such and such person should be taken into our party or such and such person should be promoted, but they never insist on it. The idea that RSS gives orders is all caricature.
Is Modi RSS enough for the RSS?
They are not happy that he has put aside many of the Hindutva issues. Even as chief minister (of Gujarat), he wanted the city of Ahmedabad to be renamed Karnavati. Then, the prime minister of the day stopped it. Now, he is the prime minister of the day and not done it. Ram Setu should be declared as a national heritage monument under the Ancient Monuments and Archaeological Sites and Remains Act. He hasn't done it. In the Ram Temple, the government has not been an activist. Those things do matter to them. But he is not in way of the RSS and he is not hostile to them. He is, after all, a pracharak. He is a trained personnel of the RSS.
Why do you feel that Modi has not been able to do these Hindutva things?
I think Modi generally wants to be acceptable to everybody. In my opinion that is self-defeating. Vajpayee tried that and it didn't work. You can praise him now that he is dead, but he did reduce the party strength to half of what it was. On the false impression that he thought he would win, he said that India is shining. I think that's really the issue. Modi wants the BJP to be a much more broadly acceptable party that is taking everyone along and the cadre is not ready for it. That's where the conflict come.
I think Modi generally wants to be acceptable to everybody. In my opinion that is self-defeating.
Has Modi been able to address that conflict?
No, not yet. He could. It would just take two or three things to do. He could have a parliamentary resolution on Ram Mandir. He can talk of a national act on banning of cow slaughter. It will have an effect.
What did you make of the Mohan Bhagwat speeches?
It was about bringing into open maidan what was being said in the camps and shakhas.
But why reach out to the public?
Because he has reached out to the hardcore and now he wants the public. He wants the whole country to celebrate Hindutva. So he is saying, you have these prejudices, don't have these prejudices. If 83% of people say that I'm Hindu, then I say in addition to being a Hindu, you should be pro-Sanskrit, you should be able to rewrite your history, you should have gender equality, all these things. People say I'm a Hindu, but they say it in private. Say it out.
Do you think a grand alliance is possible?
No. The grand alliance that today's circumstance needs is for the Congress Party to play a very low-key role, but the media manipulation of the Congress is so high that they are all over the place. Mayawati has broken off (in Rajasthan and Madhya Pradesh). I would not be surprised because of UP compulsions Akhilesh (Yadav) will also break off. (Akhilesh Yadav has announced that Samajwadi Party is not allying with the Congress in MP). I wouldn't be surprised if the DMK left the Congress. It is a problem in every state, Andhra Pradesh, Telangana. There is no acceptance.
Rahul Gandhi has not been able to emerge as a man of ideas. Ninety percent of his speech is just abuse, and it is all erratic. Suddenly, you walk towards the Prime Minister and embrace him in Parliament. I mean, it sounded and looked so juvenile. It doesn't evoke a feeling that here is a man who can take control of the situation.
Rahul Gandhi has not been able to emerge as a man of ideas.
People feel that Rahul Gandhi is coming into his own. He is doing better.
That is all your media projection. Basic problem is that he has no ideas. Has he any ideas on the economy other than you haven't done this, you haven't done that.
But that is also the job of the opposition.
That is also the job but not the only job. You have to have ideas. We are flooding people with ideas. Ram Temple is a concept. Now he is known as a plagiariser, that's all: "I'm also Shiva Bhakt."
He has doggedly pursued the Rafale deal and embarrassed the government.
What's the point in being dogged? What has he produced? Just that Anil Ambani was given the contract. That was in the public domain. What has he produced that the government did not want to make public? But at the same time, I have to say that I have not looked at the papers, so I don't know, maybe there is. I cannot say unless I look at the papers. You want me to take on this huge responsibility against my party for the benefit of Mr. Rahul Gandhi. I'm not a fool.
What if the BJP does not win the election, what do you see happening?
The succeeding government won't last for more than a year.
Do you see anyone other than Modi who could be PM?
In India, no one can see it. Did anyone think that when Nehru was alive, Lal Bahadur Shastri would be the next prime minister? There was the question, after Nehru who, as if we have nothing. We are 1.3 billion people. Somebody will come. In our culture, if someone is identified as the man who is going to be the next prime minister, I think that is the end of him. There was a man called (H.N.) Bahuguna in Congress, who was portrayed as an alternative to Mrs. Gandhi. He ended up in the ditch. This society, we have some pretences like humility, so no one will say that I'm a candidate.
In our culture, if someone is identified as the man who is going to be the next prime minister, I think that is the end of him.
What about SP and BSP forming an alliance in UP?
The question really is whether the Scheduled Castes—seeing that a Mayawati candidate is not there and it has been conceded to a Yadav candidate—transfer the vote to the Yadav or the Scheduled Caste candidate fielded by the BJP. This transferability is why in 1971, Mrs. Gandhi alone defeated the entire Opposition and they were all very tall men, not like today's pygmies. The public does not go by alliances but whether interests can be accommodated. In fact, all the atrocities against Scheduled Castes are not done by Brahmins, these are done essentially by backward castes.
Can you see Mayawati as prime minister?
In this country, it is difficult to say. From 1970, I've seen so many prime ministers that I never thought would become prime ministers. I never thought Mayawati would become chief minister—on her own strength, Scheduled Caste, electorate is not more than 18%. But she became. I know her personally. She's a good friend, she remembers favours unlike most politicians. If she becomes PM, it would be good for our sociological change. But whether she will become or not, I can't say.
There are rumours about the BJP putting pressure on Mayawati with a CBI investigation, offering her the Vice-President post, so she does not form an alliance. What's your take?
She's too tough for that. She might want to become Vice-President. I mean if you offer it, she might accept, I don't know. But nobody can break her.
What about Mamata Banerjee?
She's also my friend. She's a reasonable person if you tackle her the right way. She's got one phobia and that is if the communists leave her then they will go to the Communist Party of India (Marxist) and the CPM will come back. I personally feel that she too is a fighter. I'm anti-communist so my heart is with her. I'd like her to come to the mainstream.
You described homosexuality as a genetic disorder after the Supreme Court's historic verdict legalising gay sex. This is deeply hurtful to fellow citizens.
So what? I'm not saying that you can't do it in private. I'm only saying don't celebrate it, have marriages, kiss in public. I know what the Americans did. They started gay bars. I don't want gay bars in our country. It leads to paedophiles.
There is absolutely no proof of such a thing.
All these are centres of it. It facilitates it. I have seen it in America. We have never in our culture celebrated homosexuality as a choice. It's not a choice. It's a genetic disability and we don't have to celebrate it. Do it quietly. We are not going to enter your bedroom, but no same-sex marriage. But there is also no discrimination in the economic sphere because on the ability front.... I know two judges, Supreme Court judges, I knew they were homosexuals, but I never said anything. They were fine judges. But anything you celebrate, you have to be very careful. If the human race is to survive, then it has to be a man-woman relationship, it cannot be anything else.
We are not going to enter your bedroom, but no same sex marriage.
You said the economy is "terrible" under the Modi government. Why?
Because of the lack of understanding of economics. First, we had a governor imported from America who did not understand the ABC of economics. He was actually an IIT graduate with a management degree. A management degree is bilateral. Economics is general equilibrium. What I do here will have an impact there. The US depression of 1930 came because the president of the United States thought that if we cut wages by talking to the trade unions, unemployment will reduce, but the opposite happened. Why? Because once you cut wages, you cut purchasing power. You cut purchasing power, the demand goes down then all borderline commercial establishments close down.
Mr. Raghuram Rajan said that by raising interest rates I can control inflation. But by raising interest rates, you raise the cost of capital and so all small and medium industries were collapsing left, right and centre. It is already one of the highest interest rate countries. In America, you can get a loan for 2%, but in India, you can't get it for less than 12%, more often 18%. Mr. Jaitley does not understand because he has never studied economics. So, he has to rely on bureaucrats, on economic advisers, he has no idea about the general equilibrium macro-economic system. There is nothing one can do if the prime minister wants him. There is a cartel today the controls the Finance Ministry, which is complicit with the corrupt in the previous dispensation.
Mr. Jaitley does not understand because he has never studied economics.
Who is in this cartel?
I have been able to identify bureaucrats. I can't speak about ministers yet.
What would you do differently if you were Finance Minister?
I would abolish income tax on the very first day. I would lower interest rates. I would raise the fixed deposit rate to 9%. I will get rid of GST. I will reduce the number of excise commodities from 4,781 to just 21. Simplify. Give incentives. Indians respond to incentives. They don't like dadagiri.
I'd abolish income tax only because people are willing to pay reasonable tax but the system is incapable of being decent even if you pay your taxes. So, abolish it. Tomorrow, if the coal block auction takes place, then you will get three times the income tax amount. The Indian economy has vast resources that can be mobilised. You tell people we'll abolish income tax but please don't spend, put it in a Fixed Deposit for two years. By then, I'll turn the economy around and then you can start spending. People will cooperate.
You were calling the Rafale deal corrupt in 2014-2015. What has changed between then and now?
By 2013, Mrs. Sonia Gandhi and Carla Bruni (wife of then French president Nicolas Sarkozy) had come to an agreement to buy 126 Rafale planes. And all that was required for the Prime Minister or the Minister of Defence to sign. Then, our government came. In November, the prime minister traveled with the defence minister, Mr. (Manohar) Parrikar, a great intellect and an extremely honest person. There are some Dassault touts in the new media here. They were already celebrating that they would get big cuts and Rafale would be signed by Modi.
At the time, I said if he signs it, then I will go to court. There was uproar that I had broken party discipline but I couldn't care less. Then, Mr. Parrikar announced that we are not going to touch the 126 but we are going to renegotiate a 36-plane deal. After Mr. Parrikar left, I don't know what Mr. Jaitley did.
The Congress is saying that Modi helped Anil Ambani's Reliance Defence secure the deal.
I've been saying to the Congress, if you have any evidence, then why don't you file a case? A private complaint. But nobody wants to do it. They are not serious people. They just work by public condemnation. So far, not a single scrap of paper the Congress has produced has any evidentiary value.
And by the way, Rafale is a plane that nobody wants to buy. In fact, I had told Parrikar that why are you wasting time buying planes, buy the company, because the Dassault chairman told President Sarkozy that if India doesn't go through with the deal then this company will fold up. In Libya, it was a miserable failure. But Parrikar told me that we will modify it. I did not follow whether it got modified or not. But our Air Force chief seems to be very happy with it.
I've been saying to the Congress, if you have any evidence then why don't you file a case?
The former French president Francois Hollande has said that Dassault was only given the option of partnering with Anil Ambani's Reliance Defense.
I have not studied that problem. Anil Ambani is a failure in everything he has done so why did the French pick him, I don't know.
Hollande says the Modi government only recommended Ambani.
And just because he is a white man, therefore must be speaking the truth.
Will alleged irregularities in Rafale influence how people feel about Modi?
I have not found anyone who finds these charges credible. Whatever Congress party has put out makes me laugh.
Is Rafale something that voters would think about before voting?
In the case of Bofors, people got convinced because there was a cover-up. Somebody had recommended French guns, but last minute it was changed. VP Singh, who was the defence minister at the time, he came out and said it. He had credibility. Today, who have you got? People who are corrupt themselves. They are making the charge. How can we believe them? The charge has to be made by someone with credibility.
And just because he is a white man, therefore must be speaking the truth.
You have levelled serious charges against Finance Secretary Hasmukh Adhia.
He's a con man. I've asked for sanction to prosecute him. If I don't get sanction, then, like in 2G, I will go to the Supreme Court and say give me sanction. I discovered that he has received gold biscuits from Nirav Modi, which when caught, he says that I have sent to the toshakhana. Toshakhana is for when you get gifts from heads of state. You need to send it immediately, not after 5-6 months. And he said that it came in a package and he didn't know what it was. Can you believe that?
You have finished evidentiary presentation in the National Herald case.
Yes, it's over. Now, I would be cross examined on October 27. And then it should be over by December. Everything.
Do you see the Ram Temple getting built?
I think the building will start in the next few months.
Not until the Supreme Court...
The case that the Supreme Court is hearing is to decide whether the property belongs to the Sunni Waqf Board or to the Ram Janmabhoomi Nyas Samiti. I've got another case which is not very well-publicised. The hearing starts this month. It is my fundamental right to pray where faith tells me that Ram was born. That is a fundamental right. The Sunni Waqf Board's demand for property is an ordinary right. My right prevails. That should be over quickly.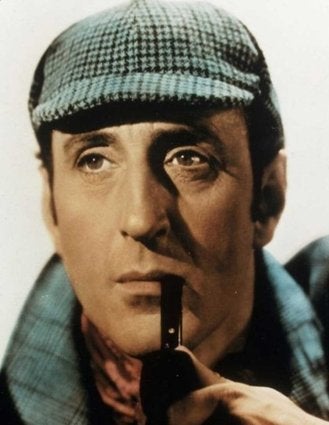 The Best Sherlock Holmes Of All Time
Popular in the Community