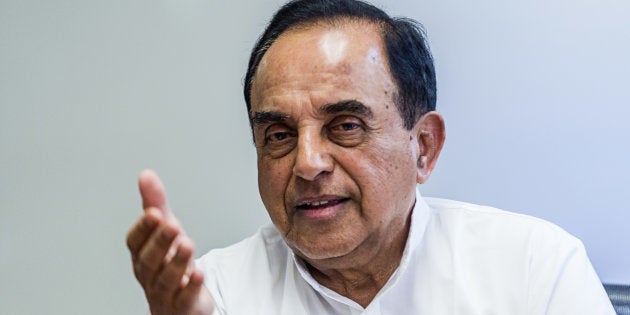 Subramanian Swamy, who is nothing if not controversial and outspoken, bluntly spelt out in a recent conversation with HuffPost India why Hindutva and not Prime Minister Narendra Modi's personal appeal was the key factor behind the Bharatiya Janata Party's recent electoral triumphs. And, why Hindutva will guide the party's future strategy. "Political correctness is dead," he declared.
As Swamy laid out the tenets of Hindutva, his wife Roxna Swamy, who is Parsi, entered the room. "We're talking about the poor plight of the minorities, perhaps you can speak up for them," he said to her, smiling broadly. Turning to this reporter, he added, "My son-in-law is a Muslim. None of them think I'm communal, but outside they say 'fanatic fanatic'."
Swamy is neither a minister nor an elected lawmaker currently but the six-time parliamentarian has established himself in the public eye as an anti-corruption crusader and an ardent advocate of Hindu nationalism. With over four million followers on Twitter and an ever burgeoning list of speaking appointments at home and abroad, the Rajya Sabha MP sees himself as the second most popular BJP leader after Modi.
The 77-year-old veteran politician continues to thrive even though he is often critical of the Modi government, its various leaders and his party's policies. Swamy told HuffPost India that he is planning to challenge the Goods & Services Tax Network (GSTN) as being "anti national" in the courts, even as the government is planning to roll out the sweeping tax reform by July 1.
Why hasn't the party leadership knocked him down a peg or two? Swamy believes that it is because of his knowledge of economics and the law. In fact, Swamy often invokes his academic credentials, the fact that he used to teach economics at Harvard University and the way he stood up to then prime minister Indira Gandhi during the Emergency.
Swamy has his hands full at the moment on both political and legal fronts. He continues to fine tune the Hindutva strategy with leaders of the Rashtriya Swayamsevak Sangh and the Vishwa Hindu Parishad, while litigating anti-corruption cases such as the National Herald case against the Gandhi family, and the Aircel Maxis case in which he has ensnared former Finance Minister P Chidambaram and his son Karti Chidambaram.
Over an hour, Swamy spoke about how the BJP won the UP elections, Modi's dealings with Hindutva, his feud with Finance Minister Arun Jaitley and whether he wants to be the prime minister some day. Edited excerpts:
Were you expecting such a landslide victory for the BJP in UP?
I did not expect it after the first round [first phase]. But then my advice [to the party] was that governance is a necessary condition for achieving electoral victory, not a sufficient condition. For sufficient, you needed some sentimental issues. For us, for the BJP, the sentimental issue was Hindutva. And unless we articulate that, we will not be able to win.
I gave the examples of the magnificent governance done by Morarji Desai, who lost the election; Narasimha Rao, who transformed the Indian economy completely but lost the election; and Atal Bihari Vajpayee, who spoke about India shining, but ended up losing very badly.
Rather than articulating this at the media level or the public-meeting level, word of mouth began [in the BJP after the first phase]. After that, I was convinced that we would win, perhaps not three-fourths majority, but a comfortable majority.
Governance is a necessary condition for achieving electoral victory, not a sufficient condition.
With whom did you discuss invoking the Hindutva sentiment?
Unlike the Congress system, we meet all the time. I go to a program in Nagpur, I will go visit Mohan Bhagwat. I'm sometimes on the temple matter in the Supreme Court, then the Vishwa Hindu Parishad is in touch.
Certainly without Modi, we could not have done it but Modi was not enough. And that is where we articulated this Hindutva—of uniting the Hindus and dividing the minorities. That was a reversal of the Congress Party [strategy] of dividing the Hindus and uniting the minorities.
For the next Lok Sabha election we will definitely package it thus—fighting corruption, Hindutva and governance.
How did you articulate Hindutva for the UP voter?
For the UP voter, we took simple issues. That we Hindus are being put upon, we are 80 percent, but we are treated like the 10 percent. And, we face a massive problem of conversions from abroad. The Christians do that. We have a problem of Islamic terrorism, which people say is not genuine Islam, but then they don't tell us what is genuine Islam. We are the ones who fought the Mughals, we are the ones who fought the British, but Hindus are the ones who have not been able to rule.
The second aspect is the way the minorities have dominated and the way they are united. We are not able to do anything because we are divided by caste, region, and language. Then, of course, the Ram Mandir. UP is a party in the litigation. If we have a friendly government then we will support the demand.
Was Modi upfront about the Hindutva agenda?
The prime minister is a pracharak of the RSS. So, if you peel off his exterior it is all Hindutva. I don't believe there is anything fake about him. But he was sold an idea that you must now expand. This is the mistake that Mr. Vajpayee made. He lost his basic following and the people whom he cultivated didn't come [to his support]. So, he was badly defeated.
The prime minister is a pracharak of the RSS. So, if you peel off his exterior it is all Hindutva.
If Hindutva was the key, why was Yogi Adityanath not projected as the CM from the get go?
That happened after the first round [phase of voting]. After the first round, we got a scare. We found people cold, and disappointed with the BJP [for not raising Hindutva]. But, by then we had decided that we would not project anyone. So, we did not want to make mid-course change.
So Yogi Adityanath was considered as the CM candidate after the first phase?
No, no. When the MLAs met [after BJP's victory] they actually selected someone else—Manoj Sinha. But the MLAs were restive. They started going and telling people who were making the decision, essentially the RSS, Amit Shah and so on. Then, Modi changed his mind.
It did appear at first that Yogi had been sidelined.
He was. All the anglicised BJP people felt that his was not a good face to project. But then, there was a demand from the ground.
Who won the election, BJP or Modi?
We [BJP] can't do without Modi because he is a man who has made a name, he has good habits, and he is a good man. We think well of him. But we don't think that by himself he can deliver a victory because no individual is like that. He spoke only of governance and that was not enough. So, I would say, Modi, Hindutva and anti-corruption.
Modi was more at ease addressing Hindutva issues in the 2014 election campaign than he is now. Why is that?
Perhaps he has friends who have told him. Delhi is a strange place. In Gujarat, nobody told him. Now [you have to face the] world. You must now appear to be liberal—that sort of thing.
Don't you think that is advisable?
No. No point there. The Trump phenomenon should now disabuse you of any such thing. Now, political correctness is no longer a virtue. Say it like it is. Political correctness is dead.
The Trump phenomenon should now disabuse you of any such thing. Now, political correctness is no longer a virtue.
Is there anger within the BJP and the RSS that Modi distanced himself from Hindutva?
He is one of them. He is more one of them than I am. I'm not an RSS man. We just happen to have the same views. He is trained by them. He is a pracharak.
But he isn't a pracharak anymore, he has to be statesman.
Nobody will fall for that. He also won't fall for it.
Do you think he is role-playing, then?
No, he is not. He genuinely wanted to get away from the image of a killer that was painted by NDTV and others on him. They chased him with cases and things like that. Frankly, I know what happened in Gujarat, and he was the least involved. Like this time, he said kabristan. That is why the electricity charges for a cremation ground should be more than for a burial ground. But people felt that the way he said it, the time that he said it, it was a way of communalising.
Wasn't it?
But why bring it up when he had stuck to the development script?
He felt that it was unfair because people had complained to him. In my opinion, Modi is not communal.
Are you reading too much into UP results? Hindutva did not work in Bihar and it might not work in other states?
We didn't try using Hindutva to win the election in Bihar. Bihar was a 100 percent development agenda.
What about Amit Shah's remark about firecrackers in Pakistan if the BJP lost?
He said that there would be celebration. That's not Hindutva. Hindutva is that we Hindus are being put upon, we are not getting our dues, and Ram Mandir is not being built. That sort of thing.
Do you think the PM will be more forthcoming on Hindutva issues after the UP victory?
No, he doesn't have to be. We'll [BJP/RSS] take care of it.
Are you inching closer to your dream of a Congress-mukt Bharat?
They [Congress] are doing it to themselves. It is their nightmare. Have you seen any system where the family is the only supplier of leaders? It is doomed to failure in India. We need people to come from all walks of life. The prime minister was once selling tea. What a great social transformation.
Who does the BJP have other than Modi to lead? What happens after him?
Modi is not the family that controls the BJP. We will always have somebody. This question was also asked when Vajpayee was there. What will BJP do after Vajpayee? Modi emerged. This party has a pool, you may not know about them because they don't project themselves.
Modi is not the family that controls the BJP. We will always have somebody.
The fear is that a BJP hegemony in the Parliament will lead to a move to amend the Constitution and remove the word "secular" from the preamble.
You can't, there is a basic structure that cannot be amended.
It was amended in 1976 to include the words "secular and socialist."
Secular means nothing. All a joke. It was not there before. Was it not secular during the time of Jawaharlal Nehru? It was only in 1976 that Mrs. Gandhi introduced the word "secular", but that did not make us more secular. So removing secular is not a big thing, but the democratic system, the independence of the judiciary, one-man one-vote irrespective of religion, these are considered part of the basic structure.
By the way, there is a very famous judgment, the Bommai judgment, which said that secularism cannot be amended out. So, it is part of the basic structure. So, now, I cannot take out secularism. But I can redefine secularism. Secularism is not appeasement. Secularism is a state which does not depend on any religion.
Secularism is not appeasement. Secularism is a state which does not depend on any religion.
What about the word "socialist" in the Preamble?
Socialist is useless. It has failed everywhere. I feel ashamed that we still have it. That we'll remove.
BJP leaders in the three poll-bound Christian majority states in the northeast have said that they there will be no ban on cow slaughter if the party wins. And, the BJP in Karnataka has said the same. Is that not hypocrisy?
In the Northeastern states, we're making a temporary exception. Temporary. It's like going in a fast car and wanting to reverse. You can't immediately put the reverse gear. It's a transitional adjustment.
You've spoken highly of Yogi Adityanath. How can you overlook statements such as, "if they take one Hindu girl then Hindus will take at least 100 Muslims girls" and "if they kill one Hindu, then we will kill 100."
He has grown up now. There are styles of expression. When you start moving into power, you develop certain sophistication. This kind of phrase sounds very catchy the time that he made it. He will never make that kind of statement now because he has achieved something that he probably never thought that he could achieve. I saw him dealing with the police when someone came in with a complaint that a licensed butcher khaana was demolished. He immediately said that go and give them compensation.
So there are no repercussions, no accountability for past behaviour?
Go ask him, you said this, what would you say now. He'll say "garam khoon tha uss samay." Don't hold people to everything that they say. I've said many things in the past that I don't stand by.
Such as?
There was a time when I was dead against the Russians. But today, they are not communists. Circumstances change, things change. There was a time when I thought that we should have good relations with Pakistan. Today, I think it is impossible.
What do you make of the anti-Romeo squads?
It's a bad name. We didn't give that name.
It was in the BJP manifesto.
Well then, somebody didn't know English. Romeo was very steady to one woman. The man sacrificed his life for one love. I think if it is a government squad, no problem, but we can't allow people to take law into their own hands under any circumstances.
Romeo was very steady to one woman. The man sacrificed his life for one love.
But that is precisely what is happening. A Muslim man was dragged out of his home...
Well then, it needs to be corrected. Our people have got out hand. And there are people who are now pretending to be us. If someone has a teeka, does not mean that he is part of the Vishwa Hindu Parishad.
Do you believe in the "Love Jihad" theory?
The 'Love Jihad' theory was first propounded by the Kerala High Court, not by us. It came out of that. Now, is there Love Jihad? Of course, there is. And you see, the dowry system in our Hindu systems is driving many girls into accepting Love Jihad. There are terrorist organizations that are doing it (Love Jihad). I know it for a fact.
What proof do you have?
You want proof, I will give you proof in ten days.
In light of the Supreme Court asking parties to resolve the Ram Mandir-Babri Masjid mosque issue outside of court, what is the practical follow up?
The Muslim parties are not agreeable to a negotiated settlement. So it has to be done through the courts. And we will win the case.
How long will it take?
If they have a day-to-day hearing, two months. And I'm moving very soon, this way.
What practical difference does it make to have a BJP government in power?
It doesn't change very much except that the UP government is a party in the dispute. And now they will come and support me. So, it makes a difference. Otherwise, they were all dead-opposing me. And the [change in] atmosphere that, "yes, yes, now the people want a mandir to be built."
Will the Congress Party recover?
The Congress Party will recover, but they [Gandhi family] are finished. Somebody will come up and throw them out. It will not be before 2029. But we've got it made. This Hindutva will take us till then.
You've voiced concerns about the GSTN (Goods and Services Tax Network ) and called it "shady," but that doesn't appear to have made much of a dent. What's your plan now, with the roll-out scheduled for July 1?
I'll challenge the GSTN as anti-national that violates my fundamental rights [in the court]. When fundamentals are being shaken, you have to speak up. And I can speak up because I know law and economics. And it [GSTN] is not even ours, it is Chidambaram's.
I'll challenge the GSTN as anti-national that violates my fundamental rights.
Over the past year, you have spoken out against Raghuram Rajan, Arvind Subramanian, Shashikanta Das and Arun Jaitley.
What have I said against Jaitley, that he should not wear tie and coat. That he looks like a butler.
You have said that Mr. Chidambaram, in connection with the Aircel Maxis case, still has a say in the Finance Ministry, and that reflects on the Finance Minister.
Well then, he should defend himself. He didn't say a word on it. BJP is a democratic party. Go see in America, when Trump was standing, did the chairman of the Republican Party not criticize him? If we are contributing to the party's growth and I certainly am because I'm going all over the country. I have huge support in public. Today, probably I might be the second most popular person in the party after Modi.
Today, probably I might be the second most popular person in the party after Modi.
And Raghuram Rajan?
Raghuram Rajan was a disaster for the country. The guy does not know any economics and he's got all these crazy business school ideas that he was putting on the macro-economics of India. He was driving all the medium and small-scale industries into red. And, I can say it because I have impeccable academic credentials. I'm not some Love Jihad vigilante.
The prime minister in a televised interview expressed his displeasure at your remarks against Rajan, especially your calling him unpatriotic. He said it was a "publicity stunt."
He never did. It was Arnab Goswami's mischief. He said that some people love publicity but that wasn't about me. And, after that he made me a Member of Parliament.
Do you not want a position in the cabinet?
Selecting ministers is the prerogative of the prime minister. Am I qualified, yes. But I come with a baggage. I have my own mind. I'm not going to do what other ministers do, [which is] defer to secretaries. But on the other hand, tomorrow I might become a minister, how do you know.
And, what portfolio would you like?
I would love to be the finance minister. I'd turn the country around; it's in a mess. Today, there was a Question and Answer from the Commerce Ministry — exports and imports have simultaneously declined, year after year, for the past three years. How can the exports and imports both decline. It means we're heading for a crash. I think the economy needs rescuing.
I would love to be the finance minister. I'd turn the country around; it's in a mess.
Why do you not get along with Arun Jaitley?
He talks behind my back, I don't like that. That is the only reason. I've known him since he was a student in Sriram College.
What has he said behind your back?
All kinds of things. He can't say I'm corrupt, I'm illiterate and I'm a fool. But he'll say that Swamy is telling everybody that Trump is going to win the election, what does he know about America. That kind of thing. If he stops that, I'll stop it.
It's been almost six years of the Aircel Maxis case. Is there an end in sight?
The end in sight is Chidambaram prosecuted, son prosecuted. And Marans as conspirators will be brought back and prosecuted. The mischief done was to separate Marans from this and go as a separate case. And, naturally the trial court said what is the 2G offense he has committed, he has just twisted the arm of Sivasankaran, that's not a 2G crime. If there is something connected to his license then we can look at it. That is why they were exonerated. So, I'm bringing them back as conspirators.
What are the two or three milestones for the Modi government at the three-year mark?
There has not been a single charge of corruption against this government, three years have gone by. Two, we have ensured that those who play with our national security will be taught a lesson. And there has not been a single riot in the country for the past three years.
There has not been a single charge of corruption against this government, three years have gone by.
There could be another reason for that.
You mean because they're all frightened to do it? Well, it's still an achievement. Whatever the reason that we can debate. In my opinion, it is because we have told the police that you will be held responsible if there is a riot.
What are the failings of the Modi government at the three-year mark?
The economy is in a bad shape. There has been too much reliance on the finance ministry bureaucrats. Maybe because Mr. Jaitley is not an economist. What's happened in fact is that some of the tax laws have been tightened. People are feeling very bad about it. The economy needs a major overhaul. And we need to deal with Pakistan much more harshly. We should make a genuine effort to bring the Chinese over to our side. We must make an effort; we haven't made an effort.
We should make a genuine effort to bring the Chinese over to our side.
Would you like to be the Prime Minister?
There is no question of liking or not liking....
Have you thought about it?
No, because I was brought up by a great sage called the Shankaracharya of Kanchi who said that you should not desire anything. What you should get will come chasing you. The prime ministership, if I'm destined to get it, then it will come.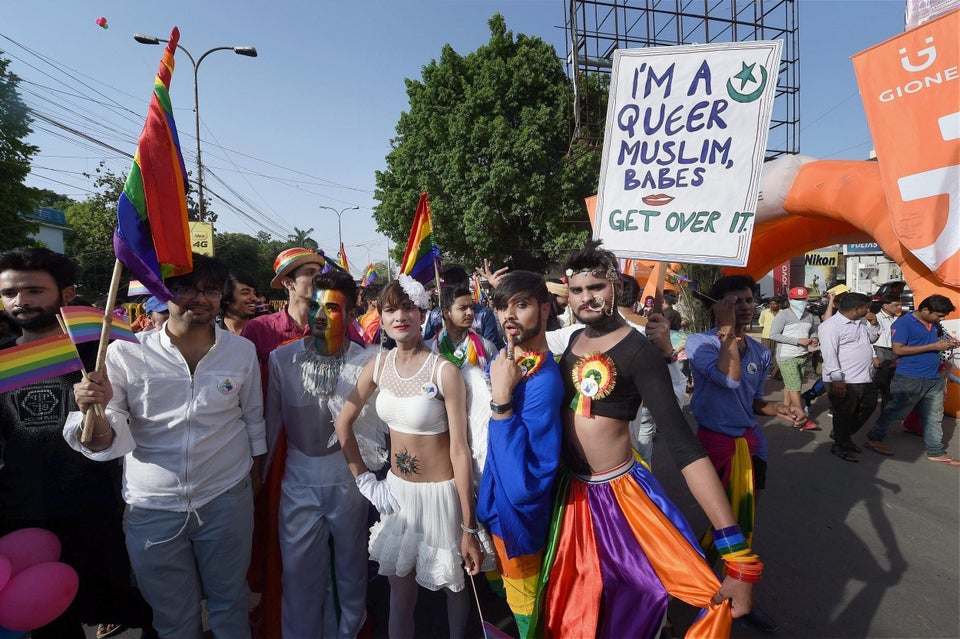 Lucknow's First Pride Parade