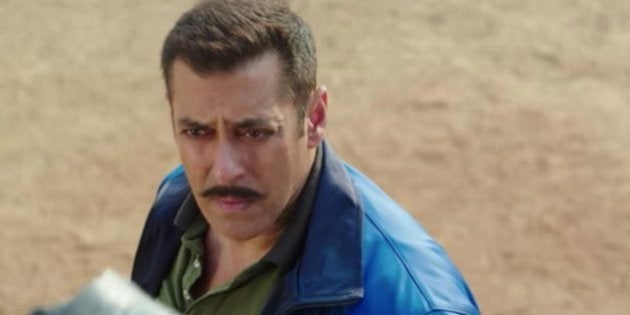 Fear not, Bhaisexuals — all is well with the Salman Khan Image Makeover Machine.
His latest, Ali Abbas Zafar's Sultan, is as much evidence as is needed. This year's solo Eid release — a Khan staple — is an unabashedly gung-ho sports melodrama about a Haryanvi wrestler named Sultan Ali Khan. In this film, Bhai is often shirtless and beating up people. He's also a simpleton who manages to get the girl of his dreams. In a bizarre party sequence, women in cocktail dresses ask him in accented Hindi to leave his wife and go for one of them instead, but Bhai smiles shyly and instead croons a romantic song dedicated to his significant other.
It won't matter to the box-office or to legions of Khan's fans that Sultan is, at best, a somewhat-above-average star vehicle that uses well-worn commercial cinema tropes along with a few engaging wrestling/mixed martial arts sequences to cast its spell. The result is a familiar-ish, crowd-pleasing spectacle that occasionally skimps on basics like good writing and solid characterisation. While it is far ahead of last year's abysmal MMA drama Brothers (2015), with which it has much in common, it still sacrifices authenticity here and there for the benefit of rousing 'filmi' moments.
When we first meet Sultan, he is a 30-year-old beefcake with a fledgling dish antenna business in his hometown (Rewari, Haryana) and the proud possessor of 1 nos. heart of gold. He doesn't wrestle, however; all those bulging muscles (including the ones in his head) are the result of his ability to successfully chase kites better than kids, some of whom are half his age. On one such run, he chances upon Aarfa (Anushka Sharma), who is also a wrestler — a state champion at that — despite the fact that she possesses literally zero muscles and somehow always finds the time to get her make-up just right. Perhaps Meera from NH10 (2015) grew fond of rural Haryana and decided to stay back.
In what has become a bit of a trend in Salman movies of late, the best actor in the film is the guy who plays the star's best friend: Anant Sharma, who plays sidekick Govind with plenty of enthusiasm and the film's most believable Haryanvi accent. As Sultan falls head over heels in love, with song situations for numbers like 'Baby Ko Bass Pasand Hai' and '440 Volt' being spelt out as clearly as possible, Govind is with him every step of the way.
Zafar — who is also credited with story, screenplay, and dialogues — makes it very clear that he isn't interested in subtleties. His film, while peppered with several watchable moments, is unabashedly male, with some mild feministic posturing that eventually rings hollow. For instance, Aarfa, who is shown to be wildly independent and focused on her dream (winning an Olympic gold medal), resists Sultan's amorous advances at first. Taking this as a challenge, Sultan approaches her father Barkat Hussain (a typically genial Kumud Mishra), who runs a local akhaada, and asks to be trained for the state championship. A couple of Benny-Hill- and Rocky-inspired montages later, Sultan has become so good that he's vanquished someone twice his weight. Suddenly, Aarfa has fallen in love with him. Later, she even gives up on her own dreams so that he can chase them. (Spoiler alert: he does, and succeeds! So much for years of training and discipline.). The only real reason given for this change of heart is that she's in love and wants him to be happy, and this seems out of character.
Khan, who has been playing the brawny simpleton for a while now, coasts through on his looks and the practiced ease with which he can disguise arrogance with almost child-like innocence (note: I'm only talking about his acting here)
Meanwhile, many years later, a sports entrepreneur named Aakash Oberoi (Amit Sadh), who is one of the people behind a failing franchise called Pro Takedown, attempts to bring Sultan into an MMA league (featuring actual Ultimate Fighting Championship fighters such as Tyron Woodley), eight years after a tragedy came between Aarfa and him (this, again, is literally fed to the audience) and led to him quitting wrestling forever. The second half, as one would imagine, is all about his return to the ring in a quest to win her back.
Khan, who has been playing the brawny simpleton for a while now, coasts through on his looks and the practiced ease with which he can disguise arrogance with almost child-like innocence (note: I'm only talking about his acting here). Despite often looking too old for the role, he somehow makes it work, and even displays surprising agility in some of the fighting scenes as well as one signature break-dance move in the song 'Jag Ghoomeya' (I was actually shocked by how well he did it).
Aesthetically, the film has all the hallmarks one would expect from a commercial entertainer: ever-present background music (Julius Packiam), sweeping shots and predictable usage of slow-motion, thunderous sound design… you know, the works. Towards the latter half, Randeep Hooda makes an enjoyable, Burgess-Meredith-like appearance as Fateh Singh, a man who runs an underground fighting club in old Delhi, and takes a gone-to-seed Sultan under his wing. "Saala saand," he mutters delightedly, as he watches Sultan win a fight on TV — one of the film's more pleasurable moments. Other moments, which attempt to hammer in cheesy, 'It's about fighting what's within you'-like life lessons, didn't work as well for me, admittedly.
But my biggest problem with Sultan is that it just doesn't try hard enough to escape its own limitations, something Kabir Khan managed well with last year's Bajrangi Bhaijaan (2015). In a year in which movies like Airlift, Neerja, Kapoor & Sons: Since 1921, and Udta Punjab — to say nothing of the Marathi blockbuster Sairat — have changed the idiom of commercial cinema, Sultan is happy to stick to a more dated form and indulge in fan service.
At the end of the day, Zafar's film is likely to have mass appeal and even win appreciation. But the yardstick being used is Salman's filmography itself, and I reject the notion that the star is his own genre because it's a convenient excuse to make mediocre films that will be over-praised merely if one gets a few of the basics right.
Popular in the Community