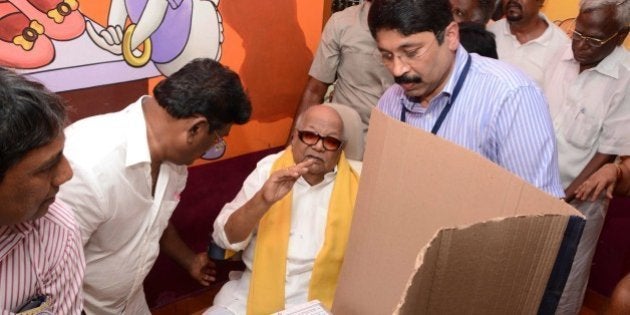 NEW DELHI — The union home ministry has rejected security clearances for Kalanithi Maran-promoted Sun TV network's radio channels, dealing a blow to the Maran brothers who are facing a federal investigation in a separate case.
Sun TV operates 45 radio channels under brands Suryan FM in Tamil Nadu and Red FM in rest of India. Kalanithi Maran is the older brother of Dayanidhi Maran, former union telecom minister. Both are related to M.K. Karunanidhi, the former chief minister of Tamil Nadu.
This will stall the company's efforts to migrate to Phase 3 licenses, that allow for more channels in the same bandwidth, from the existing Phase 2. Such migration requires fresh security clearance from the home ministry.
However, relief might be in sight for Sun TV. Information and Broadcasting (I&B) minister Arun Jaitley has written to home minister Rajnath Singh asking for reasons for not granting security clearance to the radio stations.
According to current rules, denying licenses to radio stations can happen in three cases. One, if the channel expands coverage to border areas or those hit by Naxal violence. Two, if there is a change in the board, or in the ownership structure of the company. And three, if the channels broadcast propaganda that is anti-national or criminal in nature.
I&B secretary Bimal Julka has confirmed the home ministry's move but it is unclear which of the above three reasons has Sun TV been accused of. But it does make it clear that the Maran brothers' clout in New Delhi is not the same as before, when Dayanidhi Maran was a minister in the Vajpayee cabinet and during the Congress-led UPA government when Karunanidhi's DMK was a coalition partner.
The ongoing CBI investigation against the Maran brothers might have weighed in the home ministry's decision. The CBI has accused Dayanidhi Maran of forcing C Sivasankaran, owner of Aircel, a mobile operator, to sell his stake to Malaysia's Maxis. The owner of Maxis in turn invested Rs 599 crore in Kalanithi Maran's Sun group. The enforcement directorate has attached property worth Rs 722.5 crore owned by the Marans as part of the investigation.