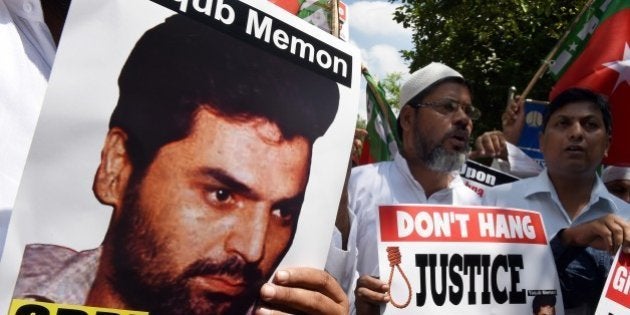 NEW DELHI -- A two-judge bench of the Supreme Court on Tuesday delivered a split verdict on a plea by Yakub Abdul Razak Memon, the lone death convict in 1993 Mumbai blasts case, seeking stay of his scheduled execution on July 30 and referred the matter to the Chief Justice to take call on it.
While Justice A R Dave dismissed his plea, Justice Kurian Joseph stayed the death warrant issued on April 30 for his execution on July 30.
Attorney General Mukul Rohatgi and other senior advocates, including Raju Ramachandran, appearing for Memon, said that since the two judges have differed on staying the death warrant, "there will be no order in law if one judge has stayed it and the other has not".
The bench referred the matter to Chief Justice of India H L Dattu to take an urgent call at 4 PM in view of the divergence of opinion on the issue of death warrant.
The bench also requested the Chief Justice to constitute an appropriate bench and list the matter for hearing tomorrow.
Justice Kurian Joseph said that the curative petition of Memon is required to be considered afresh in accordance with the law.
He was of the view that under the rules the curative petition has to be circulated to a bench of three seniormost judges of the court and also among the judges of the bench which passed the judgement complained of.
He mentioned that the review petition of Memon was dismissed on April 9, 2015 by a bench comprising Justice Dave, Justice J Chelameswar and himself.
However, only Justice Dave was part of the bench which decided the curative petition and neither he nor Justice Chelameswar was assigned to consider Memon's curative plea.
Yesterday, the court had asked Attorney General Rohatgi to clarify the relevant rules and scope relating to curative petitions, the last judicial remedy in law.
While Rohatgi was of the view that all judicial remedies available to Memon got exhausted with dismissal of the curative petition on July 21, Ramachandran, appearing for the convict, had claimed correct procedure was not adopted by the court in dealing with his curative plea.
A three-judge bench headed by CJI had on July 21 rejected Memon's plea, contending the grounds raised by him for relief did not fall within principles laid down by the apex court in 2002 in deciding curative petitions.
Memon, in his plea, had claimed he was suffering from schizophrenia since 1996 and has remained behind bars for nearly 20 years, much more than a person serving life term has to spend in jail.
He had sought commutation of death penalty, contending that a convict cannot be awarded life term and the death sentence for the same offence.
The apex court had on June 2, 2014 stayed the execution of Memon and referred his plea to a Constitution Bench as to whether review petitions in death penalty cases be heard in an open court or in chambers.
The apex court on April 9, this year had dismissed Memon's petition seeking review of his death sentence which was upheld on March 21, 2013.
Memon's review petition was heard by a three-judge bench in an open court in pursuance of the Constitution Bench verdict that the practice of deciding review pleas in chambers be done away with, in cases where death penalty has been awarded.
12 coordinated blasts had rocked Bombay, as the city was then known, on March 12, 1993, leaving 257 dead and over 700 injured.



Popular in the Community