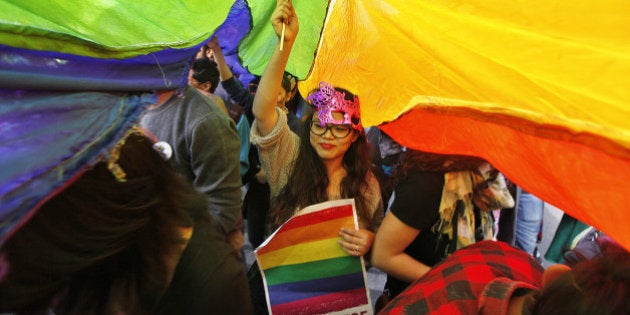 "What is this 377?" A puzzled man asked his companion while making his way through a candlelight vigil in Kolkata, past Hari's tea shop with its drying marigold garlands and its chicken and veg patties. The "vigilant" stood with their candles in little paper cups, their homemade placards declaring 'Love is Love', shouting "377 hai hai, 377 bye bye", singing 'We Shall Overcome' and hoping that somewhere out there the justices of the Supreme Court would notice that LGBT Indians were not a "minuscule minority" as if being one would mean their rights were eminently dismissible.
The Supreme Court will decide today to dismiss the curative petition as regards to Section 377 or hear it afresh. Law experts warn that in most cases the grounds for a curative petition are too narrow and they are usually dismissed right away after merely examining the papers. The fact that the Court has decided to hear it in open court has stirred hope that perhaps it is indeed having second thoughts.
One thing is clear. Despite that puzzled man in Kolkata who was not sure what Section 377 was, the issue itself is well out of the Indian closet now. None other than an eminence like Pahlaj Nihalani, the censor board's chief, is weighing in on the issue.
When the Censor board decided that the trailer of the film Aligarh should be given an 'A' certificate, it was attacked for being "homophobic". "Tell me, is the subject of homosexuality for kids? For teenagers?" said an aggrieved Nihalani as if porn coms with penis jokes, faux sodomy with a donkey and making fun of mutes and gay are perfectly sanskari. "(Filmmaker) Hansal Mehta and his friends forget homosexuality is unconstitutional in the country," Nihalani added. "'Murder', 'Rape', 'Terrorism'? Are these crimes constitutional? Why then did Nihalani not certify trailers of many such films with an A certificate?" wonderedAligarh writer Apurva Asrani.
The Supreme Court can decide it does not want to do anything about Section 377 or rather with its ruling on Section 377 but it cannot pretend that gays don't exist anymore. Journalist Deepu Sebastian Edmond wrote about his last conversation with Aligarh Muslim University's embattled Professor Siras. "I have decided. I want to go to America," Siras told him. "America is the only place where I will be free to be gay." Gay teenagers in America commit suicide all the time but too many gay people in India have that same fantasy as Siras. Section 377 gives that desperation a legal stamp of government approval. The British gave us 377 but we cannot deny that we chose to keep it. And the court has a chance to say it does not have to be that way.
Whether it's the desperate loneliness of an aging Professor Siras in a hostile society or the puerile jokes of sex comedies, homosexuality in India is not a laughing matter. Section 377 has been employed over and over again in recent times, for example in Hassan, Karnataka, so we cannot pretend it's just a paper tiger with no real bite. Even the Madras High Court recognized the reality of homosexuality when it asked why it could not be a valid ground for divorce. "Could LGBT be considered as offenders merely for having exhibited their natural sexual orientation and their sexual acts, which are different?" asked the court showing that even the judiciary is thinking long and hard about this. Let us hope the Supreme court recognizes this fight is not about rights as homosexuals but rights as Indians, minuscule minority or not.
Irrespective of what happens in court, nothing will change for the Sirases overnight. Societal acceptance does not necessarily flow downstream even from the highest court of the land. But it becomes a powerful signal of change. It gives the Pahlaj Nihalanis of the world one less fig leaf to hide their homophobia behind. It means those MPs booing and jeering and cackling like adolescent bullies in Parliament when Shashi Tharoor tried to introduce a private members bill on 377 will know that the court is not giving them license.
The Supreme Court will consider a curative petition on narrow legal grounds, not on these larger social issues though as a court it has often weighed in on the side of what it considers social good. Curative petitions are a long shot. As Alok Prasanna Kumar wrote in Scroll, it will be hard to prove in this case the ruling was "a failure of natural justice (that is, the petitioner wasn't heard by the court) and undisclosed bias of the judge hearing the case which adversely affected the petitioner."
But let us at least remember this. A curative petition, often described as the rarest of rare, is according to IBNLive "seeking to cure the defects in the judgement". In a society where large sections still think that homosexuality is a disorder that needs to be cured, it is a small but significant sign of progress that now it the judgement whose "defects" are found something to be cured.
At the end of the vigil in Kolkata, as the candles flickered out, a young woman played 'We Shall Overcome' on the harmonica. Amidst the din of passing buses and cars, it sounded both hopeful and defiant.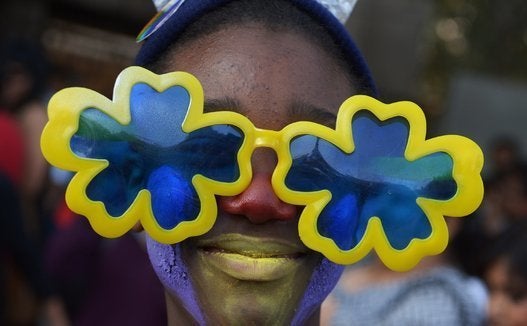 India's LGBT Movement: A Timeline