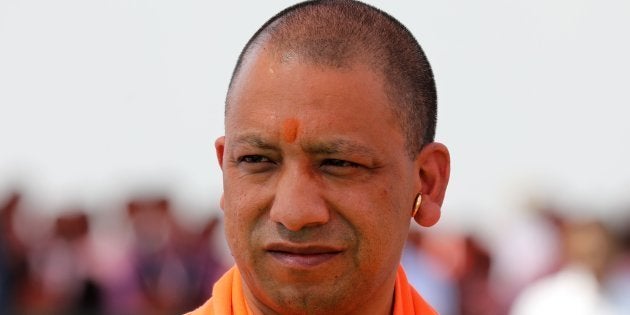 The Supreme Court on Tuesday directed a magistrate in Uttar Pradesh to pass appropriate orders in accordance with law in a rioting case allegedly involving Chief Minister Yogi Adityanath.
A bench of Chief Justice Dipak Misra and Justices A M Khanwilkar and D Y Chandrachud disposed of a petition challenging the Allahabad High Court order dismissing a plea filed by one Rasheed Khan in the case.
"We only direct the Magistrate (in Gorakhpur), as the High Court has remitted the matter to him, to pass appropriate orders keeping in view the law laid down. The Special Leave Petition stands disposed of accordingly."
The case, according to the police, pertains to a 2007 incident in the Gorakhpur district in Uttar Pradesh when Adityanath was a Member of Parliament.
The FIR said that on January 27, 2007, on the occassion of Satvi Moharram, a call was given by Adityanath, following which members of right-wing outfit Hindu Vahini, traders and businessmenstarted assembling and raising slogans.
It said that at about 10 am that day, the agitators set several properties ablaze, damaged religious books and indulged in destructive activities at the Imam Chowk in Gorakhpur. To disperse the agitating mob, the police fired several rounds in the air.
The FIR was lodged on charges of rioting, outraging religious feelings, trespassing on burial places and promoting enmity between groups.
On completion of the investigation, a chargesheet was filed on June 14, 2007 against all the accused and the cognizance of final report was taken by the Chief Juidicial Magistrate.
The order of cognizance was challenged before the Sessions Judge, Gorakphur. The Sessions Judge, by its order of January 28, 2017, allowed criminal revision and set aside the cognizance order of Chief Judicial Magistrate.
The court, however, remitted back the matter to the trial court with a direction to the magistrate to pass a fresh order in accordance with law on the issue of taking cognizance. The order of Sessions Judge was challenged before the Allahabad High Court which upheld it, saying no interference is warranted.
The high court had said "by way of abundant caution, CJM, Gorakhpur, is directed to decide the matter afresh, pursuant to the impugned order of remand strictly in accordance with law and in the exercise of his unfettered independent discretion, without being influenced by observations, if any, made by the revisional court in the impugned order.