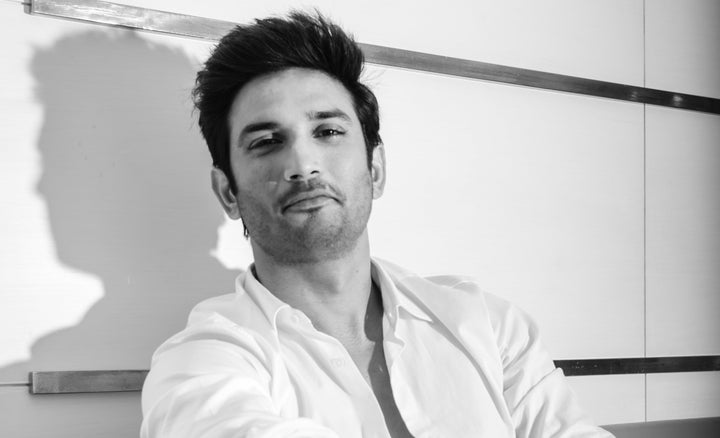 In Bollywood, perception can sometimes carry more weight than reality itself. That's why, after a film's release, most actors make sure they have set aside time for what's called 'post-release' publicity, to ride the wave of their most recent success and cement their position as star performers. If the film didn't score with either critics or the box-office, some smart actors even apologize for disappointing their viewers.
Sajid Nadiadwala's Chhichhore, directed by Nitesh Tiwari, didn't fall in either camp. It performed steadily at the box-office and received critical praise as well. But after its release, the film's leading actor Sushant Singh Rajput went on the opposite of a media overdrive—he booked a sprawling suite in a boutique club-hotel in Western Mumbai, and spent his days reading complex books about quantum physics and evenings playing tennis.
This wouldn't come as a surprise to anyone who's followed the actor's career trajectory till now. Born in Patna to a father who was an engineer and a mother who was a homemaker, the 33-year-old has often taken a detour near the peak of success, or at least success as is conventionally understood. He dropped out of his engineering course months before graduation, he quit his popular TV show Pavitra Rishta when it was topping popularity charts, and a couple of years after his big-screen debut, he walked away from a lucrative contract with one of Bollywood's most powerful producers.
When we meet in his suite, which has a quaint little library, an in-house butler and a spectacular view that doesn't look like it belongs to Mumbai, Rajput is dressed in a casual tee and pants, looking like he's just come out of the shower.
In the six years since his Bollywood debut, he has done 9 films with some of the most celebrated filmmakers. Despite consistently delivering strong performances, there hasn't been much recognition from within the industry, and his films just don't inspire the kind of blitzkrieg one witnesses around a Vicky Kaushal, Ayushmann Khurrana or a Varun Dhawan release.
Rajput agrees. At times, he says, it has been way too obvious, although he doesn't know the reasons for it.
"I was disappointed during Dhoni. Then I told myself, maybe I overestimated what the reactions were going to be."
In another interview, he was more forthcoming. He had said, "When you're successful as an outsider, you're discussed but in a very hushed tone. That's about it. But when you are an insider and you succeed, it's multiplied by ten and if you lose, it's divided by ten."
Though Rajput speaks emphatically, there's an air of detachment that engulfs him.
"Now, I've created my own markers of success. At that time, I was young in the industry, I was looking for it. That validation. Now I don't, so it doesn't hurt," he says.
But can actors really survive without external validation? Don't they, at least sometimes, crave confirmation of their talent and celebrityhood?
"It comes from the people who offer me work."
Move To The Big Screen
In 2013, Rajput successfully transitioned from the world of melodramatic TV serials to the prohibitive universe of Bollywood, which, despite its corporatisation, still remains a family business.
Rajput belongs to that breed of actors that didn't challenge the old order as much as found breathing space to comfortably exist alongside. An actor who didn't inherit stardom but slaved it out for earning it. A gifted performer, Rajput, as I wrote in my Chhichhore review, sometimes has a tendency to draw attention to the subtlety of his acting, thereby defeating its very purpose. When he wants to appear understated, like in some portions of the spectacular Sonchiriya, it seems he's trying a bit too hard, possibly a hangover from his television days. Many have even observed that he's too influenced by Shah Rukh Khan and draws from his style. But in most of his roles—like Sarfraz in Rajkumar Hirani's PK or Mansoor in Abhishek Kapoor's Kedarnath—he hits the right note, balancing emotion with a boyish charm that makes the viewer root for his character. In MS Dhoni, where he was immaculately restrained, getting everything, from the cricketer's gait to his body-language, pitch perfect.
"An actor needs to understand or visualise or perhaps have experienced a reality in order to understand it. Only then can you use tools to communicate it. It's one thing to understand, the other thing to feel and the third thing is to tell it. I need to feel it for you to feel it," he says, resting his face in his hands and smiling as he looks out of the window.
After Kai Po Che (2013), Rajput signed a multi-million deal with Aditya Chopra's Yash Raj Films, considered Bollywood royalty. However, after doing just two films, Shuddh Desi Romance (2013) and Detective Byomkesh Bakshi (2015), both of which underperformed at the box-office, Rajput was out of the contract. Word on the street was that he felt sidelined at YRF, as the studio's plum projects would go to their blue-eyed boy Ranveer Singh. Another rumour was that Ankita Lokhande, his then girlfriend, had given a smashing audition for YRF's big-ticket project, Salman Khan's Sultan (2016), but despite that, the studio chose their in-house talent, Anushka Sharma.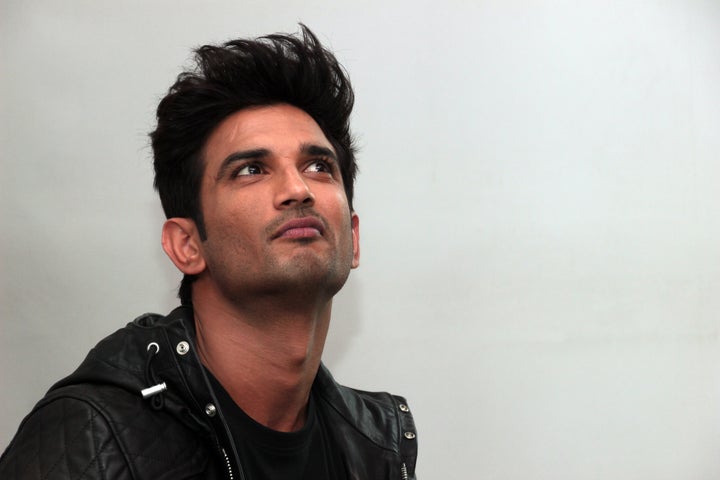 Rajput has never confirmed or denied these stories. When I ask him how he looks back at breaking his association with YRF—he hasn't worked with them since—he says cautiously, "Why retrospect and figure out what went wrong? I'm that guy who has 50 dreams that I want to accomplish in the next one year and I can work towards attaining them only because of what I've done in the past few years. So I think I'm doing okay."
Rajput admits that the decisions he has taken are 'debatable' but he doesn't regret them, nor does he wish he could've done things differently. "I will take full responsibility for them. I don't get disappointed by any of them."
Star Quotient
In the five years since his debut, Rajput has done just 9 films, mostly with top filmmakers. That he draws from Shah Rukh Khan while talking (and even performing) is known. That his performances have always been well-received is a fact (barring, of course, Raabta (2017)). Where Rajput seems to fall behind peers such as Ayushmann Khurrana and Rajkummar Rao is when it comes to the question of bankability.
When I ask about this, Rajput does what many people had warned me about before I met him. He answers the question, but in a way that makes it almost impossible to understand what he meant. "In the day and age when everything is served on the internet, we need to think about all the collaborative and associative ways of aligning to each other. We need to talk more about collaboration patterns and networks."
He offers some clarity. "We understand that the society would prefer one sort of entertainment over the other. But art is not science. Science is quantifiable but art isn't."
Well, sure. But is he saying that he isn't affected by the box-office outcome of his films?
No, he gets affected box-office, he rightly points out, isn't an indicator of the merit of the film itself. At least not the weekend collection, a recent industry obsession.
"If a film's footfalls have progressively increased due to word-of-mouth, that's a good enough indicator of the quality of the film," he says.
As for failures such as Byomkesh Bakshy or the more recent Raabta, Rajput says he's found his equilibrium—he doesn't let himself get affected by either success or failure.
If the weekend collections are great, he has a mild sense of euphoria and if they aren't, he's mildly upset.
"But on Monday, I'm back to normal. Whether it's Dhoni, which opened well, or Byomkesh which didn't."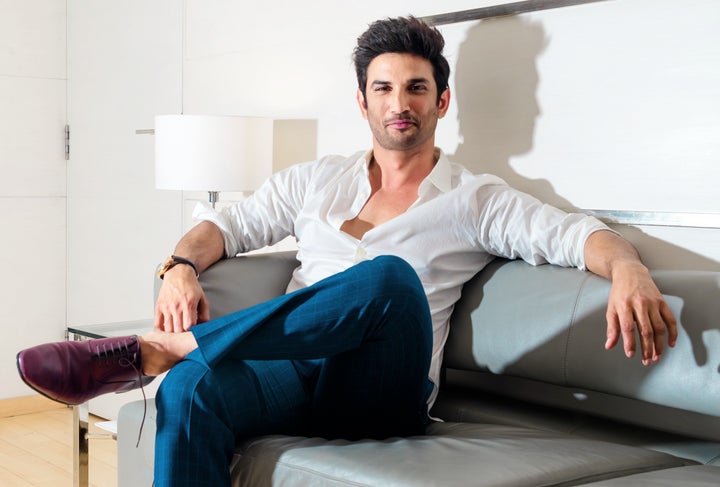 Among his many heartaches is Shekhar Kapur's Paani, an ambitious drama on the water crisis that was put in cold storage by Yash Raj Films after months of prep. Kapur had once said in a Twitter post that Rajput had meticulously prepared for the role and was gutted when he learnt that the film isn't happening.
Though he was upset at the film not taking off (one day YRF called and said the project was off, he recalls), Rajput says he learnt tremendously from the experience and narrates an anecdote where both he and Kapur spent 6-7 hours talking to a cobbler opposite Juhu's Iskcon temple, an experience he says "enriched" him and opened him up to perspectives other than his own.
"Somebody should make that film. We're closer to a water crisis then we were ever before," he muses.
But Paani wasn't the only Rajput film that met with a sudden demise.
Tarun Mansukhani's Drive, a Karan Johar production where he stars opposite Jacqueline Fernandez, has been in limbo since its completion in 2018. Two films that the actor shot after Drive have released since then. In off-record conversations, a Dharma executive joked that they don't know how bad the film is because half of them haven't bothered to see it.
"I don't know, I was repeatedly told that it would release but haven't heard anything from them." Rajput says, matter-of-factly. "I have only happy memories of Drive because the money I made off that film was donated to the Kerala floods."
A few days after our interview, Dharma announced that Drive will stream directly on Netflix as part of their multi-film deal.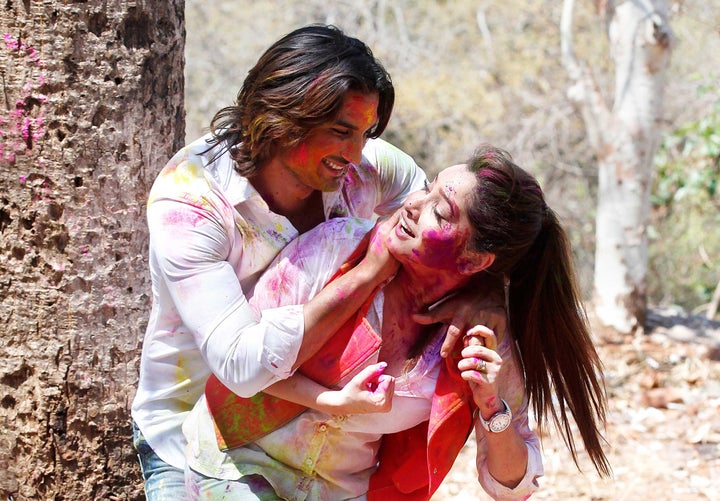 Heartbreaks and heartaches
In May 2016, Sushant Singh Rajput formally announced his split from his longtime girlfriend Ankita Lokhande. Once again, there were multiple rumours—one went that Rajput was cheating on his partner, while another suggested that Lokhande had an alcohol problem. Rajput had to issue a tweet refuting the stories.
"Neither she was an alcoholic nor I am a womaniser . People do Grow apart & its unfortunate . Period!!" he wrote.
When asked how the breakup of the long-term relationship affected him, Rajput pauses for a moment.
"Not every experience would teach you something," he says, but then veers off to talk about his mother's death and how he inherited all her good qualities and how much that experience helped him grow. It's almost as if he has come prepared to digress from questions he doesn't want to address head-on.
According to the grapevine, he's been seeing actor Rhea Chakraborty. But does he still believe in love?
His face lights up, as if he's only recently found it, all over again.
"I will glide and fly in love. What's not to believe in the idea of love? I think logic and love, they're not mutually exclusive but they're also not mutually inclusive. We have to find ways to be both most of the time."
That he's perceived to be a serial womaniser doesn't bother him. He recounts that when he signed his first film, Kai Po Che, a gossip item wrote unsavoury things about him. "The piece said that I slept with a dude and a woman to get the role."
And? In his characteristic style, he goes on to quote Einstein, no less. "When Marie Curie got a Nobel Prize, people started writing things about her. Men couldn't take it. Then Einstein wrote a letter to her. He said many great things and he ended the letter saying, 'in case you indulge yourself with these frivolous stories, measure the length of them.' So next time when I read something like that, I'll get myself a ruler."
While Einstein did write a letter to Curie, asking her to not pay any heed to the naysayers, HuffPost India couldn't verify this specific quote.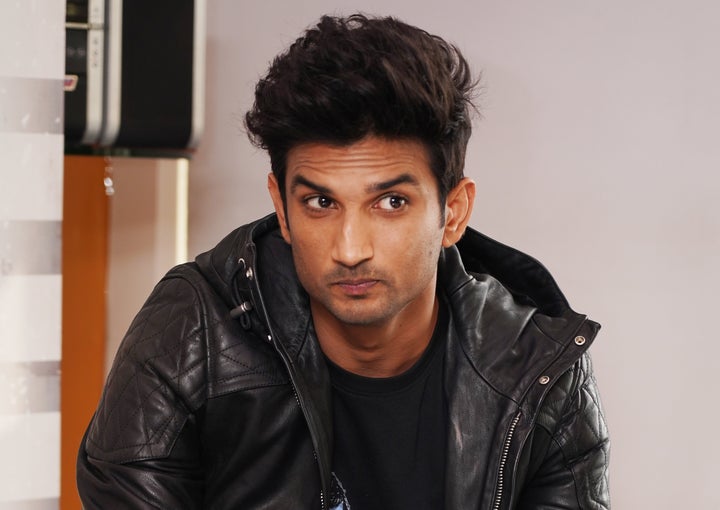 #MeToo
In October last year, hundreds of women, from various industries, spoke up about facing sexual harassment. A little before that, some rumours had begun flying around that Rajput had behaved inappropriately with his Dil Bechara (previously titled Kizie aur Manny) co-star, Sanjana Sanghi, although she herself never came forward with the allegations.
Rajput is visibly disturbed when I bring this up and even before I finish, points out that Sanghi herself called the allegations "baseless" in a statement (which she did, the statement can be read here)
"Is he still accused? Is he liable right now?" Rajput retorts.
That Chhabra was cleared by a company he himself founded, which makes the decision suspect, isn't a view the actor shares.
Instead, he tells me that we shouldn't be talking about it.
"Because it's a matter of his reputation. The more we talk about it, the more people are reminded about it."
We get into a debate about the #MeToo movement and how it exists on the Internet because most institutions have failed to provide any semblance of justice to survivors. Rajput disagrees but refuses to elucidate, responding with quibbles such as, "This is like saying people die in a plane crash because of gravity." I tell him no, it isn't anything like that. He says it is. And then there's silence followed by that line repeated by many men when speaking about sexual harassment.
"I have four sisters," he begins. "My mother and my four sisters have taught me this that first you need to respect women and anybody not doing that for any reason should not be respected. I will never work with them. I have always maintained this."
Beyond Bollywood
While there haven't been any fresh announcements about upcoming projects, Rajput appears to be excited about a bunch of different gigs.
"I'm looking forward to Christmas, New Year's, starting my film in January and I'm probably sending a few kids to NASA, like I did last year. These kids would be from government schools and I have already spoken to people at NASA. They'll stay there for 20 days and have a workshop," he says, eyes beaming with pride.
He is also collaborating with NITI Aayog to promote the BHIM app and women's entrepreneurship. He has also been discussing with them how to use exponential technologies such as Artificial Intelligence to bring about structural changes.
"I like programming. I like when I sit with the people there and talk about the economy. It's quite interesting, don't you think?"
In his fancy suite, he appears to have installed a mini-library. Those who follow him on Twitter would be familiar with his tweets on science and astrophysics. He also owns a top-of-the-line LX-600 telescope. Clearly, the glitz of showbiz hasn't dimmed the science nerd in him. When I ask him what he's reading currently, he doesn't have an immediate answer but tells me it's a book on quantum physics.
"Sounds complicated," I say.
"Just like #MeToo," he replies.