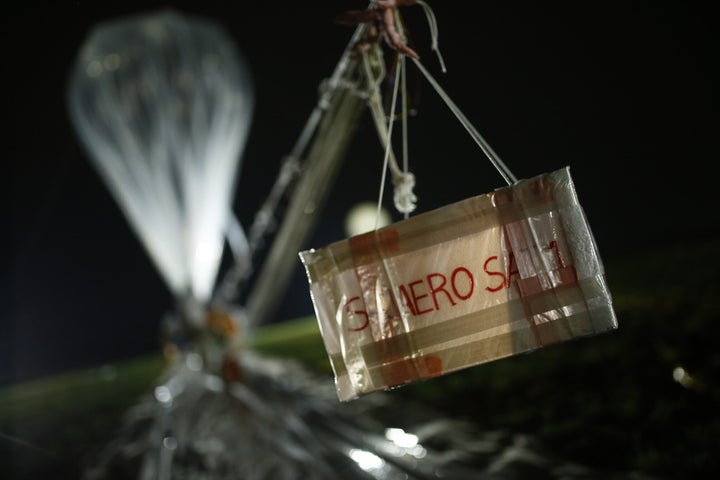 HYDERABAD, Telangana—Dr RS Praveen Kumar was 28 years old and already an IPS officer when he took his first flight. So he was happier than most when one of his students got on an airplane at 12.
"It was earned, they had to work very hard for it," he said.
The student referred to here studies at a school run by the Telangana Social Welfare Residential Educational Institutions Society (TSWREIS), of which Kumar is the secretary. The institutes, for students from socially and economically weaker sections of society, mainly from Dalit and Adivasi backgrounds, are part of an experiment that is redefining Dalit identity in Telangana.
A month ago, students from the TSWREIS schools launched a payload into near-space to study cosmic radiation and the ozone layer. They did this using a high-altitude balloon that reached 26kms from the Earth's surface — roughly three times the height of Mount Everest. The payload, Swaerosat-1, was followed by a second launch at the start of August, this one to measure pollution.
For the Swaeroes, the students behind this project, the payload launch was a literal affirmation that the sky's the limit. Five years ago, another Swaero, Malavath Poorna, became the youngest girl to climb Mount Everest when she was just 13 years old.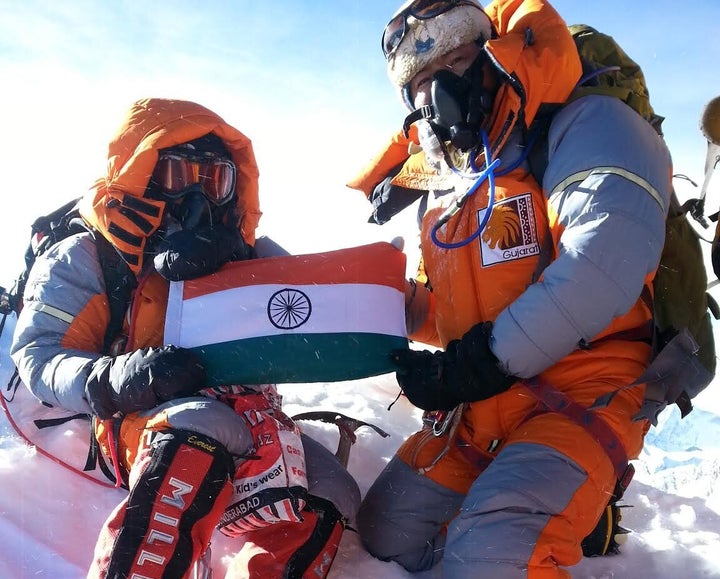 "The SW stands for social welfare," he said in a recent meeting in his office in Hyderabad. "And aero is synonymous with air, to remind us that the sky's the limit. But there has to be more to this identity than just words, and that is what we have been trying to do."
After taking study leave from the IPS in 2011 to go to Harvard, he returned to guide the TSWREIS to not just provide education, but also a sense of community, explained many of the Swaeroes HuffPost India spoke to.
It's an identity that stays with them not just while they are in the residential schools, but even later in life. Apart from success stories like Poorna and Swareosat which make national headlines, there are also quieter changes, such as wedding invitations where the names of the bride and groom carry the suffix Swaero.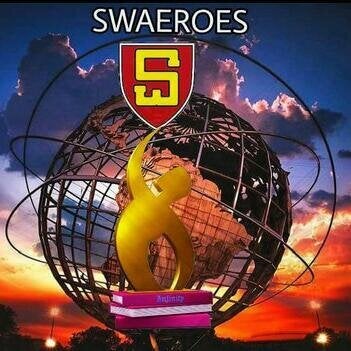 UNDERSTANDING SWAEROES
"Dalit acknowledges the oppression that I have been undergoing," said Manasa Swaero, who studied in the REI schools five years ago. "Swaero identity gives me the strength to show the hidden — hidden by society — power in me."
Manasa, who is from Warangal, is pursuing an MA in Education at Azim Premji University and, as part of her research, is working on a project on how Swaero has evolved as a new social identity.
She has stopped using her family surname, and instead uses Swaero, affirming the new social identity she—and others—have found through the schools. She speaks about her identity easily, giving the impression that she has thought deeply and many times about the questions this writer was asking.
"The idea [of what a Swaero is] first came to me when I was in Class X, when Praveen Kumar sir came to our school," she said. "At the time, all I thought was, I am a student and this is the identity given to us. It means achieving something high, in school."
It took her a few more years to understand how it was connected to her social identity.
"When I went for my undergraduate degree at Azim Premji University, I got to study feminism, and Ambedkar. We had a club called Ambedkar Feminism Study and Struggle Alliance, where I learned a lot. I got to know different kinds of ideologies, and how different activists have been speaking to the masses."
This also helped her decide what she wanted to do in life. Although Manasa had been studying a BSc in Biology, she decided that she wanted to become a teacher.
"The way women in my community are raised is to step back. Being a Swaero taught me to speak more, and speak about what I want," she said. "As we see how caste dynamics happen, this identity [Swaero] gave me a way to see how my caste fits into society."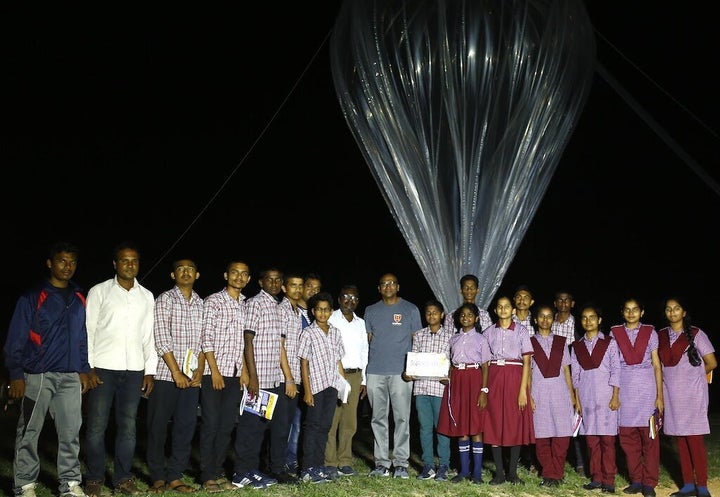 For the young students who launched the payload, Swaero also means a path to opportunity, as an alumni network now exists to help each other and take the community forward through mentorship and funds.
For the students who envisage and carry out the ambitious projects, this is a chance to glimpse new possibilities.
Prasanna Lakshmi, a young Swaero in class 9, who was part of the launch never dreamed she "would get an opportunity to design a space atmospheric probe", while for J. Divya, who aims to become a space scientist, it was a thrilling experience to see the "payload "taking off majestically without technical glitches".
'DALIT IS A WORD FILLED WITH PAIN'
For many of his students, Kumar said, the most painful question can be 'what do your parents do', or 'what is your family name', those conversation-openers that many Indians use to gauge a stranger's caste.
The policeman, slim in his early 40s, has a broad smile usually, but as the conversation turns to caste, he looks intense.
"India is filled with people that have tremendous potential. The issue is that a quarter of the Indian population have been robbed of their potential, taught that they don't have potential.
"Type the word 'Dalit' in Google Image search and the people you will see are only on the roads. You see women carrying nightsoil, and men toiling in harsh conditions. Dalit is a word filled with pain," he said. "Why must we bear the burden of an identity thrust upon us?"
When people hear the word 'Dalit', said Kumar, they think 'backwards'.
"We want to change all the stereotyping, so we [the TSWREI team] spent six months doing field visits to understand what can be done. We realised that the way forward was to start in schools, so that the next generation could at least be salvaged."
Hence, Swaeroes was born.
The movement is part and parcel of the TSWREI work in building educational institutions, and the government initiative has reached a huge number of people.
However, just changing the label from Dalit would not have much of an impact, and so the next step for Kumar was to come up with a set of commandments—guidelines that all the students would follow, almost like a religion.
The first of these is as simple as it is stark: "I am not inferior to anyone."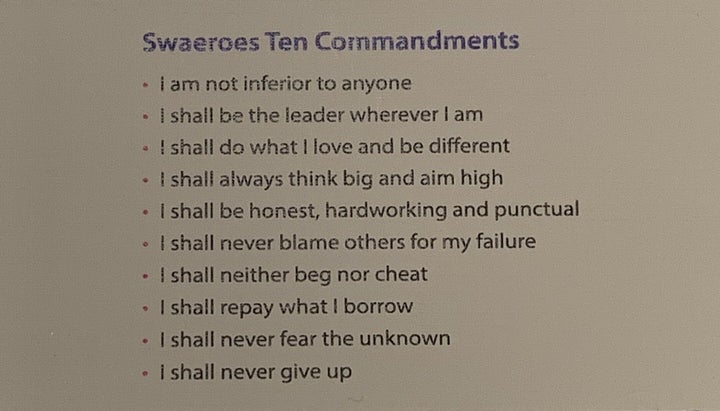 "But this could not become another 'All Indians are my brothers,'" he added. "That's why we helped launch the Poorna expedition, and Swaerosat. When Poorna and Anand Kumar climbed to the top of Everest, they planted a flag of Ambedkar and SR Sankaran, he was a civil servant who did a lot of work to eradicate manual scavenging."
Poorna's quest, which was turned into a movie by Rahul Bose in 2017, was a gamechanger for the institution.
"Poorna jolted the community, and the nation, and the multiplier effect of that event has been phenomenal," said Dr Praveen Kumar. This becomes clear when you look at the number of Swaeroes studying in elite universities, he pointed out. "In Azim Premji University, we have 80 people, and 210 in Delhi University, 70 in Pondicherry University, all top institutions, which was unheard of earlier," said Kumar.
As the Swaero identity becomes more popular, Kumar said that it's also becoming an umbrella that extends beyond the school.
"It's not just SC now, tribals, OBCs… earlier people used to mask their caste, but now people are proud of their Swaero identity. You have people using Swaero as a surname. You have Swaero chai shops."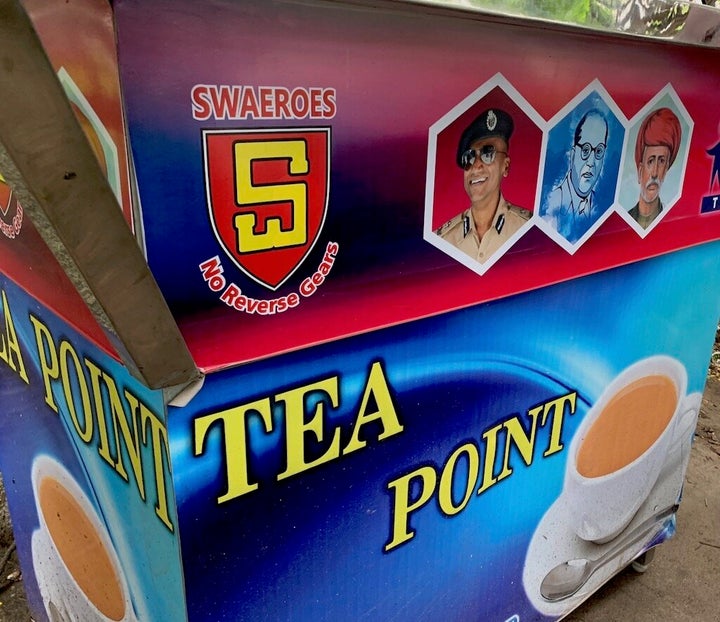 BREAKING FREE OF STEREOTYPES
Hemanth Kumar Swaero, whose family hails from Chilkamarri (around 50km away from the Hyderabad airport), earned a BSc in Biology and Economics as an undergraduate in Azim Premji University. There, he studied a course called Understanding India, which he say helped him realise more about social identity.
"Because of that, I decided to study public policy, because that means making decisions that will affect people," he said. "But it is more than an individual action, it is collective, as you help others to reach the best possible position," he added.
And Hemanth is clear about his responsibilities.
"Once you reach somewhere, you have to pay it back to the community."
A network of alumni from the TSWREI schools is spread across India now, and they have been able to help young Swaeroes get educational loans, and often raise funds and provide direct financial support for Swaeroes in their cities as well.
The alumni network also serves as a roadmap for how younger Swaeroes can make their way through life, said Varalakshmi Kommu, a development scholar who has been working on issues faced by Dalit women.
"I was selected to speak in Delhi at a talk, which was a big privilege, but I was getting no accomodation. But the seniors were there, they said, 'we are your sisters, you will stay with us'," she recalled.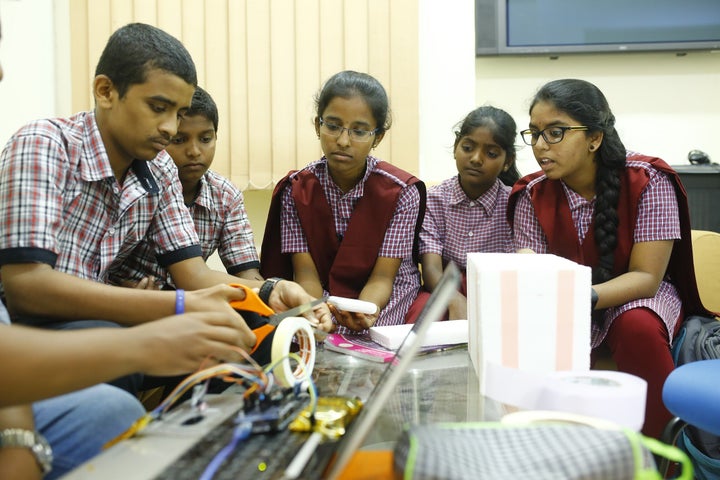 When Varalakshmi was young, she didn't know much about what social welfare meant.
"(My parents) saw it as charity they should be grateful for. But when Praveen sir came, he taught them to ask questions about whether we are getting proper food, and that the education is taking place in English," she said.
The experience has helped her dispel casteist stereotypes that can hit a person without warning.
"We went to the bank to take a loan, and the person there said, 'you don't appear like an SC', because of how I spoke. They were not believing that I'm studying post-graduate, and that my sister is studying in Miranda House," she said.
A friend of Poorna and Anand, Varalakshmi also remembers how the two young mountaineers got to meet the Prime Minister.
"For people like us, it can be a nightmare to be in a situation like that, we're taught not to make noise. But thanks to Poorna and Anand, that is changing, and my father was very happy that I was able to write a paper for an Ambedkar conference in Newark, although I couldn't go for it."
Other Swaeroes have also built careers in high tech fields, such as Captain Anil Kumar and Sujay Sreedhar of Swaero-Sapiens Automation Solutions, who mentored the team that launched Swaerosat.
One of the things Dr Praveen Kumar is insistent on is that his students are equipped with the skills they'll need as technology changes at a furious pace.
"Soon, all Swaeroes will speak four languages—English, Hindi, Teleugu, and Code. Being able to code is an essential skill now and we want to make sure that all of our students have this ability from an early stage," he said.
PRESSURE TO EXCEL
The students at the TSWREIS schools are driven and aspirational, as befits the identity they take on.
"He [Dr Praveen Kumar] would talk to us in college, and there was the Swaero magazine being distributed to us in the schools. There were photos of winners of competitions and quizzes, and that made me slowly think also, 'why am I not there?'," said Varalakshmi.
Speaking about competing with students with more privileges, Hemanth told HuffPost India, "by the time you reach post-graduate, you learn to manage. Now, I also help the rich kids with their studies."
"Of course, there is some pressure and I do feel I have some responsibility to do better. There is so much blood and sweat invested in you, you are what you are thanks to the community."
When this writer asked Varalakshmi whether she felt pressure to be exceptional, she laughed.
For Dr Praveen Kumar, there's no question about this. "We want them to be the best, to have opportunities to excel. We have English clubs in the schools, horse riding—that even rich people don't get to do, robotics camp, leadership camp."
He's clear that the Swaeroes need to keep reaching higher if they are going to bring the community to an even footing. "You can't search for solutions in history. You have to seek your salvation in the future."
"There are Swaeroes all over the country now, feeling a strong pressure to excel despite discrimination. To go to the best places, and be the best."
Popular in the Community