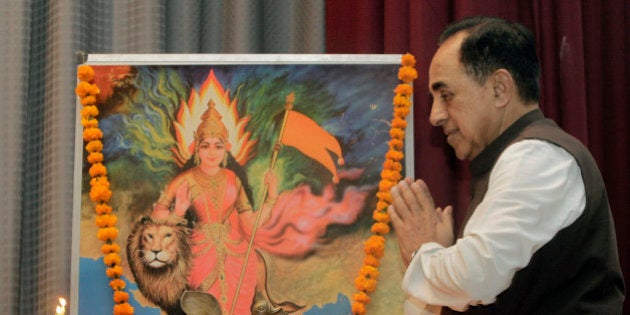 Dr. Subramanian Swamy has a penchant for the outrageous, the agent provocateur of Indian politics. But he also has the uncanny knack of masking the outrageous in the guise of perfect reasonableness.
In a country as diverse as India, the magic mantra for everyone getting along, has always been thoda adjust karna. Swamy seemed to be echoing exactly that when he proposed generously, if rather presumptuously, on behalf of all Hindus:
"We Hindus offer Lord Krishna's package to Muslims - give us 3 temples and keep 39,997 masjids. I hope Muslim leaders don't become Duryodhans."
Swamy made this bumper offer in a tweet as a follow-up to a two-day seminar in DU about the Ram Janmabhoomi Temple. Speaking at the seminar Swamy claimed there were over 40,000 temples demolished in the country and in a gesture of majoritarian magnanimity he announced, "We never say that all those should be reconstructed… but there can be no compromise on three of them – Ram Janmabhoomi temple, Krishna temple in Mathura, and Kashi Vishvanath."
Three for 39,997? On the face of it, it almost appears like the deal of a lifetime. But in reality his "Krishna package" is more of a threat than an offer, just another way of reviving that belligerent slogan from the days of the Babri Masjid demolition "Abhi toh bas yeh jhanki hai, Mathura Kashi baki hai".
What Swamy is saying is give us these three, otherwise we can open a Pandora's Box of another 39,997.
What Swamy is saying is give us these three, otherwise we can open a Pandora's Box of another 39,997. There are plenty more temples where these three came from. Ram Janmabhoomi, Mathura and Kashi Visvanath might be the big three but Swamy is saying in no uncertain terms, that if he does not get its way on them, there are tens of thousands of masjids they can target. The temple-masjid issue could thus become an ongoing gangrene sore that would never really heal in the Indian body politic. And between Swamy's own legal acumen and Hindutva's footsoldiers' wrath-yatras, that could well be a Mahabharata battle with no end in sight.
Make no mistake, Swamy is throwing down a gauntlet disguised as compromise. The Samajwadi Party's Azam Khan happily took the bait and asked Swamy "to take all the mosques and start offering namaaz".
When the 2014 BJP poll manifesto relegated the Ram Mandir to page 41 and couched it in very wishy-washy language about the party reiterating its stand to "explore all possibilities within the framework of the Constitution" to facilitate the construction of the Ram Temple, it seemed very clear that the temple had been put on the back-burner. This was a far cry from the robust commitment in 1996 to "facilitate the construction of a magnificent Ram Temple at Janmasthan in Ayodhya on coming to power as this dream moves millions of people in our land; the concept of Ram lies at the core of their consciousness".
VHP patron Ashok Singhal's death gave the temple a renewed fillip. RSS chief Mohan Bhagwat said the temple would be fitting tribute to Singhal. But as the Indian Express points out, barely a month or so earlier, at Singhal's 89th birthday, neither Bhagwat nor Home Minister Rajnath Singh uttered the T-word. Perhaps the BJP had seen the writing on the wall. Even Pandit Bindeshwari Prasad Awashti, the head priest at the Janmabhoomi Sansthan in Mathura had said, "If you ask me, the main issues in the constituency are the unprepared roads, power cuts and short supply of drinking water. The temple was an issue at one time, the public has, however realized that only Krishna himself can find the solution."
Enter Subramanian Swamy with delusions of Krishna, offering a war-averting package the way Lord Krishna had asked Duryodhana for five villages for the Pandavas.
Enter Subramanian Swamy with delusions of Krishna, offering a war-averting package the way Lord Krishna had asked Duryodhana for five villages for the Pandavas. This comes as truckloads of stones arriving at Ram Sevak puram, a VHP property in Ayodhya start making news. The VHP had announced a nationwide drive to collect stones in June.
Even if the BJP relegates the temple to Page 41 of its manifesto, the VHP keeps it on Page 1. Temple building, cow slaughter, reconversion of tribals have always been its frontline issues. Pushing them is its way of staying in the headlines and forcing the BJP into a tight corner. VHP leader Pravin Togadia has always been a bit of thorn in Narendra Modi's side. Before the 2014 elections Togadia said, "We want that this country should get a prime minister who passes a law and make mandir, and while doing so, if he loses power, he should be ready to do it." Narendra Modi, whatever he feels about the temple, clearly has no interest in that kind of sacrifice. Amit Shah had said that to resolve Article 370 and the temple issue, the BJP needs 370 seats.
The BJP had steadily downplayed the temple issue, saying what was needed was building public consensus around it instead of trying to force the issue through courts via legal diktat. Swamy, on the other hand, who likes to fight most of his battles on Twitter or in the court, said at the seminar, "We have started and we will not give up until it is made but nothing will be done forcibly and against the law. We have full faith that we will win in court."
It suits the BJP to run with the hares and hunt with the hounds on the temple issue but Swamy is making it harder for them to keep doing that. Swamy is often described as a loose cannon within the BJP. If one day he is taking on the Gandhis in the National Herald case, on another day he is apparently helping suspended BJP MP Kirti Azad with Arun Jaitley on DDCA. This would have been all right for the maverick leader of the one-man Janata Party. But now that his party has been merged with the BJP, the mothership does not have very many degrees of separation between Swamy and itself. And when Swamy stirs the hornet's nest, the BJP too risks getting stung.
Subramanian Swamy has slyly conjured up this horrifying vision of a scorched-earth Mahabharata style war with brother arrayed against brother. In the process he has also proven that no matter who is Krishna and who is Duryodhana in this fight, he is the unchallenged contender for one mythic role. And it's not Lord Krishna.
Shakuni, thy name is Swamy.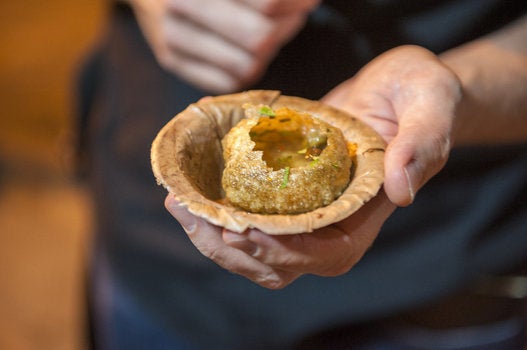 8 Popular Indian Food Myths Busted
Popular in the Community