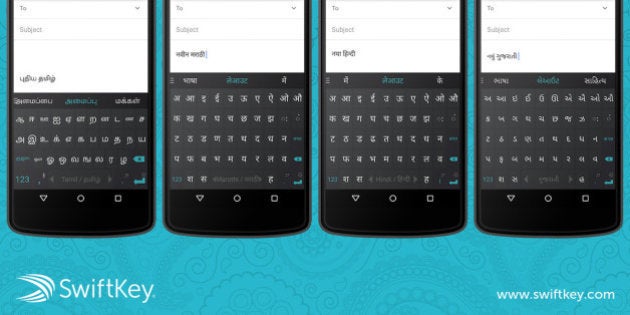 SwiftKey, the predictive keyboard app, released a major update for Android devices Thursday that adds support for 9 new Indian languages - Bodo, Dogri, Kashmiri, Konkani (in both Devanagari and Kannada scripts), Maithili, Manipuri, Sanskrit, Santali and Sindhi.
The 5.3 update, which went live yesterday brings the tally of total languages supported by the app to 22, among a host of new features that were only available in Western languages.
"We have completely revamped the way a user interacts in the Devanagari script based on research and analysis of the root language, Sanskrit." said Aarti Samani, Product Manager at SwiftKey, speaking to HuffPost India. The keyboards for Gujarati and Tamil have been revamped too, using machine learning and ArtificiaI Intelligence to address the challenge of optimal keyboard layouts.
"We have focused on native scripts, and improving the quality of predictions as well. We take predictions for granted, for these kind of languages it's still a novelty." she said.
According to Samani, the update incorporates algorithms to identify characters that aren't used — to reduce the number of characters in the keyboard. "What would take 3-5 keystrokes can be done using one." she said. "Languages like Sanskrit or Bodo, where there's not much written material available are at the risk of extinction. We've added contextual prediction to these languages as well. We are helping these languages survive, as the cloud feature learns from their vocabulary."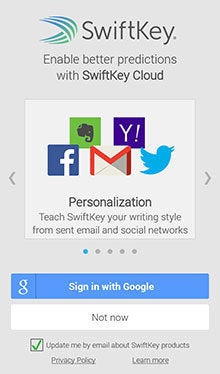 SwiftKey gets better at text prediction once you grant it access to your online profiles
SwiftKey makes personalised word predictions by syncing with online accounts on mail, SMS, Facebook, and other online profiles. The app gets better at prediction with more access, but doesn't collect data without permission. "It's an opt-in method. We have data ethics committee that cares about people's privacy. Any data that we collect is always anonymous and aggregated." Samani said.
SwiftKey was launched first on Android in 2010, and shifted from a paid model to freemium model last year. The app was launched for iOS devices in September 2014, and it registered 1 million downloads on the first day of its launch.