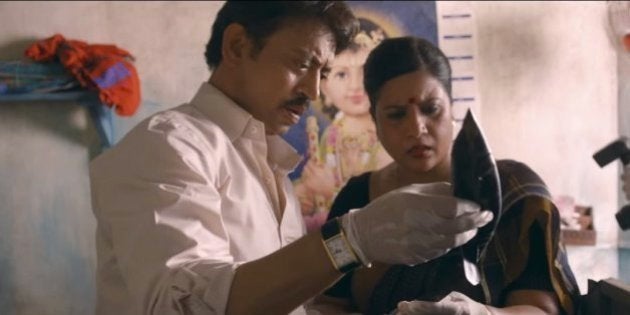 It has been more than three years since Meghna Gulzar first set out to make a film on the infamous Noida double murders of 2008, colloquially referred to as the 'Aarushi murder case'. The journey undertaken to get Talvar, which releases on Friday, made has been arduous, to say the least. The Filhaal director spent a year researching the case, meticulously documenting articles and news reports about the murders of 14-year-old Noida teen Aarushi Talwar and the family's stay-at-home help Hemraj. Then, it took about a year to write the first draft of the script, followed by another year for it to go on the floors, and finally, another for it to be screen-ready.
"It took time to convince people that this film needed to be made," said Gulzar, when I met her at a hotel in Juhu, Mumbai. "We met all the parties that are involved — Aarushi's parents [Rajesh and Nupur Talwar, currently serving life for the double murder], the CBI officers who worked on the case, and other characters who have been depicted — before going ahead."
Talvar, which premiered to positive reviews at the recently concluded 40th Toronto International Film Festival as Guilty, is not, however, based on journalist Avirook Sen's recent book Aarushi, nor is it a film that has been officially sanctioned by the Talwar family (according to an NDTV interview posted on Wednesday, the parents are yet to watch it). "We spoke to everyone to get further insight, not their blessings," she said. "Otherwise, what rights are we talking about? All information about the case is in the public domain. Avirook's column [in Mumbai Mirror] is part of our research, but it [the film] isn't an adaptation of his book."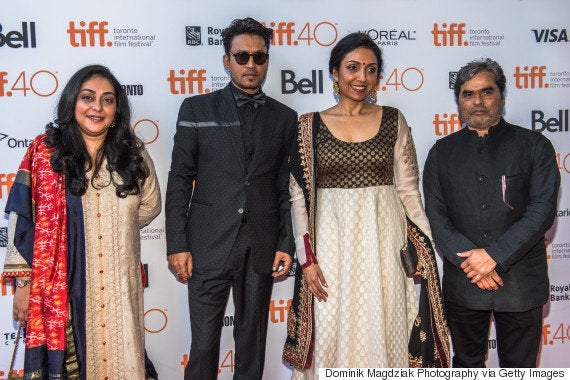 (From left) Director Meghna Gulzar, actor Irrfan khan, producer Priti Shahani and producer Vishal Bhardwaj attend the 'Guilty' photo call during the Toronto International Film Festival at the Ryerson Theatre on September 14, 2015 in Toronto, Canada.
To avoid legal repercussions, Gulzar and filmmaker Vishal Bharadwaj — who has written, produced, and composed music for the film — decided to change the names of all characters ever so slightly. As a result, the film alludes to them without directly depicting them. For instance, the Talwars have been rechristened the Tandons, while the Central Bureau of Investigation (CBI) has been called the CDI.
"I would say the film is based on a true story with tadkas of fiction in it," she said. "There are some scenes where we've taken [dramatic] license within the limits of sensibility because we wanted the film to be engrossing, not bland."
The film's impressive cast — which includes Neeraj Kabi, Konkona Sen Sharma, and Atul Kumar — is headlined by Irrfan Khan, who has appeared in films as diverse as Shoojit Sircar's dramedy Piku and the Hollywood blockbuster Jurassic World this year. Speaking about his character, CBI officer Ashwin Kumar, he said, "I wanted to be 100% convinced about the character I was playing, so I questioned everything." Gulzar says that Khan often played devil's advocate on the sets, constantly asking her 'why this, why not that?' questions. He also interacted with Arun Kumar, one of the CBI officers who worked on the case, several times, in person as well as over the phone.
The casting was crucial, particularly that of young Alisha Parvin, who plays the film's emotional fulcrum Shruti Tandon (to be understood as Aarushi Talwar). "It was her appearance and physicality that worked for me," said Gulzar. "We needed someone who was at that age where girls are aware of their femininity, yet still innocent. That is something that's quite rare nowadays."
The director, who has a release for the first time since 2007's anthology film Dus Kahaaniyaan, says she harbours no ambitions of "swinging people's opinions" about the sensational case. "The collective responsibility for what happened is on everyone: the media, the police, the investigating agencies involved, and, ultimately, all of us," she said. "We all formed opinions based on the loudest headlines. All we're trying to do here is give as many facts and headlines as possible at the exact same volume so that the viewer can come up with an informed opinion."
Does she anticipate trouble from any of the individuals whose versions have been depicted in the film? Her reply is straightforward. "I don't want to jinx it, of course, but if you look at all our institutions — be it the judiciary or the agencies involved — they're all made up of human beings," she said. "Human beings can be prone to error. As long as we show everything in an honest manner, it should be okay to introspect and document an incident where things may not have gone the way they were supposed to."



Popular in the Community