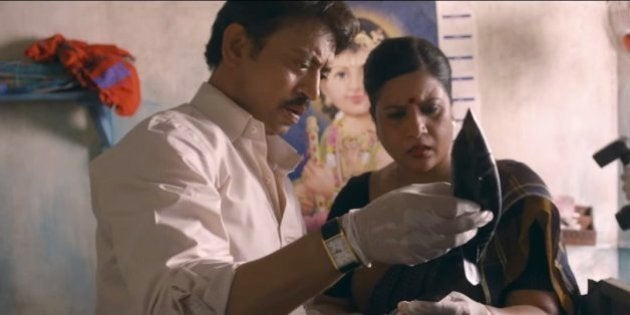 Balancing two or more narratives in any film is a hard enough task for any screenwriter. You have to find a way to say everything you want to, give adequate screen-time to the characters involved, and find a way to say it that is both fresh and engaging.
Imagine, then, how hard it must be when your narratives pertain to controversial real-life incidents surrounding one of the most sensational acts of crime this country has witnessed in recent years, and you have some very strong statements to make?
Talvar, directed by Meghna Gulzar, is the second movie this year after Rahasya that is based on the infamous 2008 Noida double murders, which resulted in the deaths of 14-year-old Aarushi Talwar and the family's 45-year-old domestic help Hemraj Banjade as well as the subsequent, life-long incarceration of her parents Rajesh and Nupur Talwar. Many points of view, including the one delivered by journalist Avirook Sen's recently published book Aarushi, maintain that the parents are probably not guilty.
However, unlike Rahasya, Talvar draws more from actual meticulous research and attempts to present a multiple-viewpoint scenario in which they explore the case based on three narratives. Two of them are presented by two teams of the CDI (which is this movie's version of the CBI; all names have been changed in this movie ever so slightly, which comes across as an almost impertinent way of subverting legal hassles) while the other is delivered by the Noida police.
Boasting perhaps the most talented ensemble cast of the year, Talvar lets all proceedings play out in an urgent-yet-unhurried manner. Irrfan Khan plays CBI officer Ashwin Kumar, who steps in when the bumbling Noida police team led by Gajraj Rao fails to gather even basic forensic evidence. If a scene in which a crucial bloodied hand-print is shown being washed away by rain about two days after the murders feels improbable, it would be prudent to remember that this was what actually happened.
Neeraj Kabi and Konkona Sen Sharma play Ramesh and Nutan Tandon respectively, and the movie entrusts them with the difficult task of playing "the guilty and the damned", as Gulzar said in a recent interview.
Balancing all aforementioned viewpoints is Vishal Bhardwaj, who writes the screenplay. Featuring three distinctive acts, the writing is extremely impressive in the manner it manages to compress the vast amount of information related to this case in a riveting two hours.
Paring down the real-life details of this case and choosing what to leave in and leave out must have been an impossible task, and sometimes this shows. Talvar focuses on the nitty-gritties of some aspects of the actual investigation, such as two mis-labelled pieces of evidence, while skimming over some of the others, such as the alleged cover-up by the parents over whether Aarushi had been raped or not.
Viewers who have followed the case closely and/or read Sen's book might be disappointed by the way the film also completely avoids showing us the court trial and only shows us flashes of the sensational media coverage, which is where and how the Talwars' fates were truly sealed. The film, instead, opts to be a lean machine that focuses on one singular idea: the literal and figurative sword of justice, representing the police and investigative agencies who work to maintain law and order, is rusty.
In this endeavour, it succeeds to a very large extent on the back of fantastic acting (Khan and Sen Sharma especially turn in knockout performances), canny writing, the taut editing by A Sreekar Prasad, and Pankaj Kumar's unobtrusive camera-work.
It isn't all gloom and doom either. There are moments of wry and/or absurd humour that do well to lighten the proceedings, such as the sight of serious CDI officers listening to a colleague sing a folk song at the top of his voice or another in which a wedding party poses for pictures in the background as two sleuths listen in on a crucial phone call.
What doesn't quite succeed as well is its ambition of being a Rashomon-like portrait of an incident that gives equal weightage to all its players. The film boils down to investigations by two CDI teams, one led by Ashwin Kumar and the other by the portly Paul sahab (played somewhat self-consciously by Atul Kumar). While we're shown glimpses of the latter's family life, it is often very clear that the film is rooting for the former, with a number of scenes dedicated to a (clichéd) back-story involving an on-going divorce with his wife (Tabu, who brings dignity to even a thankless cameo).
There's also a slightly-hard-to-swallow act of betrayal in the second half which purports to show how internal conflicts among investigating officers working on the case may have ended up influencing its outcome. It's one of the few times this film, jarringly enough, abandons nuance in favour of cinematic fireworks; another instance of this is an ill-advised montage in which domestic help are interviewed by the CDI, which comes across as more comical than the director may have intended.
A lot is redeemed, however, in a long but riveting scene towards the end, when the two teams go head-to-head in a room as they present their versions of the case. Khan eats every other actor in that scene for breakfast, and it's impossible, again, not to root for him.
Despite these niggles, there is no denying that Talvar is easily among the best Hindi films of the year. It is in equal parts absorbing, heartbreaking, and infuriating, much like the case it's based on.
Disclaimer: 'Talvar' is co-produced by Junglee Pictures, part of the Times of India Group. HuffPost India is published in association with The Times of India Group.



Popular in the Community