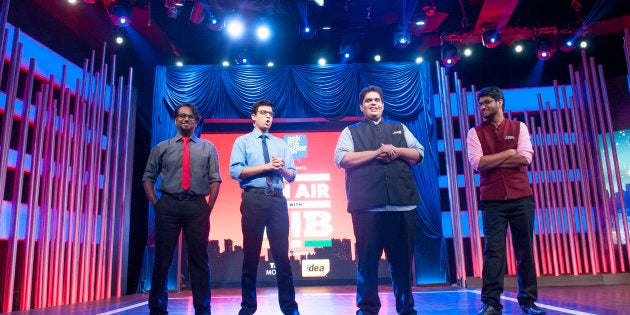 Comedy collective All India Bakchod (AIB) said in a statement on Monday that co-founder and CEO Tanmay Bhat will not be associated with them "until further notice".
"This implies that Tanmay will not be involved with the day to day functioning of AIB or in any other manner," the statement from AIB's human resources head Vidhi Jotwani said.
AIB also said that co-founder Gursimran Khamba, against whom sexual harassment allegations have been raised on social media, will also be placed on a "temporary leave of absence" until there is clarity.
As two senior partners step away from the organisation, "truthfully, we do not know what this means for the future of AIB or whether there is one", the statement said.
Ashish Shakya, Rohan Joshi and "other senior team members" would try to answer this question over the next few months, it added.
Streaming platform Hotstar said on Monday that it would cancel production of Season 3 of On Air With AIB with "immediate effect", adding that it would not "stand by anything that compromises the respect or safety of women".
Last week, stand-up comedian Utsav Chakraborty was accused of sexual harassment by a Mumbai-based writer and comic on Twitter, which opened the floodgates for hundreds of stories by women, mostly journalists, of harassment and abuse. This has been termed the #MeToo movement for Indian media.
AIB, which had associated with Chakraborty on videos, said in a statement on Thursday: "We are also aware that by extending safe working spaces and a collaborative environment to people like Utsav, we have contributed towards a toxic environment that can be scary and unsafe for women. And so we are sorry for any part we may have played in the tolerance or furthering of such behaviour."
After facing criticism that they had known about the allegations and still continued to work with Chakraborty, AIB released a second statement, admitting that at least Bhat was aware of the allegations: "We messed up. Since yesterday we've been trying to introspect and process what we did wrong, and everything that came up during our conversations all feel like excuses in hindsight and fact of the matter is that we messed up... As senior members of the comedy fraternity, we could have showed better stewardship of the culture, by listening, instead of normalising."