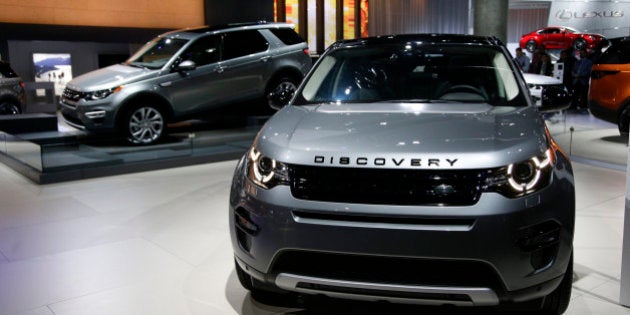 Falling sales of sleek Jaguar saloons and sporty Range Rovers in China, the world's biggest car market, and foreign exchange volatility nearly halved quarterly net profit at Tata Motors Ltd., India's top automaker by revenue.
The economy in China, a big market for Tata Motors' luxury arm Jaguar Land Rover, has slowed to its slackest pace in 25 years and low consumer confidence is affecting car sales in that country.
"The financial performance in the quarter was lower than the strong corresponding quarter last year due to softer sales in China partially offset by strong performance in the U.K., Europe and North America," the company said in a statement on Friday.
Tata Motors said profit for the April-June quarter fell 48.7 percent to Rs 2,768.91 crore, compared with the same period a year ago. Analysts on average expected profit to be 34.59 billion rupees, according to Thomson Reuters data. Net sales fell 6 percent to Rs 60,180.57 crore.
Strong sales of its Jaguar Land Rover cars, especially in China, have long propped up profits at Tata Motors, which has been struggling with sluggish demand for its cars in the last couple of years in India due to an economic downturn.
Jaguar Land Rover's sales in China fell by a third to 21,920 vehicles during the April-June quarter, pulling down total sales at the luxury carmaker by 1 percent to 114,905. Sales in Europe rose 28 percent to 28,878 vehicles.
Global automakers including BMW, General Motors Co. and Ford Motor Co. have cut prices on their Chinese models in recent months to combat weak sales growth. China's automakers association has cut its growth forecast in the country with sales expected to rise by 3 percent in 2015, down from 7 percent expected earlier, as a major slump in the country's stock market depresses sales.
JLR's revenue was Rs 49,178.5 crore during the first quarter as against Rs 54,425.97 crore in the year-ago period, down 9.64 per cent. Operating profits at Jaguar Land Rover fell by a quarter to 821 million pounds ($1.27 billion) and revenues fell 7 percent to 5 billion pounds, the company said in a statement.
Tata Motors shares closed at Rs 392.55 on the benchmark BSE, up 2.52% from the previous close.



Popular in the Community