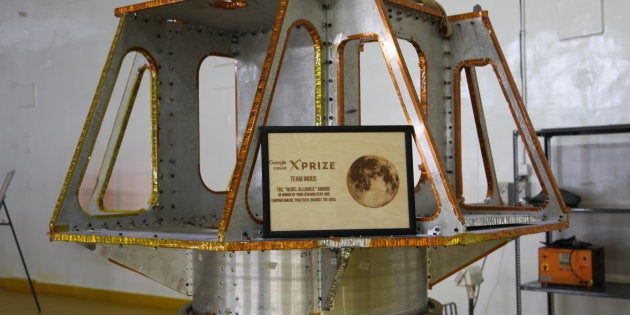 Bengaluru based Team Indus, one of the five finalists selected in the Google Xprize Lunar competition, is in the final stages of preparation for the launch of its spacecraft that will carry two rovers and a bunch of scientific experiments to the surface of the moon. The spacecraft will be launched aboard ISRO's PSLV rocket on 28 December. If all goes according to plan, the rover will land on the moon on 26 January.
The startup is already looking beyond the lunar launch, focusing on building small-sized satellites in the future. Having built the moon spacecraft, it is confident of building launch platforms in the future as well.
"We see this competition as a test for ourselves," co-founder Rahul Narayan told HuffPost India. "Once we go through this experience we will be able to reach out to other customers and organizations as well. We can share our knowledge in specific areas of spacecraft building too."
Dr. PS Nair, who worked on India's first space mission when he was with ISRO, is one of the core members of Team Indus. "We are constantly innovating and evolving, from mechanical to space science to propulsion technology," he said. "This mission will enable us to execute lighter and leaner vehicles with faster systems. In other areas also, we are going to make things simpler."
Besides making micro and nano satellites in the future, the startup is also looking at building Unmanned Aerial Vehicles (UAV) for communication and observation purposes. The project is at a nascent stage but holds potential as UAVs are being considered across the world for multiple uses such as mapping, gathering agricultural data, and bringing Internet to rural areas.
"These vehicles, flying at around 20 km height from earth, give much more avenues for utilization than the satellites," Dr. Nair said. "We have already started some testing activities in this space, including solar panels for powering up the aircraft."
Narayan said that as a startup working in the field of space technology, Team Indus faces many challenges such as funding and long-term sustainability, in addition to the complexity of their projects. "It takes a while for industry people to know you and put their trust in what you're doing," he explained.
Narayan also acknowledged Team Indus's debt to ISRO. "It is also important for an ecosystem to exist. We leveraged a lot of facilities and knowledge power created by ISRO," he said. "We are in this ecosystem because startups like us are trying to do work and innovation in a different way from the traditional means."
Popular in the Community