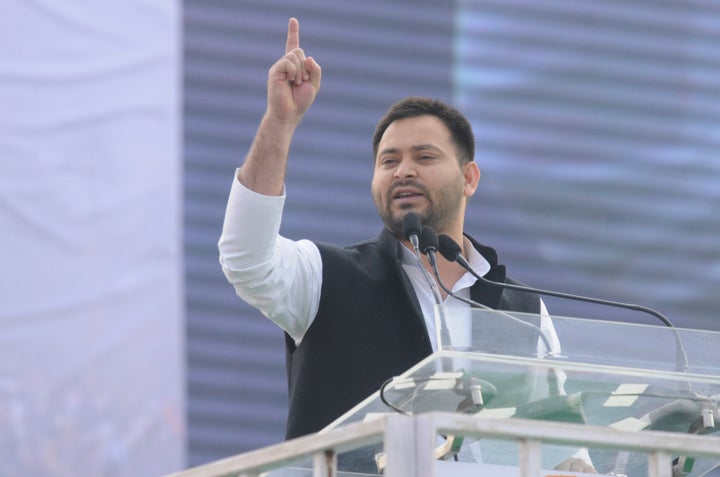 PATNA, Bihar — The rift between Tejashwi Yadav and Kanhaiya Kumar, a popular theory goes, started showing in October last year at a rally organised by the Communist Party of India. The event at Patna's Gandhi Maidan was intended to showcase the two young Turks of the presumed grand alliance or Mahagathbandhan, but Tejashwi gave it a miss, sending an emissary instead.
At the programme, in the presence of senior Rashtriya Janata Dal (RJD) leaders, the largely partisan crowd chanted:
"Bihar Ka Mukhyamantri Kaisa Ho? Kanhaiya Kumar Jaisa Ho!"
For Tejashwi, who is still growing into his role as the leader of the RJD, the party synonymous with his father and former Bihar Chief Minister Lalu Prasad Yadav, the slogans were enough to alert him to the future potential of Kanhaiya Kumar, the PhD from Jawaharlal Nehru University who became a face of millennial disaffection with Narendra Modi and the Bharatiya Janata Party (BJP) when he was briefly jailed in 2016 on trumped-up charges of sedition.
On Friday, Tejashwi laid all speculation to rest by announcing its seat-sharing agreement with Congress for the upcoming Lok Sabha election—the party will field Tanveer Hasan from Begusarai, where Kumar is contesting on a CPI ticket.
"He might have thought that if Kanhaiya wins Lok Sabha, he might also take an interest in Bihar's politics," said Satya Narayan Singh, the CPI's state secretary for Bihar. "What else could be a reason to deny us support when Lalu indicated that he was willing to support us in three meetings that I had with him in last one year?"
Tejashwi didn't respond to interview requests for this story.
Begusarai is just one of many decisions that will either severely dent Tejashwi's fledgling political career, or give the 29-year-old high school dropout a big say in who will become the next Prime Minister of India.
The other, bigger crisis is closer home—elder brother Tej Pratap Yadav, who had been griping for months now, called a press conference in Patna on Thursday and then didn't turn up for it. He tweeted later that he was resigning as patron of the RJD's student wing.
But at Friday's press conference, Tejashwi denied any issue between him and his brother.
"Whatever Tej Pratap has said was only a suggestion (on candidates). There are many leaders in the party. Won't they give their suggestions? Doesn't he have that right? Even common workers give suggestions in our party," Tejashwi said.
RJD sources told HuffPost India that Tej Pratap was unhappy that his supporters weren't getting tickets and almost resigned from the party but was pacified by his mother Rabri Devi. This wasn't the first such occurrence either, said journalists from Patna.
For Tejashwi, and the Yadav family as a whole, who declined to be interviewed for this article, the next few months will decide if the RJD can once more be a party of national relevance, or if it shall remain confined to Bihar.
Bihar sends 40 Members of Parliament to the Lok Sabha. In 2014, the BJP along with ally Ram Vilas Paswan's LJP, won three-fourths of these seats. This time, however, some seats such as Begusarai may deliver a three-way contest.
"Tejashwi has encapsulated Lalu's ideology of social justice," said Shivanand Tiwari, RJD's national vice-president. "But he has to prove himself and this election is going to test him."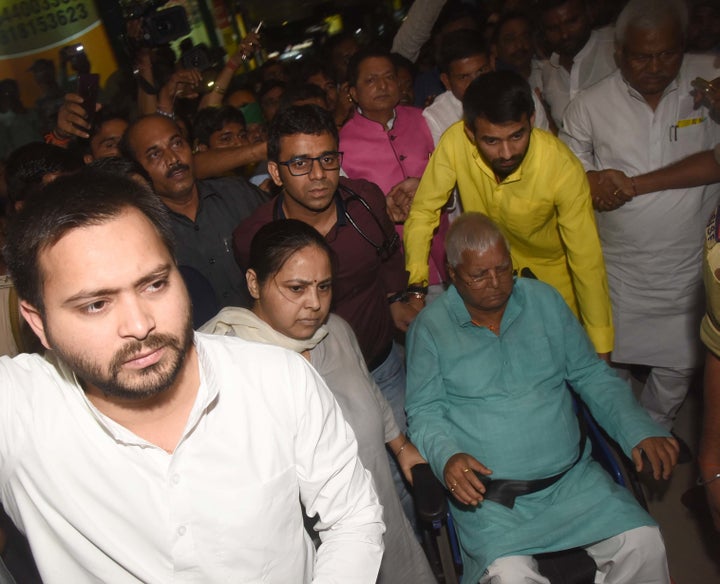 The house on 10 Circular Road, Patna, is a major landmark in Bihar's political geography. With patriarch Lalu Yadav in jail in Ranchi for his role in the 1992 fodder scam, the home is occupied by his wife and former Bihar CM Rabri Devi, Tejashwi and six of his siblings. Tej Pratap and Misa Bharti, the eldest of the Yadav siblings, live in separate houses.
Where Lalu's earthy charm and humble roots struck a chord with the RJD base, his children have struggled to shake off a reputation of having everything handed to them on a platter.
In Tejashwi's case, one needs to look no further than his short career in the Indian Premier League (IPL) where he was selected by the Delhi Daredevils – at a time when his father was Union Minister — despite barely playing competitive cricket. His entire cricket career spans just seven matches.
"Lalu came from a humble background but Tejashwi has grown up in the Chief Minister's residence," said an RJD leader. "He will have to work extra hard to fit into the shoes of Laluji."
Till recently, it appeared that his political career would go the same way as the cricketing one. He was elevated to the post of deputy Chief Minister when he was just 26, when the RJD propped up Nitish Kumar's Janata Dal (United) government and became the leader of the opposition when the alliance ended in 2017.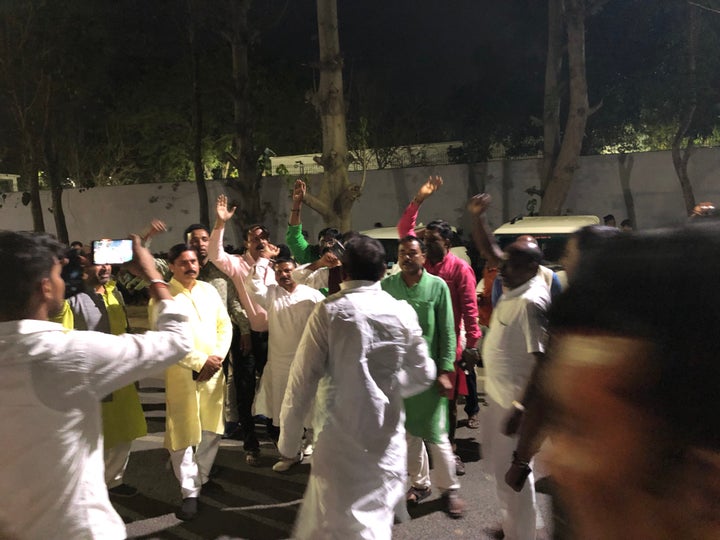 But since then, his stature has grown.
"Since Nitish left the Mahagathbandhan, I would say Tejashwi has raised himself from 3 to 7 on a scale of 10," said a senior BJP leader in Patna on condition of anonymity. "He has successfully managed to capture the opposition space vacated because of his father's imprisonment and Nitish joining hands with BJP."
The leader said that Tejashwi had cornered Nitish Kumar, even as he disarmed the senior politician by calling him "Chacha."
"He has also struck a good rapport with Lutyens' liberal media in Delhi," the BJP leader added. "But he lacks an academic base."
Within the party, he has moved quickly to neutralise his opponents, but still faces a challenge in pacifying his older siblings who have occasionally made clear their displeasure at having been superseded by Tejashwi.
"He has successfully sidelined all senior leaders in the party," said the RJD leader cited above. "But he needs to get along with party workers."
Earlier this week, a crowd of RJD workers gathered outside 10 Circle Road and raised slogans against the new leadership.
"It's all a mess here. They are not giving tickets to winning candidates. The people who were never really with the party are getting tickets," said Mahesh Prasad, a resident of Sitamarhi district in Bihar, who camped in front of Lalu's residence for three days to demand a ticket to a favoured aspirant.
"Lalu would just come out of the house, speak to the workers and pacify them and everyone would go back to their places in an orderly fashion"
"The kids don't seem to be handling the situation the way Laluji used to do," rued Ram Narayan Yadav, who accompanied Prasad and others to Patna from Sitamarhi.
Disaffection invariably runs high just before elections as only one person can get a ticket from each constituency, but managing the party's rank and file is no easy task.
"Lalu would just come out of the house, speak to the workers and pacify them and everyone would go back to their places in an orderly fashion," said Alok, a local TV reporter who said he had seen much larger and rowdier crowds in the past.
Yet perhaps the point of Tejashwi is that he isn't his father Lalu.
In the upside-down world of Indian politics, the children of politicians with reputations for corruption are described as having a "clean image" despite having benefited from the alleged corruption of their parents. Akhilesh Yadav of the Samajwadi Party perhaps best exemplifies this paradox.
"He has banished people with criminal or corrupt background in the party and has successfully negotiated with national parties like Congress," said an RJD leader close to Lalu, speaking of Tejashwi. "He will have to amend some things. The perception that RJD is anti-development and anti-upper caste will have to be corrected. By sending Manoj Jha (who is from a dominant caste) to Rajya Sabha, Tejashwi has indicated that he is willing to be accommodative."
Parasnath Yadav, 69, who was Lalu's junior in primary school in his native Phulwaria village in Gopalganj district, said Tejashwi has brought a much-needed generational change in the RJD.
"Earlier the electorate was illiterate and Lalu knew how to catch them. Now the voters are becoming educated and it was the right time for a generational shift which Lalu spotted and promoted Tejashwi," Parasnath said. "Lalu is a sharp man. He must have had something in his mind when he promoted his younger son over elder daughter and one more son. Tejashwi is professional and knows the demands of time."
But now even RJD workers are worried at the way Tejashwi became inaccessible for a couple of weeks and his handling of party affairs on the eve of an important election. They conceded that the emergence of Kanhaiya and his decision to contest Lok Sabha from Bihar has made Tejashwi anxious.
Two weeks ago, Tejashwi appealed to opposition leaders to boycott the media, which he claimed was biased in favor of PM Modi. He was also absent from a press conference of the Mahagathbandhan last week which generated anger from the local media.
"Even RJD workers are worried at the way Tejashwi became inaccessible for a couple of weeks and his handling of party affairs on the eve of an important election"
"Since he shared the stage with Rahul Gandhi, he thinks he has also become a national leader. He thinks he can convey everything on Twitter," snapped another reporter who has been working in Patna for the last 17 years.
Shivanand Tiwari denied that Kanhaiya was refused Mahagathbandhan support because of Tejashwi's insecurity but journalist Ravi Kumar added that it was natural for Tejashwi to get anxious.
"Tejashwi is a 9th Class dropout. Kanhaiya is Ph.D. In terms of oratory, mass support and image, Tejashwi stands nowhere near Kanhaiya," he added.
"I would be worried if I were Tejashwi," said an academician from Delhi who had come to see Kanhaiya's campaign in Begusarai.
"Apart from being Lalu Yadav's son what other qualification does Tejashwi have? The RJD has always been a one person-one caste centric party and here is an emerging leader from Bihar who symbolized the societal disaffection against Modi's fascist regime and who is already a prominent national personality. Kanhaiya also takes the inclusive social justice line which was used by Lalu Yadav to define his politics. Anyone would become insecure," the academician added.