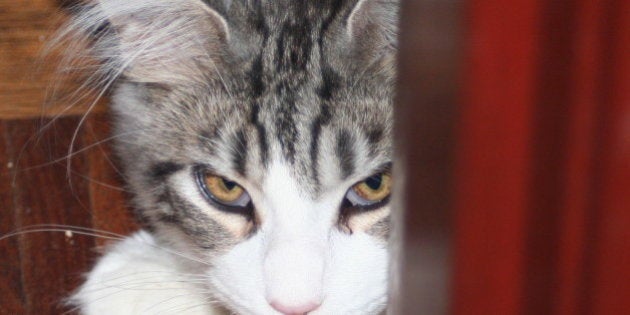 Humanity, clearly, hasn't ceased to exist.
While the residents of Krishna Niwas building in Thane — that collapsed in the wee hours of Tuesday — were trying to save their own lives, a 60-year-old man protected his pet cat till his last breath.
When a team from National Disaster Response Force pulled out the lifeless body of Madhav Ramchandra Barve from the debris four hours after the collapse, they were stunned to see a cat cuddled in his arms.
"As we removed the debris looking for trapped people under it, we saw legs and started clearing the rubble to rescue the person. It was an old man holding a cat in his arms. The feline was alive but the man was motionless," an NDRF official was quoted as saying by Mumbai Mirror.
A three-storey building collapsed near Thane railway station in Mumbai, killing twelve people and injuring several. The building collapsed at 2.30am when residents were fast asleep. Nearly 20 people were stuck in the debris.
A team from the National Disaster Response Force (NDRF) reached the spot around 4.30 am and the rescue operation went on till 10.30 am on Tuesday morning.
Madhav's pet, who was injured in the accident, is now at the Society for Prevention of Cruelty to Animals (SPCA) hospital in Thane.
"We have the cat, a 2-year-old female, with us. The incident has injured her spine and back leg, due to which she is finding it difficult to walk," Dr Sanjay Jadhav, manager, Thane SPCA told Mid Day.
With her owner's death, she may now be handed over to an NGO for care.
According to reports, Madhav had been living alone in the building for the past year but took in the cat as he liked keeping pets. He is survived by his wife and son, both of whom work out of station and will soon arrive in Mumbai for the last rites.