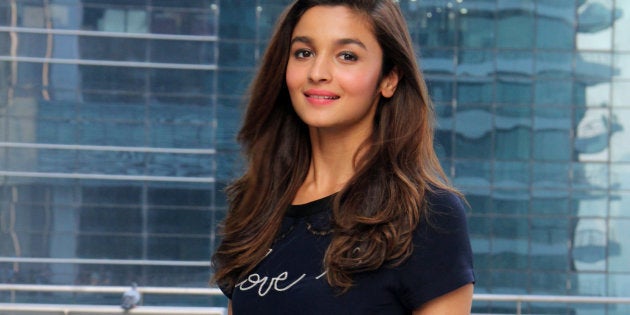 Alia Bhatt is currently dealing with a terrible case of food poisoning. While flying down to Mumbai from Amritsar, the actress had some airline food and it didn't go down too well (does airline food ever go down too well?). She looks a little troubled and, to add to her woes, she has a rather packed day with several commitments to TV channels, magazines, and filmmakers.
Despite that, she's bubbling with restless energy and sits in rapt attention -- her face is so mischievous, you want to just watch kitten videos with her and giggle pointlessly. She has an unusually non-starry vibe — one that makes you feel she's just a girl out of college, into the glamor world, but firmly detached, firmly chill.
Like she'll go on to say later, there's never a day off for a busy star. And busy she is. While Shaandaar may have swiftly disappeared from public consciousness, Udta Punjab has stayed and slayed. And up next is Gauri Shinde's Dear Zindagi, the sequel to Humpty Sharma Ki Dulhania, and Ayan Mukerji's untitled superhero project with Ranbir Kapoor.
Over a cup of coffee at Dharma Productions' new office in the Mumbai suburb of Andheri West, Alia Bhatt opens up, by her own admission, like never before.
While you established yourself as an actress to watch out for in your second film itself (Highway), your turn in Udta Punjab blew everyone away, including your fiercest critics. I used to always feel you get away with a lot because of your spunkiness and, somewhere, that compensates for genuine acting talent, but I couldn't point out a single flaw in your performance...
This is precisely what actors live for. The love from the audience is more powerful than you think — it keeps us going. I got a lot of compliments from everyone, from Aamir Khan to Mr. Amitabh Bachchan; everyone appreciated it, sent messages. It was overwhelming. But the best words came from localities. I was traveling to Amritsar for an assignment and random people — farmers and all, they came to me and spoke about Udta Punjab.
For a show, I had to interact with farmers and one of them came to me and said, "Alia Batt?" He told me he had heard about Udta Punjab and that it speaks about an important issue. "Bahut shor machaya uss picture ne (it made a lot of noise)". These things just make my day.
Why it also matters is because I don't think I've ever worked as hard on anything as much I worked on Udta Punjab. I worked my ass off. And there's no greater feeling in the world than the rewards you get for genuine hard work.
You have previously said that Highway transformed you as a person, that the journey had many epiphanies on a personal level. Ever since then, Udta Punjab is perhaps the closest you've come to playing a dark character, one that is as removed from your reality as one can imagine. What is it like experiencing a world so repugnant — does it have an influence on how you perceive and understand the world around you?
You know, and I have never said this before, talking about Udta... takes me to a horrendously dark place. In the months that I was shooting for the film, I had given up my iPhone, something that is fairly difficult for me to do. I had a very basic phone, one without the internet, which I kept to keep in touch with family and close friends.
I wanted to cut myself off, lose myself in that character. There was a conscious attempt to not indulge or entertain myself. It was tormenting and heavy and deeply unsettling to inhabit a world plagued consistently by all sorts of horror. I used to physically dread the walk from my hotel room to the elevator to the lobby every day because it meant going back to that world. I cannot even imagine that as an everyday reality.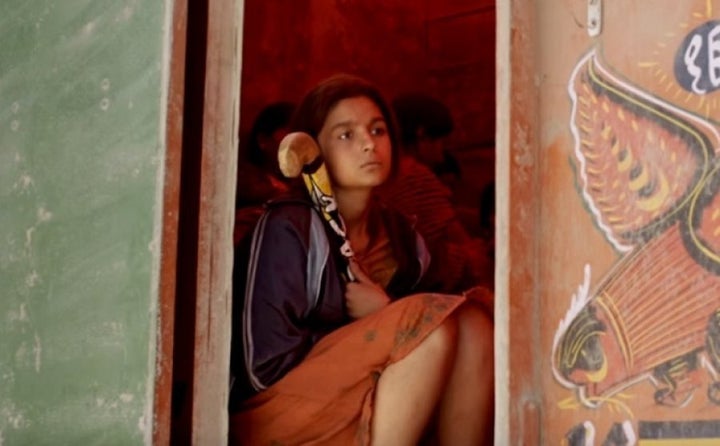 So how do you cope up with it once the filming is done? While you may be putting up an act, and a bloody good one, the emotions come from a personal reservoir and may not disappear once the lights are out?
Thankfully, I have this wonderfully ability to switch off. I wouldn't say it's detachment because my very nature is emotional but to protect myself and to stay sane, I switch off and very consciously create a wall between what's real and what's fictional. At the end of the day, I love my job a lot but I cannot give it the ability to take over my life.
You think cinema also has provisions to rescue you if you delve in too deep? Like if Udta Punjab was a dark subject about a raped woman unwittingly forced into drug addiction, Kapoor and Sons is almost like a rehab, speaking strictly in relative terms...
Why do you think I have so much energy in 'Kar Gayi Chull'? A couple of days after Udta...'s shoot got over, I was filming for Kapoor and Sons and we started with 'Chull'. That had a major, major impact in normalising me after the Udta... experience.
People were like, what were you on? And I was like, I have just done this dark drama and all I want to feel is happiness. I just want to reach as much happiness as a young girl in a party can. Kapoor and Sons allowed me that space.
So in a way, it's very important to do both kinds of films. I just don't want to do serious stuff, I want to be able to become an actor enough to make people laugh and cry and not just get them super depressed.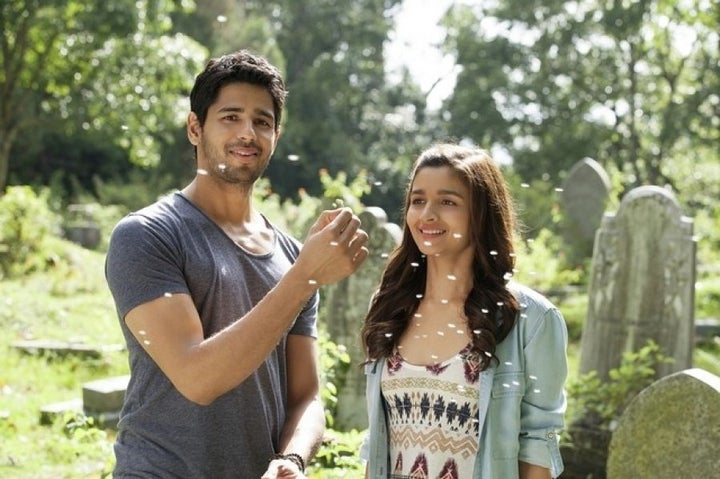 You've been very vocal about your fondness for Kareena Kapoor, you even idealise her and the media often terms you as the next Bebo. How does it feel to overshadow her completely and deliver the film's (Udta Punjab) knockout performance?
I don't look at it in comparative terms. Kareena is phenomenally talented and I am still a learner in comparison. She has such a vast and powerful body of work that she's not there to surprise — she's already done that. On the other hand, people are still discovering me as an actor, much like myself, so there's a lot for them to explore in me. Which is perhaps why my performance stands out as you put it. There's a lot of shock value when they see me do it. While I'm still getting discovered, Kareena is already a veteran in the game.
Is it easier for you to make these daring choices because you have proven yourself as a glamorous heroine in Student of the Year (2013), 2 States (2014), Humpty Sharma Ki Dulhania (2014)? I say that because then you don't run the risk of being bracketed as a girl who only does hardcore serious films.
I don't look at it that way. I do a glamorous heroine kind of role because I want to do it, not because it is expected out of me — there's a big difference right there. I do those unconventional films — Highway, Udta Punjab — not to prove a point but because they appeal to me on a personal and an aesthetic level. The intention is to do what you love, not what is expected, or worse, what is conventionally regarded as safe.
But Student of the Year is as conventional and safe as it gets, especially for a debut film.
Which I'm very happy about. You don't get to choose your first film; your first film chooses you. And I am very proud of SOTY — it gave me so many hit songs that I am still living off them [laughs].
At 23, you've accomplished quite a lot. As much as it may make you feel relevant and influential, does the constant awareness of being a star become bothersome as well?
I choose not to be aware of the good things. And you're right. As actors you're constantly very aware of yourself and how you're being perceived and what you're projecting. So I have multiple faces — my sad face, my happy face, my humble face, my naughty face, my enthusiastic face. One face for every occasion. And I have this horrible guilt-trip that I put myself through. Like, I can't be a mean person or thought out to be a mean person. I have this constant pressure to please people and the desire to be perceived as an 'amazing human being' [laughs]. I am never ever late because I can't bear the thought of my director/producer/co-star thinking horrible things about me, like being unpunctual and all.
Let's evaluate that at a deeper level.
Do you feel the need to overcompensate also because as opposed to say, a Swara Bhaskar, a Richa Chadha, a Kangana Ranaut, you've had it relatively easy? Now, you may have your own struggles but popular perception could veer towards the notion that you are an entitled brat from a film family who didn't have to knock on doors of producers to get work.
Maybe that has a part to play and maybe I subconsciously feel that guilt. But does that in itself drive me to work harder to constantly prove myself as deserving of the place that I am in? I'd say no. I work hard only for my own self, my own growth.
But wouldn't you admit that the film industry operates on a fundamentally flawed system of nepotism, one that blatantly prefers family pedigree over genuine talent?
I think those who talk about nepotism are a really, really jealous lot. If you aren't talented, you can't survive. Yes, the process to get there is simpler but once the film is out there, you are either 'in' or 'out.' It doesn't matter who's making the film for you. Without taking names, I'd like to say that there have been enough sons and daughters of lineage who have come and gone without achieving much success. What about that? Eventually, people come to see you as an actor and directors work with you because of what you deliver. Why constantly bring the nepotism argument?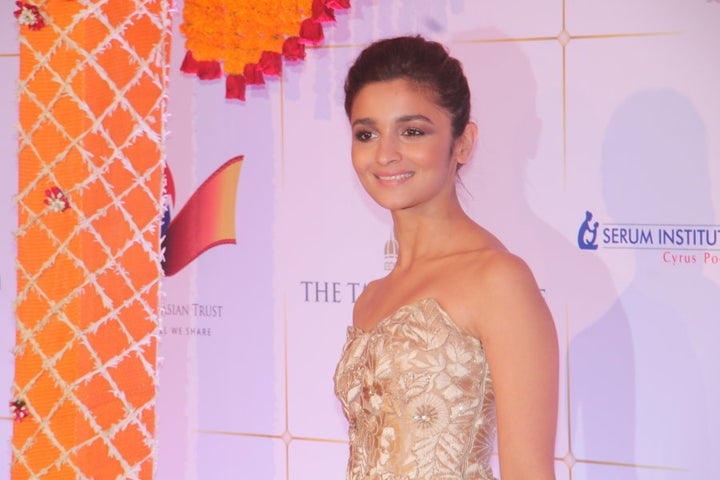 Because it is important. And talking about the problem is a start in addressing it and perhaps in making the film industry more inclusive.
I completely, wholeheartedly agree. But you don't complain when a dentist's son gets into dentistry, do you? 'Oh, he became one because his father is'.
Some actors need to realise that there is a big world out there and there could be a possibility that you didn't make it big in the movies because you just didn't have it in you. If you are talented, it will surely get you somewhere. There's no denying that it is harder for the outsider but eventually you have to have that spark. A famous father can launch his son 10 times but if that one factor is missing, he will never make it despite the family pedigree.
But a star kid will get those 10 chances, those 10 shots at life of becoming the star he probably never deserved to be, while a talented outsider just has one shot at proving his worth and if they falter there, you'll most likely never hear from them.
Agreed. It is very unfair but then life is very unfair. Not that a lot of fair things are happening with us, so it's all right.
What drives you to act? Is it the attention, the perks, or the joy of experiencing different lives every time you play a new character?
It is about experiencing different stories. For me, it's always been an infatuation with stories, creating an escape. As a kid, all I'd do is make up stories about stuff that never happened. Now, that could also be misconstrued as being a pathological liar but you know what I'm saying (laughs). I always wanted to be a part of an imaginary world. Not that I had a traumatic or lonely childhood but I just wanted more from, you know, life. Acting seemed like the most obvious thing to do to bring that childhood fantasy to life.
One observation that I have about your career is related to the AIB sketch Genius of the Year. I think it was a masterstroke that immediately made you extremely relatable to the millennials. From a snooty Karan Johar prodigy of SOTY, you suddenly became this cool, accessible and chilled out girl everybody wanted to hang out with.
Yeah, I think so too. It made me cool. I mean I was always like that but the video became an apt platform to demonstrate how I actually was. It changed a lot of things. We were flabbergasted at the response. It got like some 11 million views. We never thought it would have such a lasting impression and change my perception so drastically.
People still talk about it. It also inspired a lot of memes and stuff and the whole Alia Bhatt jokes. It's fun, kind of. Like it's not fun to be insulted – nobody likes that but a joke is a joke for a goddamn reason. People really need to relax. Also, I don't take myself seriously and can't bear people who take themselves too seriously.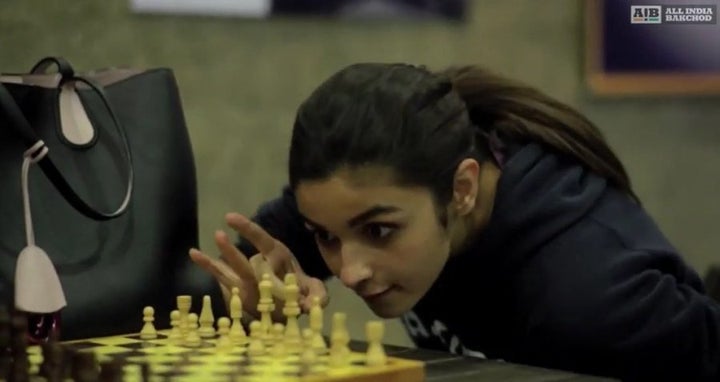 What's the worst thing about stardom?
There's a lot of pressure. Like, yes, you get to fly First Class and it's all very fancy and awesome but the minute you land at the airport, you're scrutinised for the choice of your footwear. I mean, I don't want that.
Umm, that can't possibly be the hardest part. Let me put it this way — what is the hardest part about being Alia Bhatt?
That you've to be correct all the time. That you don't get the chance to be wrong. As a star, I am a role model and I need to convey the 'right' message — you see there's a moral code sneaking in there. Young girls idealise you and follow your every move and you can't deviate too far from a set construct. You can have opinions, but the opinion needs to be the right one or you'll piss a whole lot of people off and trigger a shit-storm. It's really hard if you think about it. You need to come across as happy, chirpy and pretend to be ultra-awesome like all the time. Nahi hai, yaar. I am having an awful day. I cannot pretend to be happy. Give me a day off, man. But no, as Alia Bhatt, I am always on duty, always acting.
You know, there's a general tendency in India to constantly ape the West. Which is good and bad. Whether it is films, fashion, pop-culture, it's perhaps not too wrong to assume that it descends from there and subsequently becomes a thing here. But what our stars have never managed to handle well is relationships, which Hollywood is pretty open about. Why the conservatism when it comes to talking openly about love?
Because ours is a very real price to pay.
In India, you are a part of a society that's very judgmental.
Here, girls having multiple boyfriends is still a huge-ass deal and something that is frowned upon. I mean, look at Taylor Swift. She's dated, like, everybody. But if she was here, she'd be totally shamed for making those choices. Her image and appeal would be very different. The reason actresses don't talk about their private lives is because in our society there is a lot of slut-shaming. Eventually, I have a responsibility and I have to protect myself.
It's important that I am seen in a certain way, it's just the way it is. Speculations about celebrities are commonplace but as long as it's not coming from the horse's mouth, you're quite safe, so to speak.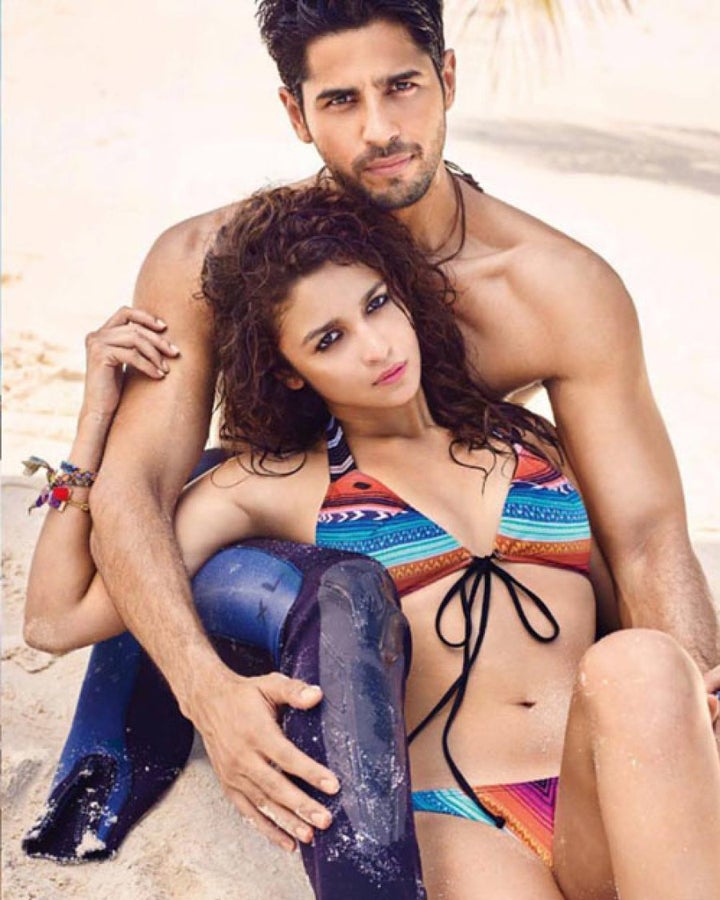 What's the worst that you imagine will happen if you were to confess to that you're seeing Sidharth Malhotra and are probably in love with him?
Okay, suppose I say that but is it necessary that it stays that way? What if tomorrow I am not in love with him and feel differently about it? Then what? It's not written in stone, is it? And I don't want to be in a position where they come after me because I broke up with a dude. "Oh, aapka break-up ho gaya, ab agla kaun? Who's next?" This shallow and stupid thinking is just the reality of our society which doesn't allow women to be the way they'd like to be — free and independent.
Although I get your argument about how staid our notions of morality really are and that it comes at a price, as an influencer, you should still challenge those archaic ideas by confronting them instead of conforming to them.
You know, the fear is of losing a lot and you must understand that it is quite a genuine fear.
That fear is governing us. It's not as much for the lack of honesty as much it is about the fear. My parents — they can afford to be honest. What do they stand to lose? Nothing.
With us it's different. You never know who you'll end up upsetting. Which film you stand to lose or which brand you've somehow managed to upset for something that you said. And it extends beyond relationships, to a host of other issues which we may feel passionately about but that require censoring. It doesn't make much commercial sense to get into that mess to make a point. You know what your opinions are, you don't have to shout when you can talk to a friend.
Having done quite a lot of interesting films at an age where most actors only begin to take baby-steps must be quite terrifying. While it's great right now, do you fear that you'll burn out too soon?
That's what Imtiaz Ali says — that I will exhaust myself too soon. But I always feel there's a lot of scope for a lot more. The speed at which the state of all forms of arts is moving is quite exponential. There're so many opportunities and I am not even halfway there yet. Also, in my head, I am 32. I don't know why that is — maybe it's my family. My father has so openly spoken about everything, whether it is relationships or his battle with alcohol, there's been this seriousness that was deeply internalised. He, and my Mum, pretty much set the tone for my family. They've both been so honest and direct. But like I said, they could afford to be like that because they don't have so much at stake at this point in time.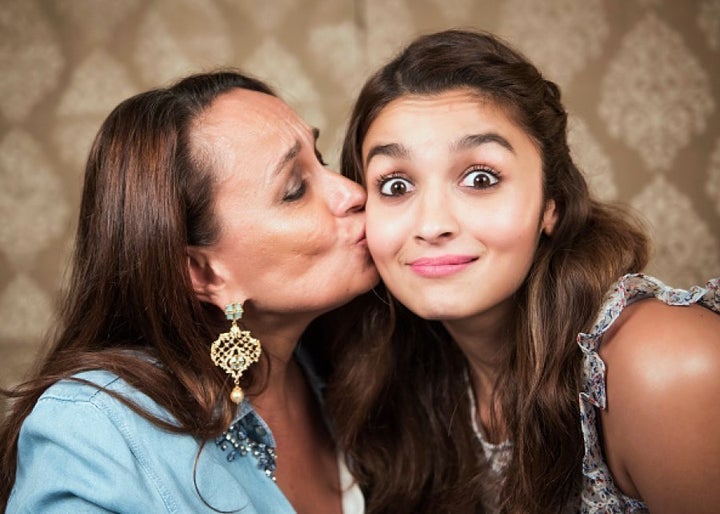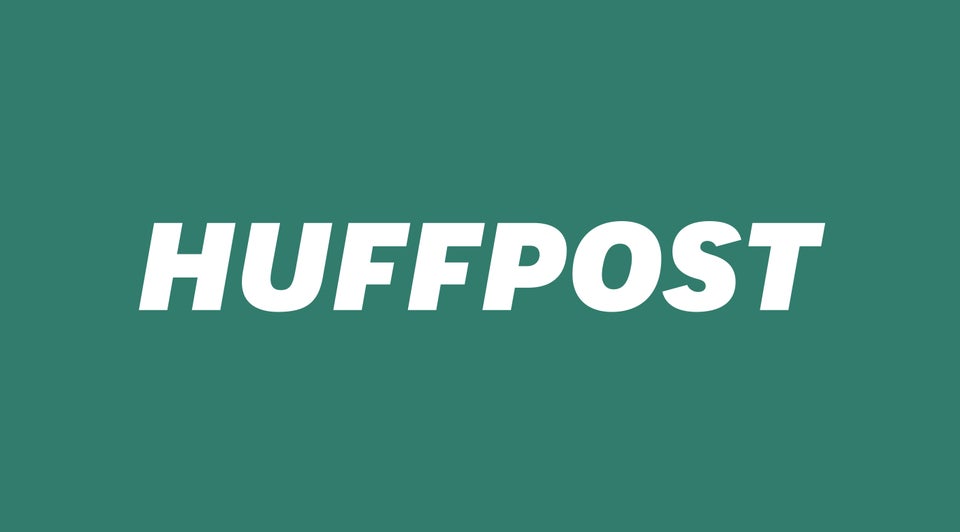 Popular in the Community