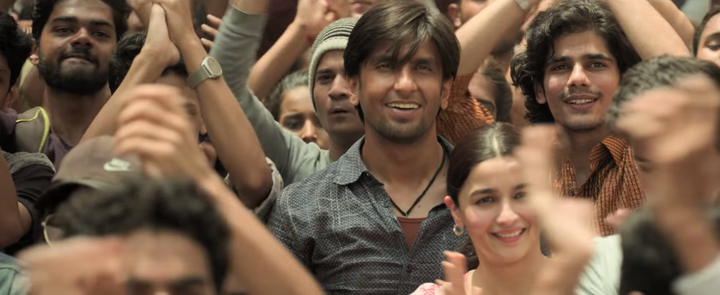 In 2016, three students of Jawaharlal Nehru University were accused of sedition and hounded by the Delhi police and thrown into jail, allegedly for chanting 'anti-national' slogans. Since then, Kanhaiya Kumar, Umar Khalid and Anirban Bhattacharya have faced a barrage of hatred from supporters of the Hindutva right-wing (many affiliated to the BJP), roughed up and even shot at—their battle in courts is still going on.
That was the time the word 'azaadi' entered mainstream political discourse in India. While TV channels that read out the BJP's script tried to whip up outrage over the use of the word in political slogans by JNU students (it had long been popular with feminists and left-leaning political groups), Kumar (and later Khalid) reclaimed it after his release from jail. Among other things, they demanded 'azaadi' from 'manuvaad' (caste structures perpetuated by Hindu scripture Manusmriti), Brahmanvaad, Sanghvaad and Pittrusatta (patriarchy).
Cut to 2019: a rigorously watered down version of the 'azaadi' slogan has made it to Gully Boy, a big-budget Bollywood film starring Ranveer Singh and Alia Bhatt, in the form of a catchy prelude to a rap track. In this, the references to casteism, patriarchy, Brahmanical oppression and the dig at RSS, BJP's ideology masters, have been conveniently stripped off. Instead, the two lines say: 'Azaadi bhukhmari (poverty) se, azaadi bhedbhav (discrimination) se, azaadi pakshvaad se (partisan politics), hum leke rahenge'.
"It's more like a moral science lesson than a political statement," said Geeta Kumari, former JNUSU president who was not only heckled by the Delhi Police — controlled by the BJP government at the centre — in 2016 for participating in the protests, but also faced an outpouring of abuse on social media for simply being a JNU student.
BJP President Amit Shah called the students 'traitors' and 'anti-nationals' and accused them of encouraging 'terrorism'. A magistrate report submitted to the Delhi government states that doctored videos of the JNU incident were circulated on social media, and the Delhi Police — controlled by the Centre — admitted they had no evidence that the arrested students had uttered any anti-India slogans.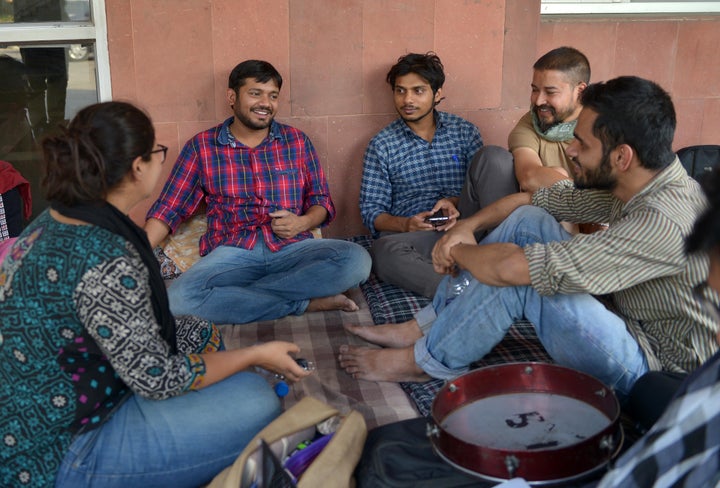 The irony, therefore, is hard to miss: 'azaadi' is now part of a film backed by several people who've unabashedly lauded Narendra Modi, the face of the party which relentlessly hounded these students for chanting a version of the same slogan.
Gully Boy's co-producer Ritesh Sidhwani applauded Modi for being the 'first prime minister' of India to meet a delegation from the film industry. In a tweet, he termed the December 2018 meeting 'an honour and privilege'. The film's stars Ranveer Singh and Alia Bhatt posted a series of photos this month with the PM, complete with gushy captions.
One would have imagined that the makers of Gully Boy would know better than applying the Tanishq Bagchi remix template — cut, copy, dance beat paste — to a slogan with a tumultuous political trajectory, but there's literally nothing that Bollywood can't sanitise. One needs to look no further than Dharma Productions' Rs 100 crore Dhadak — in which Manish Malhotra's lehengas had more weight than Sairat's commentary on caste violence — to figure what inspires this relegation of political engagement.
"It's a joke," said feminist activist Kamla Bhasin who, after hearing it for the first time in Lahore in 1983, embraced the slogan as a powerful articulation of protest against patriarchy and socio-political hierarchies.
'Azaadi's' Bollywood journey
In April 2016, Dub Sharma — credited with composing and writing the Gully Boy version along with rapper DIVINE — created a viral ear-worm. Weeks after Kanhaiya Kumar, Umar Khalid and Anirban Bhattacharya was arrested and social media had distorted the 'azaadi' slogan to suggest it was 'anti-national', Sharma's mix — which added music to a video of Kanhaiya Kumar and hundreds of JNU students chanting the 'azaadi' slogans — was a necessary statement against the Hindutva right-wing conspiracy factory. The video, which garnered nearly 3 lakh views, has an unedited version of Kanhaiya's slogan — where the students are seen demanding 'azaadi' from 'manuvaad', 'Brahmanvaad', 'Sanghvaad', 'Poonjivaad' (capitalism), samanthvaad (feudalism) and several other social ills.
Uploaded by a handle called 'Creative Commoners', the video shows scenes from the JNU protests, students carrying massive cut-outs of Rohith Vemula and police beating up students. The scenes are interspersed with shots of a girl dancing and doing yoga poses — Narendra Modi's face superimposed on hers — to underline the farcical nature of the state's response to a student's protest.
The slogans referring to 'manuvaad', 'Brahmanvaad', 'Sanghvaad' appear repeatedly in the track. It is not clear if Sharma created the video as well, but it is unapologetically political. The slogans are punctuated with lines from an old Punjabi folk song, sung by Sharma himself. A translation of the Punjabi lyrics published on The Indian Express goes as follows: "Tera pinjra jangaal ne khana, ke miya mithu udd jaana/tera sukhe jaana wich churi-daana, ke miya mithu udd jaana (rust will eat your cage and the bird will fly away/ the birdseed will dry up and the bird will fly away)."
Two years later, the Gully Boy version has the same Punjabi refrain, but the slogans have been tweaked to avoid all mention of contentious political issues. The track is followed by an invigorating rap by DIVINE which, in the Mumbai rapper's trademark style, attacks organised religion, corruption, elitism and privilege. It's fiery, but stops short of pointing fingers at any prominent political problem, including casteism and Brahmanical patriarchy.
DIVINE's rap, rooted in his reality of growing up in Dharavi and battling the gaping social inequalities of Mumbai, is a powerful political assertion by itself. By clubbing it with a diluted 'azaadi', the track robs both the expressions of their power.
N Sai Balaji, president of JNUSU, who participated in the protest that landed Kumar in jail and claims to have been named in the Delhi Police chargesheet, finds Gully Boy's spin on the 'azaadi' slogan 'hypocritical'. "I'm happy a mainstream project has embraced the slogan, but they are just picking and choosing convenient issues," said Balaji. He added that it was doubly problematic for him and many students of JNU who raise the slogan in every protest, because some of the people associated with the film did photo ops with the Prime Minister, whom their version of the slogan was aimed against.
"Not only that, how many from Bollywood have actually raised a voice against farmers' debts, the atrocities faced by minorities?" asked Balaji, who believes more the composers, it's the Bollywood machinery and the producers who are responsible of the dilution of the slogan. He may have a point, considering the original version composed by Sharma did not skimp on the political assertion part.
It must be mentioned, however, that the Gully Boy soundtrack has garnered praise for its bold music and forthright lyrics—a track called Jingostan, which calls out jingoism, has rightly earned a bunch of accolades.
History of "Azaadi"
In 1983, writer and academic Kamla Bhasin first heard the 'azaadi' slogan in Lahore, while attending a Women's Action Forum meeting. "Hum leke rahenge azaadi, Jaan se pyaari azaadi', the lines went. "They were protesting against general Zia-Ul-Haq's regime in Pakistan," she said.
The lines stayed with her and in the years that followed, Bhasin came up with several versions of it. "When we were protesting against riots, we'd say 'dango se azaadi', when we were protesting against wars, we'd say 'jungo se azaadi'," she said. In the course of her work as a feminist activist, Bhasin said she'd find the word 'azaadi' an unmatched, powerful articulation against oppression. So she'd written slogans demanding 'azaadi' from 'balatkaar' (rape), 'bhrashtachar' (corruption), and also, bhukmari and garibi (poverty) and even 'media vultures'.
In 1995, Bhasin chaired the 4th World Conference of Women organised by the United Nations and realised she needed to translate the slogan into English. "So I explained that the word 'azaadi' exists in various forms in Arabic, Persian and Turkish languages. And later, hundreds of women were chanting 'women want azaadi, farmers want azaadi, Dalits want azaadi'," Bhasin recounts.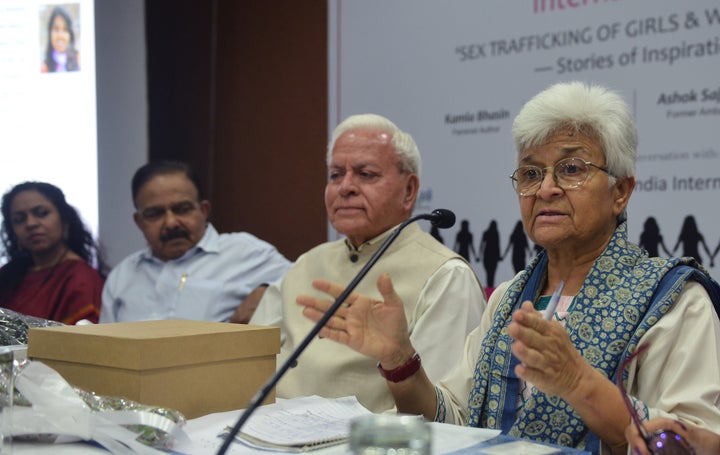 The slogan has long been used by people in Kashmir as well, who demand freedom from India. It was also used multiple times during the anti-rape protests in 2012 in Delhi. Feminist groups such as Pinjra Tod also regularly use the slogan during their protests against patriarchal oppression.
Even when Bhasin used the slogan in various contexts, it never ceased to be fiercely political and was always aimed at dismantling social hierarchies. While the Gully Boy version addresses social ills in broad terms as well, when you consider the fact that the slogan already exists in multiple widely-acknowledged, biting political versions, it's impossible not to notice how the film version is eager to toe the line instead of crossing them.
"Slogans are not written in stone, so if someone wants to use them for marketing or to make money, I'm not really surprised," Bhasin said.
She added that she's not remotely surprised that Gully Boy's version of 'azaadi' quietly skirts around issues of casteism and Hindutva. "Unki ticket nahin bikegi if they talk about Manuvaad. (Their tickets won't sell if they talk about casteism)," she said.
Kumari, however, is less apprehensive of the film's fortunes if it were to tackle the issues head on. "The controversy will probably make them more popular. Look at 'Padmavaat'. The film was pretty bad but didn't it make hundreds of crores?" she said.
She adds that though she understands Bollywood's compulsion of needing wider acceptance in very materialistic ways, they should either battle their fear of backlash and step up, or stop co-opting.
"We got bashed up for asking the relevant questions. Hundreds of people on TV panels, social media and public meetings, asked us 'tumhe kis se azaadi chahiye' (what do you want freedom from)? We had answers. Does Bollywood say them aloud, even if they have them?"
Popular in the Community