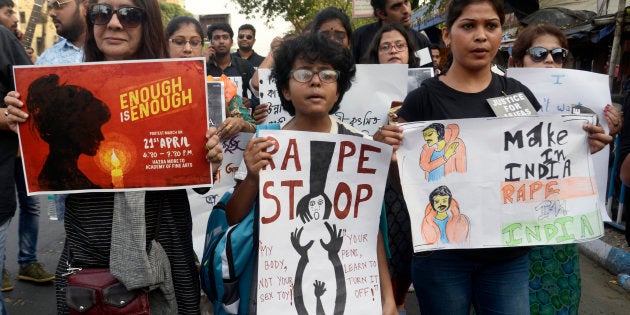 When the Thomson Reuters Foundation released a survey describing India the world's most dangerous country for women, the union government insisted India was that unsafe.
In an interview with HuffPost, Rekha Sharma, the former media in-charge of the ruling Bharatiya Janta Party in Haryana and the Chairperson of the National Commission for Women (NCW) since October 2017, rejected the survey's findings and claimed:
30 percent of rape cases reported to the NCW are ultimately found to be "fake".
Increasing compensation for survivors of gang-rape led to a sudden rise in number of gang-rape complaints in Uttar Pradesh.
Sexual violence is closely related to education and the more 'gruesome' rapes India has witnessed has been perpetrated by men with less education. Educated men are guilty of sexual harassment at workplace.
A large population of Bangladeshis are applying for citizenship in India, implying they feel our country is safer for them.
Sharma did not provide any data of her own to back up her claims.
Read on for more of Sharma's insights on violence against women in India.
Why did you reject the findings of the poll conducted by Thomson Reuters Foundation?
The primary problem with the survey is that it is based on the perception of a few people. The few people also, we don't know — they are not giving names or the names of the organisations they belong to. Perception, they are talking about — there's no data backing that perception. I can change my perception day to day.
I see my husband changing his perception every day on one government and then on another government. One day something comes in the news about the Congress, his perception changes, again if there is something about BJP, his perception changes on BJP. So perception changes from time to time. You can't call a country unsafe because of perception, without any data.
And they are comparing to the countries where there is no perception of women. They don't allow a perception of women -- they are comparing to those countries. Specially Saudi Arabian countries, if you see them, their women can't even go out, can't even talk to the men, can't work, a few countries have now allowed driving to women.
Talking about violence, yes, violence against women is there in India. But comparatively it is much less. 2017 data shows US has more rapes than India. What has changed in one year? [While the chairman's numbers are correct, a recent analysis of government data suggests 99% of sexual assaults in India go un-reported — Ed]
The perception we are talking about is in March-April, when these things happened in J&K and in UP — these two rapes of minors happened — and all of a sudden every person was talking about sexual violence in the country.
We have a free media and hyper media.
Suppose a child has fallen into a borewell. So they will cover it 24x7 on all the channels, live. So the perception will arise that government of that state is not doing anything for the child. Next day, increase the price of onions and the perception will change again. One BJP government had fallen because of hiked price of onions. Because the media had a big role to play. Every day and night they were talking about price of onions.
I am not saying all is okay, all is not okay. That's why NCW is there, that's why we are working. We are everyday taking suo moto cases.
We should not be at number 10 of that survey also. Violence against women in India is more in many countries, that doesn't mean there is no violence against women in India. I need to change mindset of people — I want to reach every district.
How do you plan to do that?
I will talk to my team today itself. We should have master trainers who will train others and no district in no state will remain uncovered. Every village, we have to reach there. We have to make a network.
Was it necessary for the government and government bodies to reject the survey?
It was necessary. Because how people perceive your country, you know. Everybody talks about their country with so many positive things to the world. This survey is going all over the world and it is showing our country in bad light.
Every visitor from outside is not getting raped here. It is not true. Yes, things are happening, it is happening in other countries as well. That is not alright with me also. No one should get raped.
But you are projecting the country in bad light to the world. Everything is not alright. But it is not that wrong also that you tell the world that it is the number one country in violence. After Nirbhaya happened, people were talking Delhi is the rape capital of India. That is not so.
Number of reported rapes.
Then imagine the number of actual cases...
No no no...reported means... after investigation do you follow the cases? Every reported case? What happens to kids, and similar cases after Nirbhaya, those are very bad. But many reported cases, many rape cases that come to us are not proven that it has happened. After the investigation, how many cases are proven?
But the NCRB data says otherwise...
The number of FIRs have increased. Because ways of reporting is now better than earlier. Earlier women either didn't know their rights, or police was not taking the complaints seriously and not registering FIRs.
But the general perception is the number of reported rape cases is way less than the actual number of incidents of rape. Many victims don't report the crime... the number is actually more.
No, not like that. Today only someone sent me a report that a mother has told that her minor daughter was raped, but her claims are proven wrong. This also is happening a lot. Relationship goes bad and then girl says that 'he raped me' after two years. That is reported and that thing comes out in the media. For you or any other person that number is a data that rape has increased.
But you know, being at any rank on a list of 'most dangerous countries for women' is quite bad in itself.
They have mentioned stoning — have you heard in India that India is number in stoning? That the most number of stoning is in India? Or how many times have you heard that women are being stoned to death in India?
We asked them (Thomson Reuters) for the report and the names of the experts. They said they can't send the names. They just sent the detail of the report and the number of people they talked to in each country.
I think now from our country someone should get up and do a proper survey, come up with a proper report.
Do you think for women in our country, or any country for that matter, these reports have a bearing on how safe or unsafe they feel? Do you think they care if they are on number 1 or number 4?
I think I was reading an article where they said an interesting thing that the number of people applying for asylum in a country is a mark of how safe or unsafe that country is considered. For example, so many thousands of people are applying for asylum in the US. Whereas this survey ranks US as the 10th most dangerous country for women. So, do you think women would like to go in a country which is like that? It is okay for her?
Every year so many people are applying for Indian citizenship, specially from Bangladesh. If India is not safe — because they don't feel safe in Bangladesh, that's why they are coming to us. Why are they coming to us?
The reasoning of the survey is completely wrong.
You mentioned earlier that the laws are adequate but the implementation needs to be better. Do you think death penalty actually works as a deterrent? There's a compelling argument against it.
Anything happens, there is an argument against it. I think death penalty will obviously be a deterrent. But the cases should be resolved more quickly.
Also, very few people actually end up getting the compensation for rape survivors. Why do you think that happens? Are they not aware of the provisions?
When they increased money for gangrape in Uttar Pradesh, suddenly the number of complaints increased for the gangrape — all in similar areas. So these things happen — if you study about it.
How much was the compensation increased by?
I don't remember exactly, you just compare the before and after numbers. I have observed that. When the Bulandshahr gangrape case happened — after that the number of cases increased in that area only.
[Sharma could be referring to the gangrape of four women in Bulandshahr in May 2017. One man died while trying to resist the six armed assailants who also robbed them — Ed]
In another case, one member of the commission went and it was proven wrong. It was found that nothing like that had happened there.
So there are fake cases?
There are many fake cases. Around 30 percent of cases are fake. There is a property issue and they will include a line that a person has sexually abused me, touched me there.
[HuffPost could not find any report on increase in compensation for gangrape victims specifically in UP. In May this year, the Supreme Court approved a scheme under which gangrape victims could be paid up to Rs 10lakh in compensation by the government — Ed]
What are some of key priorities in your effort to tackle sexual violence in India?
We have to change the mindset. Whenever you see these rapes happen, somebody from this middle-class, lower-middle class person is involved. Because they are watching internet without any guidance, there is no parental guidance. From the age ten they start watching porn — we have to give them gender sensitization lessons, we have to do that first.
Actually not class, education. Where boys are not getting proper education, they don't have proper work and parental guidance — so class comes in that context that education is little.
But being educated doesn't mean a man won't sexually assault someone.
Of course, a lot of sexual harassment happens at workplaces. But if you compare the number of cases, and the gruesome cases that you are seeing whether it is Nirbhaya or some other such case, there you see the difference.
Yes, sexual harassment at workplace is something educated people do.
There is a criticism against bodies like NCW and SCW that the people at the helm of these are political appointments with no real expertise or background of work in women's issues. How do you respond to that criticism?
I was a part of an NGO for ten years. It started as a small thing, generating work for women in villages. I used to visit villages in Haryana for political purposes initially but there I realised that women didn't have money to feed their children also. It started to give them work -- making sevaiyaan -- and sell it to the stores, so that they can generate income.
At NCW, we did a survey of jails to find the state of women there. We also hosted legal awareness camps across various states. Recently, we tied up with Facebook to impart digital safety education to women in Panjab University. We are conducting a study on the condition of women in mental asylums... and my focus is to increase gender sensitivity among people.
I have started from a district level. From there, I have come here. I have worked in a village called Ramgarh, in Panchkula. So grassroots starts from there.
(We reached out to Thomson Reuters Foundation for clarity on their survey and they said they couldn't accommodate our request at the moment.)
(Editor's note: A representative of the National Commission for Women called to clarify that the chairperson meant to say 30% of the rape cases NCW receives are 'false' when she was talking about 'fake' cases.)
Popular in the Community