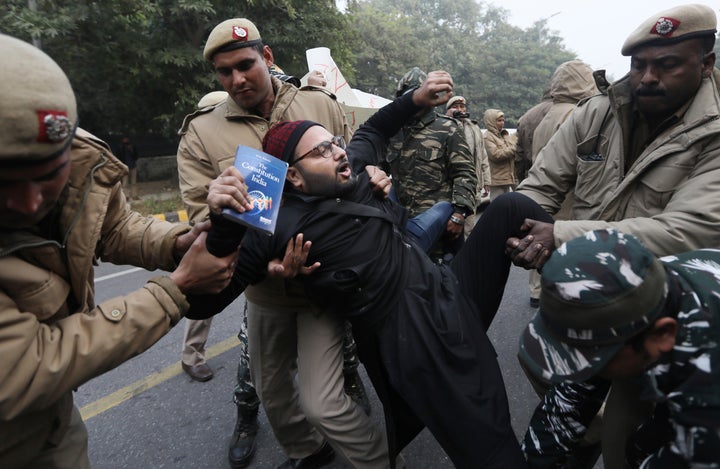 Welcome to the latest instalment of The Idea of India, HuffPost India's monthly conversation about how we see ourselves as a people and a nation.
The people's movement against discriminatory laws and any future plans to identify people on the basis of religion is persisting despite the Narendra Modi government's efforts to derail it with brute force, misinformation and intimidation.
A rich tradition of academic scholarship posits India's police forces as an oppressive vestige of our colonial past. The police's essentially colonial nature was on full display this month in Uttar Pradesh.
Sadaf Jafar, a political activist in Lucknow, who had stepped out to protest peacefully against the Citizenship Amendment Act, gave a blow-by-blow account of how she was tortured by male and female constables of the Uttar Pradesh Police. But more than their batons striking her back, the Shia Muslim woman said it was their language that betrayed just how communal the UP Police is.
"They kept saying, 'You are Pakistani. You eat here, you have children here, but you support Pakistan,'" she said. "I could have never believed a police force could be filled with so much communalism and hate, but now I know."
"I could have never believed a police force could be filled with so much communalism and hate, but now I know."
In a conversation with HuffPost India, Lindenthal talked about how he assumed India's famed diversity came a large heart and generous spirit. The 24-year-old physics student was stunned by the Indian government's reaction to even the slightest dissent.
Turning India's age old tradition of Atithi devo bhava — a guest is equal to God — on its head, the Modi government not only expelled Lindenthal, who was placed at the Indian Institute of Technology (IIT), Madras, but told him to leave "immediately" or face deportation.
Detailing his hour long grilling by an Indian official, Lindenthal said."I was expecting the Indian government to be more tolerant."
"I have lost nothing of my love for the country and the diversity of its culture. I was really impressed to see how well diversity works in India. I've actually taken that home as an example for Germany. That is also why I was so concerned to see this law being passed and how well planned the actions of this government against the system of diversity are," he said.
"I was expecting the Indian government to be more tolerant."
Deeply troubling accounts of how innocent people have been swept up in the clampdown against the CAA are still being reported. HuffPost India's Aman Sethi reported on how the UP Police detained at least 5 minors and tortured them over a period of 48 hours.
We end the first instalment of the newsletter for 2020 with news of women taking over the reins of the movement against the CAA and the NRC in Lucknow, one month after the UP Police orchestrated a brutal crackdown to crush dissent in India's most populous state of 200 million people.
Modelled on the all-day, all-night demonstrations led and largely attended by women at Shaheen Bagh in New Delhi, the protest in Lucknow was kicked off by 20-25 women who gathered under the landmark clock tower in the old part of the city. Their numbers had swelled to several hundreds in a few days.
One woman said, "We will come out for the whole year, if needed. We will come year after year." Another woman said, "This government has taken away our dignity. Now they want to take away the air we breathe. If we had to go to Pakistan, we would have gone. Why did we choose to stay in India?"
Thank you for your feedback on our newsletter.
Bhupendra Madhiwalla, a social entrepreneur, who is recognised for his work in rural development, writes that he fears India is en route to becoming a Hindu Rashtra but with a "divided and weak" opposition, it will take people "revolting" to change course.
This, he writes, is "very likely due to failure of all government schemes and projects. My revolt is in the form of rural development."
You can subscribe to the newsletter here.
Please do share your thoughts: What is your Idea of India? Write to me at betwa.sharma@huffpost.in