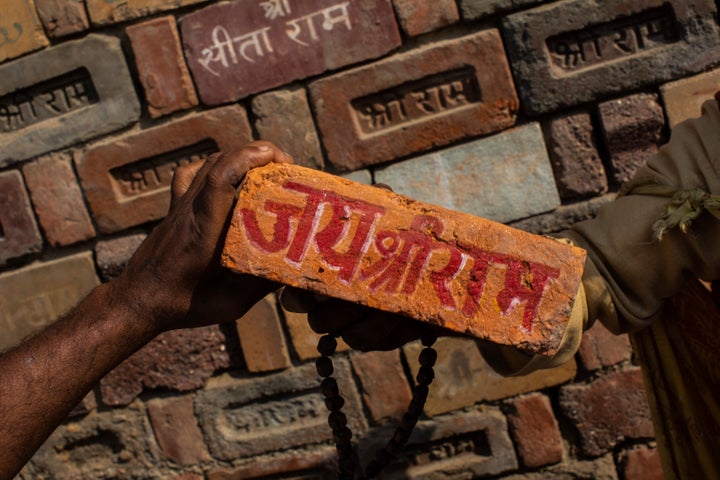 Welcome to the fifth instalment of The Idea of India , HuffPost India's monthly conversation about how we see ourselves as a people and as a nation.
The Supreme Court of India has settled India's longest running land dispute, ruling in favour of the Hindu parties in the Ram Janmabhoomi-Babri Masjid title suit. A five-judge bench led by Chief Justice Ranjan Gogoi has granted the site where the Babri Masjid once stood to a Hindu trust for building a Ram Temple. Prominent voices from across the political divide declared the verdict as "balanced," even though it was a clear victory for the Hindu litigants. The Muslim parties will get five acres at an alternative site to build a mosque.
In effect, 26 years after the Babri Masjid was demolished by Hindu mobs, and communal riots claimed the lives of 2,000 people, the highest court of the land has allowed a temple to be built in place of a mosque. The verdict is a huge political victory for Prime Minister Narendra Modi and the ruling Bharatiya Janata Party (BJP), which has been promising a Ram Temple for almost three decades.
Surprisingly, after the verdict, there were few public reactions from the Muslim community in India.
In a conversation with HuffPost India, journalist Rana Ayyub attributed the silence to fear of reprisal, given the hostile and menacing atmosphere in the country since the Modi government came to power, and the fact that political parties, even the ones which had counted on the minority vote, did not question the verdict. "This silence is of fear, not happiness. It's only when you are intimidated that you are silent. We have been asked to shut up. Muslims are numb right now," she said.
"We have been asked to shut up. Muslims are numb right now."
Leaders from both communities had appealed for peace ahead of the verdict. Authorities also threatened action against anyone trying to spread hate, especially on social media. At some point, however, this appeal for calm seemed to give way to self-censorship.
Ayyub, against whom the Amethi police threatened legal action for tweeting a "political comment" ahead of the verdict, said, "If they see the Amethi police threatening to take action against me, they will think that if it can happen to her… Not everyone has the bandwidth to take this kind of threat. Not everyone has the support I enjoy."
There were a few positives which came out of the appeals for calm and the police vigil. HuffPost India's Gopal Sathe writes that there were fewer hate messages and less trolling on social media platforms, and even the BJP's notorious "IT cell" seemed to have toned down its activities around the issue.
This coerced calm, however, came at the cost of Indian citizens feeling they could not critique the judgment without fear of a backlash. Sathe writes, "... the silence, which almost seemed like an over-correction, seems to have been achieved through self-censorship and threats from law enforcement agencies."
"...the silence, which almost seemed like an over-correction, seems to have been achieved through self-censorship and threats from law enforcement agencies."
In an interview ahead of the verdict, Zafaryab Jilani, who represented the "Muslim parties" for 33 years, said that he had hoped the Supreme Court's verdict would be based on evidence, not aastha (belief). "We are fighting for the rule of law and rule of democracy, not just for one mosque. If we surrender, no mosque will be secure in the country and no minority community will feel safe," he said.
BBC's former bureau chief Sir William Mark Tully recalled the demolition of the mosque on 6 December, 1992. "I saw this sight of a police officer pushing his way through his men so that he could run away faster than the men. And the police just deserted," he said.
Faizan Mustafa, a law professor and Vice Chancellor of NALSAR University of Law, Hyderabad, told Nikhila Henry that the Supreme Court seems to have weighed religious belief over the rule of law. Noting that "faith has the last laugh," he said, "The judgment upholds a majoritarian point of view."
Henry also reported on Thol Thirumavalavan, a Dalit lawmaker from Tamil Nadu, the only non-minority lawmaker to express his disappointment at the decision. In an open letter, Thirumavalavan wrote, "The faith in Supreme Court is shattered."
Akshay Deshmane spoke to Madhav Godbole, who was the Union Home Secretary in Narasimha Rao's government when the mosque was demolished in 1992. Godbole, whose book on the dispute was published in August, had written there that the evidence was in favour of Muslims, but told Deshmane that everyone should accept the Supreme Court's decision.
Senior Rashtriya Swayamsevak Sangh ideologue M.G.Vaidya told Pavan Dahat, "My only wish is that the land for Masjid should be outside five acres of Pradakshina land of Mandir."
Thank you for your feedback on The Idea of India newsletter, which looks at differing views in an attempt to draw us back into an even-handed conversation.
Sharing his "Idea of India", Manokamana, a 23-year-old lawyer, said that he really thought India was "about to change for the better" when Prime Minister Modi was first elected to power in 2014, but has since then he has "seen a lot that has changed my mind."
Raising several points of concern such as "silence and diversion, "never-ending what-about-ery" and the "economy," Manokamana writes, "It's like Narendra Modi is the Salman Khan of Indian politics. No matter what he does, how bad it is, how much grave consequences his actions have, he's the 'hero'."
You can subscribe to the newsletter here.
Please do share your thoughts: What is your Idea of India? Write to me at betwa.sharma@huffpost.in.