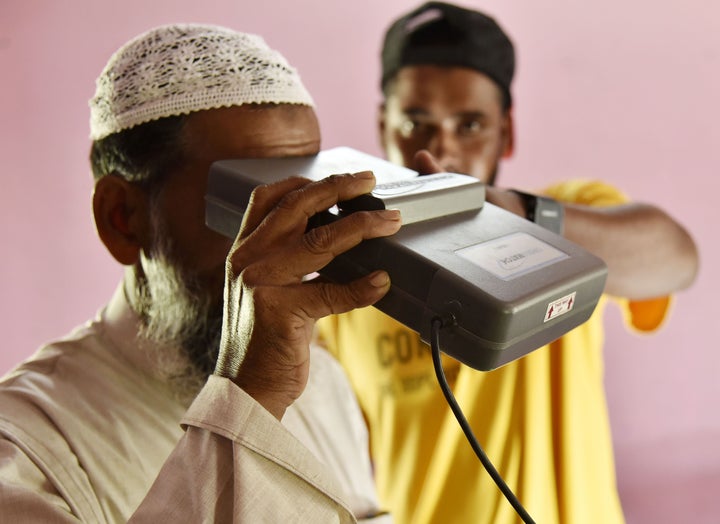 Welcome to the fourth instalment of The Idea of India, HuffPost India's monthly conversation about how we see ourselves as a people and as a nation.
Close to two million people were left out of Assam's National Register of Citizens (NRC) on 31 August this year. Even as they try and prove they are Indian citizens in a Foreigners Tribunal, the Assam government is looking to build 10 more detention centres to hold "illegal foreigners."
Now the Modi government wants to roll out a similar exercise across the country, despite the human toll of the NRC and its violent disruption of daily life.
India is not alone in looking increasingly inwards when it comes to the treatment of undocumented migrants. Across the world, elected governments are closing their borders.
Rather than resolve the question of movement across the India-Bangladesh border, the Modi government has sought to communalize Assam's citizenship question. Many of those caught up in the NRC's byzantine bureaucracy are Bengali-speaking Hindus and Muslims, who go back and forth across the border to meet their families and in search of work. Countless others are Indian citizens who couldn't get their documents together in time.
Shah has called them "termites." The Home Minister has said that everyone left out of NRC will be made Indian citizens if they are not Muslim. His plan to implement the NRC across India will in effect be a witch-hunt for Muslims. The Yogi Adityanath-government in Uttar Pradesh has told the police to identify "illegal Bangladesh migrants and other foreigners."
"His plan to implement the NRC across India will in effect be a witch-hunt for Muslims."
The "liberal lot" is falling into BJP's "trap" of looking at the NRC from a Hindu-Muslim lens, says Sangeeta Barooah Pisharoty, deputy editor at The Wire, and author of Assam: The Accord, the Discord, in a conversation with HuffPost India. "They only helped the BJP turn the Assam issue into a Hindu-Muslim issue," she said. "What has happened to the Assam issue is tragic."
Pisharoty says that half-a-century of Congress's failures in Assam have made it possible for the BJP to communalise the NRC in a matter of few years.
"Congress took the Muslims for granted. Congress thought that them being in an insecure position was a good thing — they will continue voting for us. They did not care that these people were heading for trouble," she said. "Congress only played politics. You cannot absolve Congress in this."
Assam, Pisharoty believes, still has a few years before the BJP can really drive home its polarising agenda. "The Assamese community will have to decide whether they want to be identified as Hindus first or Assamese first. If you want to be identified as Hindu first then you have to discard your Assamese Muslim brothers," she said.
Meanwhile, no one is talking about the indigenous communities in the northeast that have borne the brunt of the cross-border movement — least of all the Congress Party. "Look at what happened in Tripura. People don't talk about Tripura. The indigenous Tripurese became a minority," said Pisharoty.
"Congress only played politics. You cannot absolve Congress in this."
In the days leading up to the NRC getting published on 31 August, HuffPost India's Piyasree Dasgupta reported on the toll the NRC was taking on children. Taslima was 12-years-old when her mother, incarcerated in a detention centre in Tezpur jail, told her to take care of her siblings.
"She asked me to take care of my younger sister and brother. Hug them a lot, love them a lot. Who knows if I will ever come out," Taslima said.
Dasgupta reported on a family who was forcibly separated and incarcerated for nine years after the head of their village falsely told the police that they were Bangladeshi. Kalpana was six-years-old when she was jailed in a detention camp inside a jail in Kokrajhar. Her sister was two-years-old. The village head told their father, Dilip Biswas, 'either you go back to Bangladesh where you came from, or go to jail'."
In HuffPost India's NRC sketchbook, graphic novelists Paramita Singh and Shalim M Hussain captured the final and frantic journeys that people took to get themselves enrolled before the deadline. "The journey of these NRC applicants are a testimony to the cruelty of the NRC process, the pain and suffering inflicted upon innocents, and the resilience of people who have no choice but to keep hoping that this too will pass," they wrote.
Thank you for your feedback on the Idea of India newsletter, which looks at differing views, in an attempt to draw us back into an even-handed conversation.
Sharing his "Idea of India," David Stein, an American regional planner who grew up in Kolkata and New Delhi, writes that India had offered his family a "home," but India has lost the voices that combined the best of western liberal education with an understanding of the lessons from Hindu and Buddhist philosophy.
"Like the US, the government has failed utterly in its most important duty – to provide an education to its people so that they can understand not just how to make things, but also to live decent lives based on caring, sharing, and respect not only for oneself but also for others," he wrote.
Stein is the son of Joseph Allen Stein, the noted architect of buildings such as the India International Centre and the India Habitat Centre in New Delhi and the Sher-i-Kashmir Conference Centre in Srinagar, which is now being used as a detention centre for Kashmiri politicians.
"Where, oh where, has the India of my youth gone?" he wrote.
You can subscribe to the newsletter here.
Please do share your thoughts: What is your Idea of India? Write to me at betwa.sharma@huffpost.in.