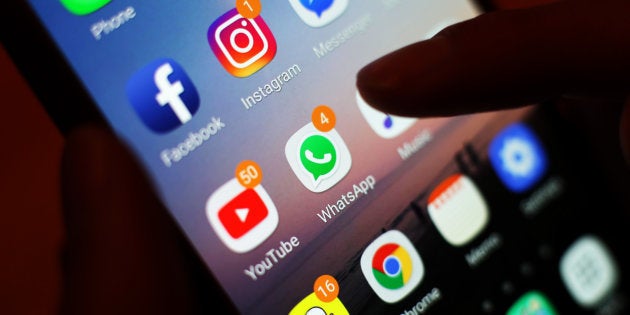 Around 40 government agencies have deployed a tool developed by a Delhi-based technological institute to monitor what people do on social media, Scroll.in reported earlier this week. At the same time, on Thursday, Union Home Minister Rajnath Singh said that security agencies are trying to get new software tools with face recognition capabilities to dig into social media to track criminals.
This comes soon after the BJP government abandoned its plans for building a Social Media Communications Hub following a challenge in the Supreme Court from Trinamool Congress MLA Mahua Moitra. Although the government said it would not contest the case, the Scroll.in report says that the tool, called the Advanced Application for Social Media Analytics (AASMA), has been widely used to track citizens' social media activities. It was developed by the Indraprastha Institute of Information Technology in 2013-14 and its use by government agencies has grown without much scrutiny or oversight.
"Government of India has officially declared this project as STRATEGIC in nature and is closely monitoring the growth of the same," Scroll.in quoted from the institute's annual report of 2016-2017. The report also said that more than 40 state and central government departments had deployed the tool by April 2017 and another 75 had requested its installation at the time.
According to Scroll.in, the tool can be used to collect data around the clock from Twitter, Facebook, YouTube, Flickr and Google+. It can track social profiles, carry out "sentiment analysis" of posts and track user devices.
A compendium of projects published in 2017 by the Bureau of Police Research and Development says that AASMA will be distributed among central and state law enforcement/intelligence agencies at no charge, with hardware and Internet connectivity. According to a 2016 report by The Hans India, the tool requires just a one-time investment of Rs 30 lakh and a particular number of police personnel to monitor it. The tool provides a single dashboard view of all the information in the system, which has been the subject of criticism.
"There seems to be a Star Trek-type obsession with dashboards which results in massive data collection and centralisation of personal data," Sunil Abraham, Executive Director of the Centre for Internet and Society, had told HuffPost India while speaking about the Andhra Pradesh government collecting citizen data into a series of dashboards. "This is a huge security risk."
According to the BPRD compendium, AASMA also supports various Indian languages such as Hindi and Bangla, and can send alerts through email and SMS depending on the criteria set by then officers using the tool.
Political parties are now showing a lot of interest in tracking social media to carry out sentiment analysis of voters to determine issues to campaign on, and also to carry out psychographic profiling of individuals. In Andhra Pradesh, at the Real Time Governance Centre across the hall from the Chief Minister's office, a team of four to five officials monitor social media for mention of government projects, along with key words like 'Chandrababu Naidu', in order to track what people throughout the state are saying. Tools like AASMA will only make this process easier.
BEYOND TRACKING SOCIAL MEDIA
Aside from tracking social media, the government is also now looking for ways to use facial recognition to fight "terrorists" and "cybercrime", according to a report. On Thursday, Home Minister Singh said cybercrimes were posing a "big challenge" to the security establishment and added that security agencies have detected that terrorists were using the "dark Internet" to recruit operatives and to "sell and purchase confidential information by big criminals".
"We can track criminals through the CCTV cameras. But at times, it is very difficult to identify and recognise them. We are trying that face recognition technology is better improved so that if a criminal is not identified by CCTV cameras, there should be a technology to get his face recognised. This is what we are trying... We are also trying that if there is no information about them (criminals) in the CCTNS (crime and criminal tracking network system), we should have such software that can dig into the social media network and collate information about such elements," the home minister said.
The Punjab police is already running a project called PAIS which uses facial recognition to identify people using a smartphone or even CCTV footage. And speaking to HuffPost India, a senior police official said that Aadhaar could provide the missing information to bring not just people who have been sentenced to jail, but all citizens, under this surveillance dragnet.
"I believe that Aadhaar access will have to be given to the police," he said. "Right now, only people who have been jailed are being tracked. If you give the police more data, it will only benefit people."
However, Singh might have been speaking from incomplete information. For example, he claimed that there has been no incident of terrorism in India in the last four years, and also said that the Crime and Criminal Tracking Network & Systems (CCTNS) will be launched across the country, although the system was actually first launched in 2009, and has been widely deployed. By 2016, 13 states were already filing 100% of FIRs online through the system.
Popular in the Community