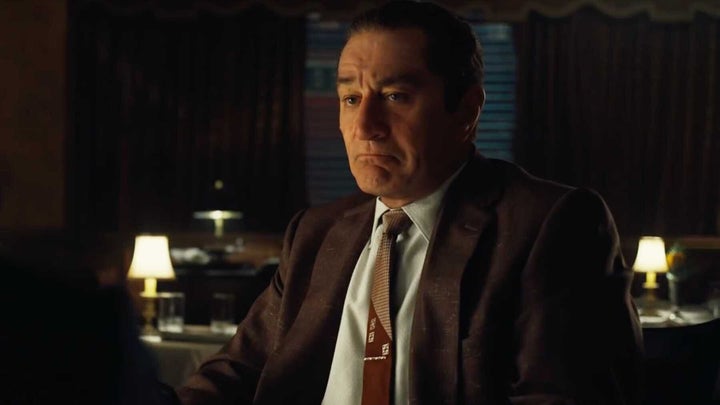 Day Three at MAMI 2019 was a day buzzing with heavyweight titles. From an intimate character study of a troubled teenager, to an expansive French drama about teen uprising against oppressive cops, to finally, a dying career-criminal lamenting his bloody legacy in an epic Netflix prestige picture, there was a lot to savour. Here are the highlights:
Bringing together some of Martin Scorsese's most illustrious collaborators as well as adding new ones to the mix, The Irishman has generated immense chatter right from the time it was announced. Watching the film at the iconic Regal cinema in Colaba alongside a sea of Scorsese fans was definitely among the highlights of MAMI this year.
The story follows the exploits of Irish hitman Frank Sheeran (played by a digitally de-aged Robert De Niro) and his involvement with mobster Russell Bufalino (a spectacular return to form for Joe Pesci) in the disappearance of union leader Jimmy Hoffa (Al Pacino, also de-aged).
Unlike other aesthetically explosive Scorsese films, The Irishman exudes a quiet grace, most apparent in the wizened restraint with which the director tells his story. This is no Goodfellas, with its ballistic energy and sweeping camera movements or Casino, which featured gratuitous depictions of violence. The Irishman is a work of deep, meditative reflection which does bring the explosions and the abrupt bursts of violence, but with a ponderous melancholy, something that anchors the film as realistic drama rather than hyper-stylized crime fare.
Scorsese employs a talking head device with De Niro to chronicle the life of Frank Sheeran across its various stages. But with his overlong recollection and meandering storyline, the film eventually accesses a place that is beyond dramatic or biographical: it becomes a personal lament about a man in the twilight of his life, ruminating and observing his friends and family with a profound gaze.
For me, the intimacy of The Irishman is its most winning feature. One could endlessly watch the quirky, witty exchanges between De Niro and Pacino, the two greats still exhibiting a vigour reminiscent of their heyday; or enjoy the violent humour that's laced with a darkness from the pits of hell, but what truly makes the laborious three-and-a-half hours of The Irishman worth sitting through is seeing an auteur engaging with his own legacy and trying to find a more solemn voice to tell the same old story yet again.
Young Ahmed
The Jean-Pierre and Luc Dardenne film, Young Ahmed, is a searing study of the psychology of a brainwashed teenager in this haunting drama where the threat of violence looms large. Ahmed is a troubled kid, who suffered from dyslexia at a young age, and is in the midst of the most defining transitory phase of his life: puberty. That his bodily changes coalesce with the religious indoctrination of his mind at the hands of his local imam, creates a situation where Ahmed becomes more and more alienated from those around him, driven further into the dark recesses of anger, phobia, and confusion.
The Dardennes mindfully place the film outside of the conversation about the interpretation of Islam, making it simply personal account of a boy being impacted by a didactic zealot. They even throw in a discussion between worried parents arguing over the best way to teach their kids the significance of scripture. So, the film is a lot less concerned about cultural commentary than it is in exploring a young boy's psyche.
And the directors do a great job of it, filming the protagonist in close quarters through fluid, uninterrupted takes that immerse the viewer into the claustrophobic headspace of this confused teenager trying to navigate right and wrong with his disoriented worldview.
It may not be the Dardennes' most accomplished film, but Young Ahmed is an earnest cinematic piece that is dexterously directed, and rightfully won the brothers their first Best Director award at Cannes this year.
Les Misérables
Another film from Day Three that dealt with the confusion and anger of teenagers, albeit in a broader sense, was Ladj Ly's epic Parisian cop drama, Les Misérables, which takes place over the course of one very long and arduous day.
When a new cop (Damien Bonnard) joins a unit to patrol the city, he has no idea where his first day on the job would take him. Not in the least that it would involve stolen lion cubs, mobs of angry gypsies on the warpath with Black and Muslim gangs, and an army of faceless, relentless kids out for blood. This is the ambitious scope of Les Misérables, Ladj Ly's drama that's also France's entry to the 2020 Oscars.
Inspired by the 2005 French riots which initially played out in a similar fashion before ultimately snowballing into a nationwide uprising against police harassment, Les Misérables is a riveting investigation of the causality and chaos that trigger such massive acts of violence. There is no singular enemy in the film, no overtly evil cops or dastardly gangsters. In fact, the villain is Murphy's Law. The naked dread of facing death is experienced just the same by rowdy kids as ruthless men. And Les Misérables ensures we see both sides.